Sweet and Savory Waffle Topping Ideas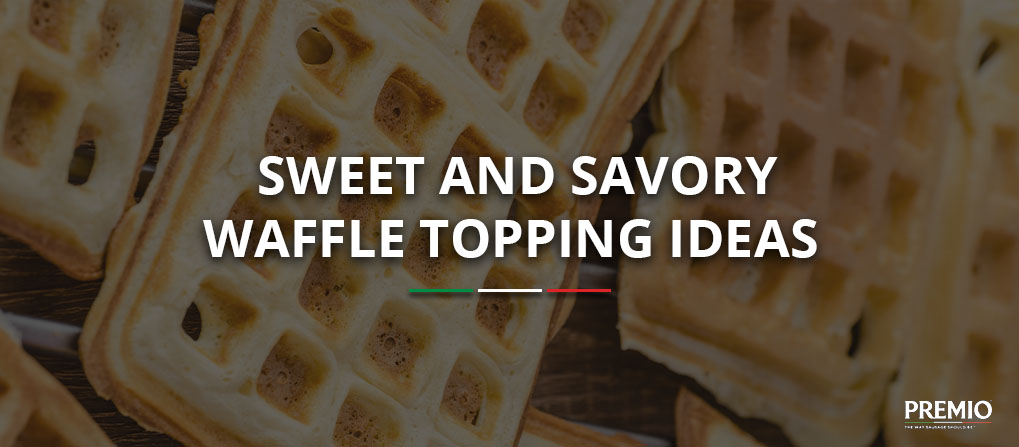 Waffles are a year-round breakfast staple that both children and adults love. They are also one of the best breakfast items to experiment with, using different flavors and toppings to try something new. Going beyond butter and syrup kicks breakfast, snacks, desserts and other meals up a notch, and you'll be sure to whip up a creation you and your family will enjoy.
Check out our top tips and ideas for adding a bit of extra flavor to your waffles below.
10 Unique Topping Ideas for Waffles
Adding delicious and unique toppings to your waffles easily turns them into a tasty dessert or the ultimate breakfast delicacy. If you're ready to whip up some delightful waffles to wow your loved ones or if you're looking for a bit of inspiration, we've got excellent ideas to try. Check out our top 10 unique topping ideas for waffles for your next meal:
1. Flavored Syrups
Maple syrup is one of the most common breakfast toppings, and when enjoying a traditional waffle, it's a necessary topping. While maple syrup is usually the preferred choice, you can mix things up by trying different flavors for a new experience.
Expand your waffle topping options when you go beyond the traditional maple syrup flavor. Check out sweet flavors such as strawberry, buttermilk or even pomegranate to give your waffles a unique taste. For a dessert-inspired twist, try caramel or chocolate syrups to create a decadent dish.
2. Fresh Fruit
Would you like to add a bit of a healthy kick to your waffles? Adding some fresh fruit is an excellent choice to combine the sweet taste of your favorite fruit with this breakfast classic. Choose some strawberries, blueberries, apples, bananas or all of the above to layer on top of your waffle.
You can also try adding some jam or applesauce as well for something extra special. The combination of juicy berries or sweet bananas paired with a crisp waffle is one of the best combinations, and you can drizzle a little syrup on top for added sweetness.
3. Peanut Butter
Butter is a fan-favorite to put on top of waffles, but have you ever tried using peanut butter instead? Peanut butter is an excellent choice for adding some healthy calories and tasty protein to any breakfast. If you're having a busy morning, you can quickly spread some peanut butter on top of your waffles for a fast and delicious treat that is sure to fuel you through your busy day. Check out other butters, too, like almond or sunflower for unique options.
4. Ice Cream
Are you looking for a way to turn those waffles into a dessert? Adding some ice cream is just the way to do it. Pick your favorite flavor and scoop it onto the top of your waffle. Eat and enjoy as it melts into all of the square grooves.
You can leave your ice cream as it is or add a little pizzazz by creating a waffle sundae. Combine ice cream, sprinkles, chocolate sauce and a cherry on top to create the perfect dessert or luxury breakfast. For a fun twist on this topping, make mini waffles, let them cool and layer ice cream between two for flavorful ice cream sandwiches.
5. Whipped Cream
A dollop of whipped cream goes a long way when it comes to waffles. You can perfectly pair it with fresh fruit to create a delicious combination. You can also add it on top of your ice cream sundae waffle for a final touch. Whipped cream is one of the most versatile toppings, and it can combine with crispy breakfast waffles to soothe any sweet tooth.
6. Eggs
Who doesn't love eggs for breakfast? No matter your favorite style, whether it's fried, dippy, sunny-side up or scrambled, eggs are a breakfast staple, and they taste surprisingly delicious on top of waffles. Some scrambled eggs combined with avocado and cherry tomatoes are a perfect breakfast combo. Add that on top of your waffles, and you got yourself an excellent morning dish that your family is sure to love. Make your eggs even more exciting by adding some cheese or some veggies such as onions or peppers.
7. Bacon
If you're searching for some more ideas for savory waffles, then bacon could be an excellent topping to try out. You might already have a side of bacon with your breakfast, but using it as your waffle topping is a fantastic combination. You can even add your bacon to your scrambled eggs to combine two favorite breakfast foods.
You can also combine bacon with lettuce and tomato and create some waffle slider sandwich BLTs for a creative spin. And if you want to take your bacon one step further, combine it with some creamy mac n cheese for the perfect southern comfort topping.
8. Sausage
If you want to try out a savory topping for your waffles, you can't go wrong with some delicious, high-quality breakfast sausage or other varieties. With so many flavors to choose from, such as chicken, turkey or Italian, you can add some extra flavor to your breakfast or whip up a delectable lunch or dinner dish. Combine sausage with eggs and bacon and add a second waffle to create the ultimate breakfast sandwich or slider.
You could also use sausage to create a yummy sausage gravy to pour on top of your waffles. If you're a fan of biscuits and gravy, you are sure to be impressed with waffles and gravy, too.
9. Pork
Another savory topping to test out on your waffles is pork. If you're a fan of barbecue flavors, you have to try barbecue pulled pork topped with coleslaw for your next waffle topping. Perfectly combining the tastes of a summer barbecue with a breakfast classic is sure to wow your family and friends. You could also try topping waffles with pork chops to combine dinner and breakfast perfectly — it's the best of both worlds.
10. Yogurt
We have one more sweet topping for you to try, and that's yogurt. This one is great to create the perfect breakfast parfait with a filling waffle that will undoubtedly become one of your favorite meals to start the day. Pair your favorite yogurt flavor with some fresh fruit and granola to put a healthy and creative spin on this breakfast classic.
Purchase Premio Sausage for Your Waffle Toppings
When it comes to savory breakfast waffles, choosing delicious sausage for your desired topping is always an excellent choice. Choose high-quality Premio sausage to wow and impress your loved ones the next time you whip up some delicious waffles.
If you're looking for different flavors of sausage to try something new, we got you covered. We offer over 40 varieties of sausage including, chicken, Italian and a range of flavors from around the world. With so many options to choose from, you are sure to find a flavor that you and your family will love.
Shop our collection of Premio sausage online today to start planning your next waffle breakfast. Are you looking for Premio in your local grocery store? No problem! Check out our handy store locator to find Premio sausage in the store nearest you.