Ways to Make Scrambled Eggs More Exciting
Scrambled eggs are a quick, easy way to get your day started with a healthy, protein-packed breakfast. But after having plain scrambled eggs morning after morning, you may find yourself wondering what to put in scrambled eggs to make them more exciting.
We can't all be eggheads, but this article will tell you how to make eggs taste better and elevate your egg game to a new level. We've put together a list of our 10 favorite tips for making morning scrambled eggs you'll dream about all night.
10 Ways to Make Scrambled Eggs More Exciting
With these clever scrambled egg tips and tricks, you can make every morning egg-citing and egg-stra special. We apologize if those puns made you groan — we knew they'd be a hard shell. OK, we promise to stop cracking egg jokes!
Here are our top 10 tips for making scrambled eggs something worth getting out of bed for.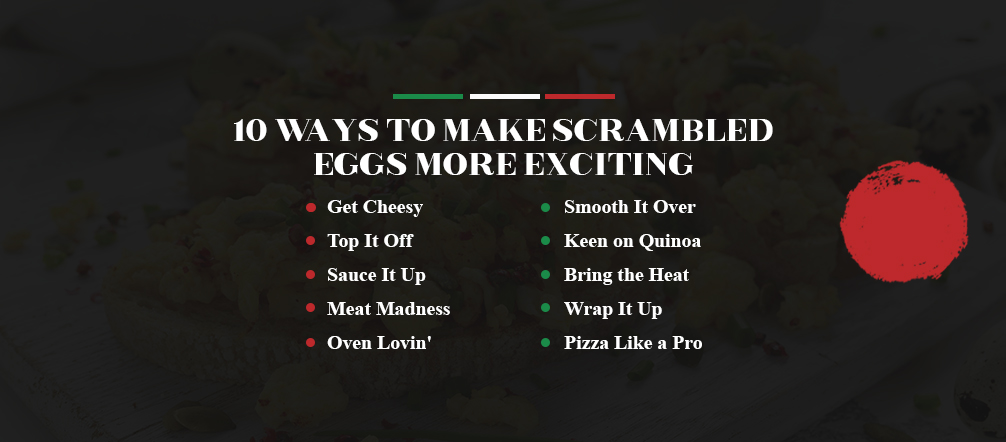 1. Get Cheesy
Who doesn't love cheese with their scrambled eggs? When it comes to things to put in scrambled eggs, cheese is probably the most popular. Don't be afraid to branch out and try different cheeses like feta or goat cheese, which can add a delicious tang to your breakfast scramble. There's also no rule limiting you to just one type of cheese, so go ahead and mix your mozzarella with some cheddar.
Pro tip: Substitute cream cheese or cottage cheese for the milk in your scrambled eggs recipe to make them extra creamy or fluffy. Use flavored cream cheese to give your eggs even more of a thrill factor.
2. Top It Off
Make your scrambled eggs anything but boring by adding all kinds of toppings, from diced veggies and fresh herbs to capers and even kimchi. What to add to scrambled eggs depends on your taste and can follow a theme, such as Greek ingredients, stir-fry foods or a garden variety. Mix your toppings of choice into your scrambled eggs as they're cooking to turn the dish into a deconstructed omelet.
Pro tip: We suggest sauteeing add-ins like raw onions and pepper before adding them to your scrambled eggs for a rich, caramelized flavor.
3. Sauce It Up
Adding some sauce to your morning scramble is an easy way to elevate the flavor if you don't have tons of fresh ingredients on hand. Everyone knows the classic trick of adding ketchup to scrambled eggs, but you can try other sauces like salsa, sriracha or soy sauce to give your eggs an unexpected boost.
Pro tip: Whisk a dab of pesto into your scrambled eggs as they're cooking, and presto! Instantly delicious eggs with a slightly nutty and cheesy taste.
4. Meat Madness
When it comes to pairing meat with scrambled eggs, no other breakfast meat compares to sausage. Some chefs combine other meats with eggs, but you can't beat sausage when you're looking for flavor and versatility. With breakfast sausage, you can crumble it into scrambled eggs, slice it onto an egg sandwich or serve it straight up alongside any egg creation.
Pro tip: Follow this sausage scramble recipe for a surefire way to start your day.
5. Oven Lovin'
Scrambled eggs aren't only for the skillet — you can bake them, too. This technique is especially handy if you need to whip up a batch of eggs to feed a large, hungry group. Use the oven to make a delicious egg casserole by scrambling a bunch of eggs and pouring them over a casserole dish of sausage, veggies and cheese before popping it in the oven.
Pro tip: For an easy egg casserole, check out this savory sausage-and-hashbrown quiche.
6. Smooth It Over
For those who prefer silky-smooth scrambled eggs, use yogurt instead of milk for maximum creaminess. Be careful not to go overboard, though — too much yogurt will make your eggs curdled and goopy instead of lusciously fluffy.
Pro tip: Can't get enough smoothness? Add some mashed avocado to your scrambled eggs for a delightfully creamy texture.
7. Keen on Quinoa
Protein is an essential part of a healthy breakfast. Indeed, protein content is the reason many people choose to start their day with eggs. Get a little extra protein to kickstart your day by adding precooked quinoa to your egg scramble. The ancient grain will give your morning meal a protein boost and a delightful new texture.
Pro tip: Cook your quinoa in chicken or veggie broth to give it a fuller flavor.
8. Bring the Heat
Kickstart your day with a little spice to get you going. If ketchup is too tame, add a dab of hot sauce or salsa to your scrambled eggs. You can also spice up your morning scramble by whisking in some curry powder or topping it with jalapenos.
Pro tip: If you want extra flavor, but can't quite handle the heat, sprinkle in some chopped jalapenos without any seeds to avoid their primary source of spiciness.
9. Wrap It Up
If your morning breakfast sandwich is starting to feel a little dull, mix it up with a breakfast burrito. Scramble some eggs, add your desired toppings and tuck it all into a warm tortilla to make a delightful morning meal. Quickly customize your breakfast burrito by stuffing it with all your favorite fillings, or keep it light with minimal add-ins.
Pro tip: Use this New Mexico-style breakfast burrito recipe for a classic Tex-Mex taste or this recipe with "the works" for a bolder burrito.
10. Pizza Like a Pro
Who says you can't have pizza for breakfast? Make a pizza suitable for brunch by layering it with a coat of tasty sauce, gobs of gooey cheese, fresh toppings and fluffy scrambled eggs. For lazy or rushed mornings, you don't even have to make a crust — dump some scrambled eggs on a leftover pizza slice and head out the door.
Pro tip: Your brunch will never be the same after you've tried this Premio brunch pizza.
Find Premio Sausage at a Store Near You
When it comes to breakfast sausage, only the best will do. Premio makes sausage with fresh ingredients and no fillers, so you know it's the best way to start your day. At Premio, we're proud to supply top-quality sausage products that perfectly complement any style of egg scramble.
Find the Premio sausage carrier closest to you to start making your breakfast something to rise and shine about.