Premio Sausage – Women's Choice Award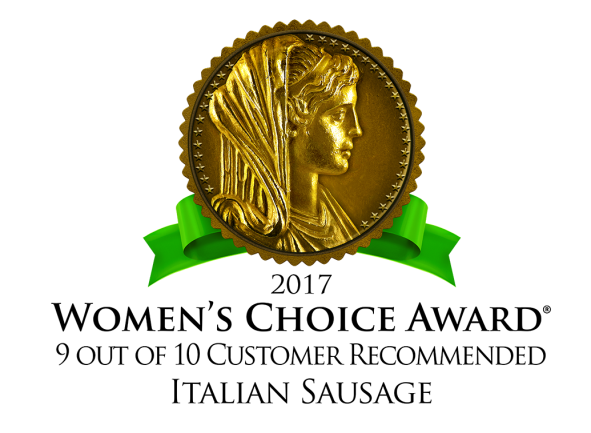 Premio Sausage® Receives Highest Honor Set by Women for Outstanding Customer Experience
Recognized with the Women's Choice Award® for 2017 as 9 out of 10 Customer Recommended Italian Sausage
FAIR LAWN, NJ – SEPTEMBER 12, 2017 –The Women's Choice Award, known as the trusted referral source for women, is delighted to honor Premio Sausage® for earning the 2017 Women's Choice Award®.  The award is based on extraordinary recommendations from their female customers in a customer satisfaction survey conducted by WomenCertified Inc., using the company's customer database.
Premio Sausage® received excellent survey scores, including the vast majority of customers rating the experience and overall quality of Premio Sausage® as 'extremely satisfied.'
"The Women's Choice Award's mission is to simplify her life by recognizing brands tried, tested, and highly recommended by women. Making it easy to buy with confidence," said Delia Passi, CEO and Founder. "By carrying the Women's Choice Award seal, brands like Premio Sausage® signify their commitment to empower women to make smart buying choices."
"We are proud to be recognized with a 2017 Women's Choice Award," said Marc Cinque, President of Premio Foods. "As a family-owned business, relationships are at our core, whether they're with our employees, our community or the female customers who helped us earn this award. This honor underscores our commitment to provide nourishing, fairly priced food for busy families."
Women have remarkable spending power and it's continually growing. They currently control the majority of the purchasing decisions for consumer goods in America. Women are also likely to influence or manage big-ticket purchases as well as everyday purchases, according to a Nielson Report. That, together with a Forbes article stating that word of mouth has been shown to improve marketing effectiveness by 54%, reveals the significance of being a highly recommended brand by women.
Passi commented on how the Women's Choice Award serves as a competitive differentiator in today's cluttered marketplace by explaining,
"When a woman is willing to recommend a brand or service to others, it means that business has earned her loyalty. Those are the businesses we wish to recognize for meeting the needs and preferences of their female customers, who are the toughest customer."
Premio Foods has been making fine Italian sausage for more than four decades. Its selection has expanded from Italian sausage to a wide range of classic and ethnic varieties, including chorizo, kielbasa, and bratwurst. Women look to Premio for healthy and delicious sausage they can feel good about serving their families. The brand's chicken sausage, for instance, has up to 60 percent less fat than USDA data for beef or pork sausage. This is just one way Premio proves its commitment to women, by offering better and healthier choices.
The company's website also includes a recipe page where they compile a wide variety of meals, perfect for occasions such as holidays, tailgating, grilling or simply a family dinner. Women appreciate the array of choices included in this feature. It can be difficult to account for special food needs within the family, but the Premio recipe page even breaks out gluten-free and low-carb options to cater to busy moms who need special meals for their families.
"We are pleased to salute Premio Sausage® for their focus on excellence, a commitment that is recognized by women consumers nationwide," said Passi.
———————————————————————————————————————————————————-
ABOUT PREMIO FOODS, INC.
Premio Foods, a traditional and family-run business, is one of the nation's largest sausage producers. For more than 40 years, Premio has provided quality sausages for all occasions. Premio's line of sausage products, which include pork, chicken and turkey sausage, are available at your local, grocery store. The perfect blend of butcher-quality meat, seasoning, and spice sets Premio apart — THE WAY SAUSAGE SHOULD BE.
ABOUT THE WOMEN'S CHOICE AWARD®
The Women's Choice Award sets the standard for helping women to make smarter purchasing choices. The company and its awards identify the brands, products, and services that are most recommended and trusted by women. Additionally, they recognize those that deliver a recommendation-worthy customer experience. Awards are based on surveys of thousands of women, as well as research conducted in partnership with the Wharton School of the University of Pennsylvania. As the trusted referral source for women, WomenCertified Inc., home of the Women's Choice Award, created the first national award based on the ratings and preferences of women. Women can visit the official website at www.WomensChoiceAward.com to learn more.
MEDIA CONTACT: 
Florencia Latino | WomenCertified Inc.
Marketing Manager
T: (954) 922-0846
flatino@womenschoiceaward.com
Jared Rakotci | Premio Foods, Inc.
T: (973) 427-1106 EXT: 431
jrakotci@premiofoods.com
4 responses to "Premio Sausage – Women's Choice Award"