Best Foods to Bring Camping
Something about the nostalgia of classic camping foods immediately takes you back to laughing and gabbing around the campfire. Some of the best summertime memories come from sharing a delicious meal with friends and family in the great outdoors.
But knowing what food to pack for camping can be tricky because it has to be easy to transport, filling and scrumptious. To make planning your next camping menu a breeze, this article will tell you what food to bring camping, plus some creative camping food ideas for using your ingredients.
Top 20 Foods to Take on Your Camping Trip
Whether you plan on climbing a mountain or lounging by the fire, here are 20 of the best camping food ideas for any outdoor adventure.
1. Bread
As the basis of so many easy meals, bread is a must for any camping trip. The types of sandwiches you can create are endless, and you can also use it to make toast, garlic bread or even pizza. If you want to switch up your bread variation, bring some bagels for a morning egg sandwich.
2. Tortillas
Just like bread, tortillas are versatile and can be the foundation of handheld meals. Fill your tortillas with yummy ingredients and roll them into burritos or wraps for a portable on-the-go lunch. If you'd rather relax by the campfire, fold some cheese inside your tortilla and cook it over the fire into a tasty quesadilla.
3. Sausage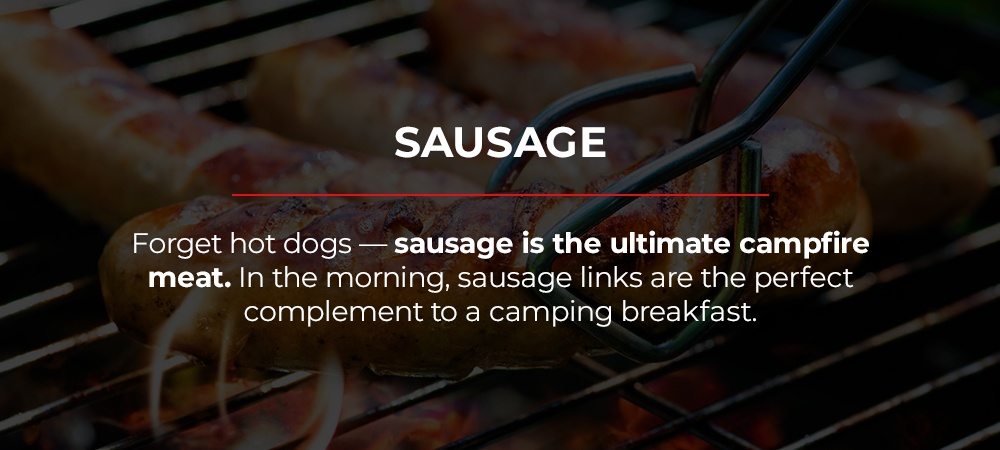 Sausage is the ultimate campfire meat. Cut up some precooked sausage and veggies and wrap the mixture in aluminum foil to heat over the fire later. And in the morning, sausage links are the perfect complement to a camping breakfast.
4. Cheese
Cheese is an essential camping food because it's an ingredient you can include in sandwiches or stack between crackers. And if you decide to bring any precooked sausage or other dried meats, you can make a charcuterie board — who said the woods couldn't be fancy?
5. Nut Butter
Is there any sandwich more classic than peanut butter and jelly? Nonperishable and packed with protein, peanut butter is convenient, satisfying and delicious. Switch it up with some almond, cashew or walnut butter, or be allergy-conscious by bringing sunflower seed butter.
6. Crackers
If you're planning snacks like a meat-and-cheese platter, you're going to need some crackers. They're also good to have when camping to make peanut butter cracker sandwiches or to snack on as-is.
7. Lunchmeat
When you've already got bread and cheese, all you need is some lunchmeat to make a sandwich. Make sure you bring some plastic wrap or resealable baggies to transport your sandwiches.
8. Beef Jerky
Not all of us are glampers — if you plan on being somewhere without access to refrigeration for days on end, beef jerky is your new best friend. Beef jerky cuts out the mess, cooking, cleanup and potential spoiling of non-dried meats, while keeping the meaty flavor and protein content intact.
9. Potatoes
Potatoes are one of the best camping food options for roasting over an open flame. If you plan on having dinner by the campfire, pack some pre-cut potatoes to either roast on their own or toss into a hash with onions, peppers and sausage.
10. Instant Mac and Cheese Cups
Whether you're a kid or just a kid at heart, the joy of instant mac and cheese never gets old. Quick snacks like mac and cheese cups or cup ramen are also perfect for camping because all they require is some hot water and a spoon.
11. Chili
Canned foods, in general, are excellent to bring camping, but chili is the most notable campfire comfort food. With no prep work involved, heat and enjoy chili straight from the can in no time — don't forget to bring a can opener!
12. Granola Bars
Granola bars are a portable and satisfying snack, and with so many brands and flavors available today, you're sure to find one you love. Bring some protein bars for an extra-filling snack on days packed with physical activity.
13. Fruit
Stuffing some apples and bananas in your backpack before going on a hike is the perfect way to fuel up. It's also smart to have fruit on hand as a healthy snack option to tide you over between meals.
14. Fruit Leather
Not all fruits keep well when exposed to the elements — that's where fruit leather comes in. Fruit leather is an ideal way to get your daily serving of fruit without worrying about whether you'll have access to refrigeration or need to carry your fruit with you up a mountain. If you want a more sugary boost, go for fruit snack gummies.
15. Trail Mix
Trail mix is an obvious choice for a hiking snack — the name says it all! A hearty combination of nuts, dried fruit and chocolate, trail mix is a yummy snack that will give you the energy you need on the trails. Make your trail mix to include whatever mix-ins you want, such as cereal, pretzels and cookie pieces.
16. Pretzels
While delicious in trail mix, pretzels are a wonderful camping snack all on their own. Crunchy, salty and light, pretzels are the perfect portable snack for when you need a mid-afternoon boost, but don't want to spoil your dinner.
17. Chips and Dip
Like pretzels, chips are a tasty stand-alone snack, but they shine when you pair them with dip. From salsa or guacamole to hummus or queso, there's a chip-and-dip combo for everyone.
18. Popcorn
Bringing a premade bag of popcorn to snack on around the fire is smart, but nothing beats popping kernels over the campfire. Use a metal popcorn popper to make a delightful nighttime snack while having some cooking fun around the fire.
19. Cookies
Cookies are an ideal way to sneak some sweets along on your camping trip because they're portable and make a quick pick-me-up. Whether you bring pre-packaged or homemade cookies with you, you'll be glad you brought dessert when you're sitting around the fire.
20. S'mores Supplies
When it comes to campfire desserts, s'mores are the reigning champ. Some seasoned campers would argue that a camping trip is incomplete without some s'mores. Make sure you pack some marshmallows, graham crackers and chocolate so you can enjoy this longtime favorite.