Best Things to Serve With Cheese Fondue
Cheese fondue is the perfect dish for cheese enthusiasts, combining delicious melted cheese with wine and a touch of herbs and spices. It's one of the best dishes to serve as a tasty appetizer for guests or as a main filling meal for your family and loved ones. Fortunately, almost anything goes together perfectly with cheese fondue, so you can create new sides and dippers to keep the dish exciting and tasty.
We've put together this list of our favorite things to dip in fondue to help you take this classic cheesy dish to the next level.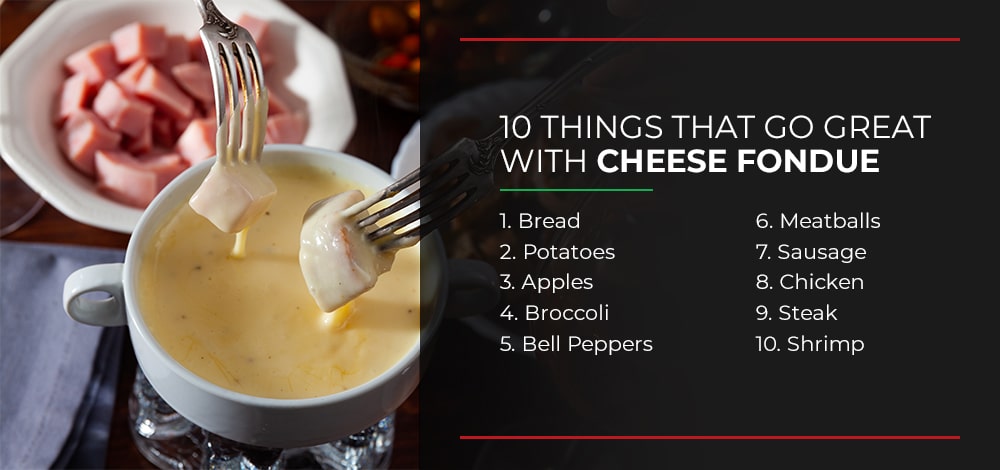 10 Things That Go Great With Cheese Fondue
There are tons of options when it comes to sides that go great with cheese fondue. Adding the perfect ingredient to this cheesy classic can make the dish much more filling and satisfying. Here are our top 10 best cheese fondue dippers to try out the next time you serve up this tasty meal.
1. Bread
Bread is one of the most common dippers for cheese fondue because it's perfect for soaking up all the cheesy goodness. There are so many options to choose from for this classic side, such as French baguettes, sourdough, breadsticks, bagels, croutons or pretzels. Whichever bread you choose, be sure to toast it first slightly so it doesn't fall apart in your fondue.
2. Potatoes
If you're a fan of cheese fries, then pairing your fondue with crispy potatoes is a must. You can get creative with this one and make homemade french fries, roasted or baked potatoes or potato chips. If you opt for potato chips, you might also want to try tortilla chips for homemade cheesy nachos. They're perfect for any get-together and are sure to be a treat.
3. Apples
It may seem like an unlikely pairing, but fruits taste surprisingly great with cheese fondue, especially apples. Picture a cheese board with melted cheese and a selection of fruit to enjoy. You can cut a few apples into slices and lay them out for guests to dip as they see fit. The crunchy, crisp tartness of an apple is a perfect match when paired with melted cheese, and it makes for a delicious snack or appetizer.
4. Broccoli
If you're looking for some veggie options for your cheese fondue, you can't go wrong with broccoli. It's is an excellent option for adding a bit of freshness and a little kick of healthy nutrition to this cheese feast meal. You could choose to serve broccoli raw or steam it first to give it a smoother taste. Either way, it's sure to provide a satisfying meal.
5. Bell Peppers
Peppers go great with just about anything, and cheese fondue is no exception. You can use a mixture of green, red and yellow peppers to add a little color and extra flavor to this savory cheese dish. It's also great to slice the peppers in thin, long slices, making them easier to dip without skewers.
6. Meatballs
Meatballs are a surprisingly versatile side to any dish. While we may usually pair them with pasta, meatballs go together perfectly with cheese fondue. Either use a skewer to dip them in the fondue or pour some cheese on top to create a deliciously cheesy meatball delicacy.
7. Sausage
If you're looking to add protein to this traditional dish, sausage is the best meat for fondue. Authentic sweet Italian sausage goes amazingly well with savory cheese. You can easily cut the sausage into smaller pieces, so it's easy to dip and enjoy. And if you're looking to add a touch more of extra flavor, you can choose from a variety of sausages such as chorizo or hot and spicy chicken to enjoy with your cheese fondue.
8. Chicken
If you want a filling meal for your guests or family, poached chicken is an excellent way to do it. You can add herbs and spices to the chicken for extra flavor and dip the pieces in cheesy goodness to your heart's content. Add a side of veggies, such as broccoli or green beans, and you've got yourself a filling dinner sure to impress.
9. Steak
Steak is another excellent protein to add to your cheese fondue. If you love cheesesteaks, it's a no-brainer to try dipping steak strips or bites into gooey cheese. Add a piece of bread, and you can create mini cheesesteak sliders.
10. Shrimp
Are you a seafood lover? Consider combing your favorite seafood and cheese fondue into one delicious dish. Shrimp is an excellent choice to take your cheese fondue to the next level. Whether roasted, sauteed, fried or grilled, shrimp is perfect for adding a unique and fancy side to the classic cheese fondue.
Cheese Fondue Recipe to Try
You can experiment with different cheeses and wines to concoct your very own cheese fondue recipe.
First things first, you'll need to gather the essential ingredients, including your choice of cheese, wine and dips.
The key to cheese fondue is selecting your cheese wisely. It's an essential ingredient, after all. If you want a more classic and traditional tasting fondue, gouda, gruyere and fontina are excellent types of cheese to consider. You could also use cheddar cheese to whip up a yummy cheddar fondue.
The next step is to choose your wine. You'll want to select a white wine that's acidic and dry that will help keep the cheese smooth with an even texture. You could also opt for a less traditional recipe by choosing a light red wine. If wine isn't your favorite, you can use your favorite beer instead and make a tasty beer fondue. A non-alcoholic spin on cheese fondue could incorporate chicken broth and lemon juice.
Now it's time to start cooking. First, grate the cheese. Thoroughly mix your grated cheese with either flour or cornstarch to ensure it thickens nicely in your fondue pot. Set your grated cheese mixture aside in a bowl.
Next, add your choice of wine or beer into a pan and let it simmer. Slowly add your grated cheese to the pan. The key to achieving smooth fondue is to slowly sprinkle the grated cheese into the pan and stir the mixture constantly. Be sure to let the cheese melt before adding more. Once everything is melted, your cheese fondue is complete. Combine it with your choice of dippers, whether it's your favorite sausage product or classic bread, and enjoy.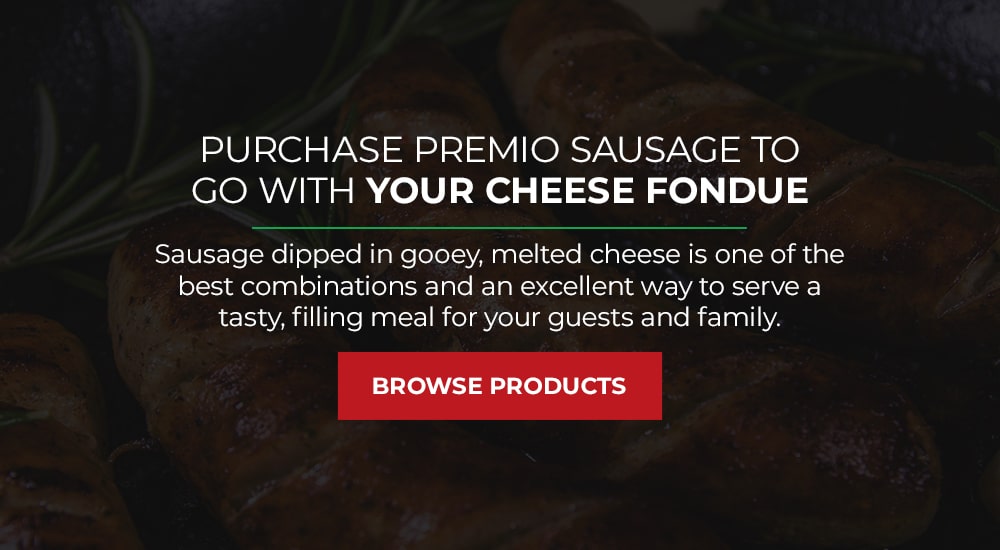 Purchase Premio Sausage to Go With Your Cheese Fondue
Sausage dipped in gooey, melted cheese is one of the best combinations and an excellent way to serve a tasty, filling meal for your guests and family. Use Premio's high-quality authentic sausage products to kick your cheese fondue up a notch and impress your loved ones and keep them coming back for more.
Purchase Premio sausage at a store near you today to go with your next cheese fondue dish.