Taco Tuesday is one of our favorite nights of the week. From hard shells to soft tortillas and spicy to mild meats, there are a million different ways to mix up this delicious dish. If you feel like your taco nights are growing a bit stale as you cycle through the same one or two recipes time and again, why not try mixing things up by swapping out your beef, chicken or pork for sausage as the key ingredient in your tacos? Perhaps the best part about using sausage in your tacos is the sheer variety it offers. After all, there isn't just one kind of sausage. There's Italian sausag... Read more
Read more


Every family and group of friends has its resident grillmaster. Do you claim that title among your circle, or does someone else wear the crown? If you're looking to improve your grilling skills and claim this ultimate summer title, some practice is in order. After all, you can't become a champion griller without putting in a little time and effort. Grilling might seem like an intimidating prospect, especially if it's something you haven't done much. It's simple in theory — put the meat on the grill and turn it every so often — but it's a bit more complicated in practice. Sometimes, it can even seem like there is an entire rulebook of do's and don'ts every grillmaster knows that you somehow missed out on. If this is how you're feeling, don't worry. We want to help you become the ma... Read more

One of the best parts of being a sausage lover is the diverse range of sausage varieties that exist in every corner of the world, each with a unique spin on the same concept. From andouille to bratwurst and breakfast sausage to spicy Italian, there's a whole world of flavors and textures to try. Have you tasted chorizo sausage yet? If so, then you know just how delicious it can be — and if not, you've got a special treat ahead of you. Rather than a specific sausage type, the term "chorizo" encompasses a category of sausages that all share similar origins and characteristics, such as heavy seasoning. Paprika is the primary spice in many types of chorizo, although other varieties favor chilies. While pork typically is the chorizo meat of choice, you may also find mixed beef-and-pork... Read more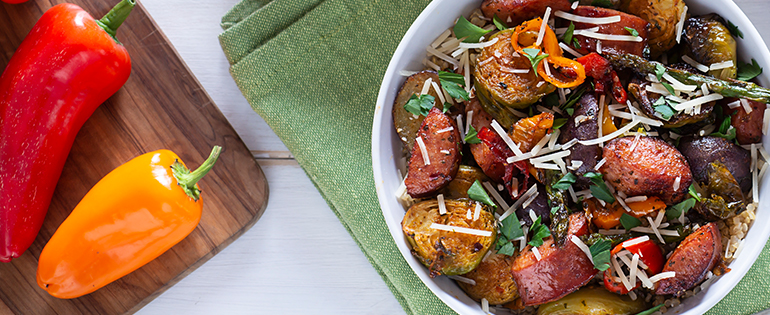 Before you resort to another night of fast food or ordering takeout, consider this: preparing a delicious, nutritious meal can take less time. In fact, you can prepare a meal for one or for a whole household of hungry folks in under an hour.
What is the key to being able to produce incredible entrees like quick, 30-minute sausage recipes for dinner or warm breakfast items without any fuss? Take the following tips into your kitchen every time you plan a meal.
Tip #1: Double Up on Meal Prep
The next time you make a meal like sausage and p... Read more


When is the last time you've felt like there were enough hours in the day? Between spending the day at the office, rushing kids from one activity to another, trying to plan and cook meals and do the shopping, it can easily feel like there isn't time in the day to breathe. As a member of today's fast-paced society, what can you do to ease this constant strain of busyness on yourself? We'd like to suggest that meal prep is a fantastic first step to getting some of your lost time back and making your days a little less hectic. While this may seem like only one small step, you may be surprised just how much time it allows you to reclaim for yourself.
Why Should You Try Meal Prep?
At the thought of adding yet another step into our days, many of us may initially... Read more