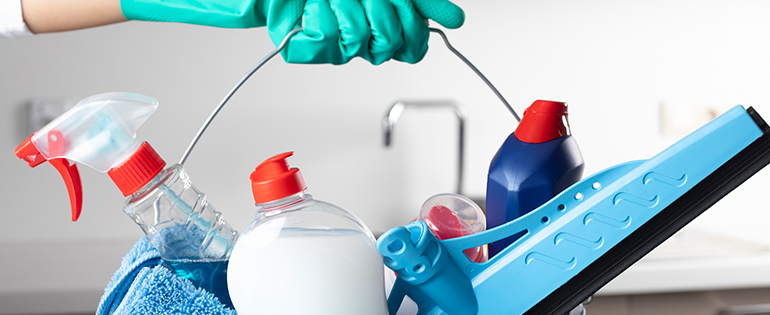 Spring is here! That means the curtains are wide, windows are open and the spirit of spring cleaning in the air. With the warm weather afoot, here are some tips to cleaning your kitchen this spring.
1. Clean Out Your Fridge and Freezer
It's time to dive in your refrigerator and deep freezer for all the food that got shoved to the back. Starting with your freezer, throw away anything that's freezer burned, going bad or out of date. If you package your own food, make sure to check the labels for the dates you froze them and use common sense when deciding what to keep. If you don't label foods, now is a good time to remind yourself for later. Then, give your freezer a cleaning with a safe cleaning solution, paying attention to removable parts and their grooves. Take a simi... Read more

What gives your favorite Premio mouthwatering sausage links their familiar, distinctive shape? You can thank the humble, yet essential, sausage casing. Each casing keeps a pre-measured amount of perfectly seasoned meat from losing its tube-like form, allowing you to whip up your favorite sausage recipes like a pro. However, you may sometimes want to remove the sausage casing and use the ground meat for a dish. In that case, taking sausage meat out of the casing is relatively simple.
Share:
Read more

Preparing your meals at home is healthier and more cost-effective than going out to a restaurant. How do you enjoy cooking when it's not part of your daily routine? Use these tips to discover how to get inspired to cook.
5 Tips for How to Get an Interest in Cooking
Beginning a cooking routine may be challenging at first, but you'll have fun as you learn and grow in your expertise. If you need cooking motivation, here are five tips to inspire your desire to cook.
1. Try Something New
If preparing food is a new experience for you, there are no limits to what you can learn to cook. Experimenting in the kitchen is entertaining, even though it takes time and effort. To start your cooking routine, try making a dish you like. Instead of ordering your next meal from a l... Read more
Read more