Best Cheese to Use When Making Mac and Cheese
As a mac and cheese lover, you can't resist gooey, melty cheese and your favorite noodles. Maybe you've tried lots of recipes or have an old standby you bring out whenever you're craving this comfort dish.
With help from this guide, you may discover new favorites and the best cheese for mac and cheese. Get ready to create delicious dishes with velvety cheeses that make your mouth water!
7 Best Cheeses for Mac and Cheese
While sharp cheddar is the most common choice, the best mac and cheese recipes use a blend of several cheeses. By mixing parmesan, gruyere, brie, or gouda into your mac and cheese, you can create gourmet flavors. The best cheese blend will ultimately depend on your preferences, but you should go for something that offers a creamy, gooey texture. You can experiment with a wide variety of cheeses, including:
1. Cheddar
Cheddar is a staple for countless recipes. This option is a classic cheese for mac and cheese, so you've probably had it before. But you may not have tried this pasta dish with different cheddar varieties like:
Sharp: Use sharp cheddar cheese for a stronger taste. Remember this variety takes a bit more heat to melt.
Mild: Mild cheddar has been aged for a short time, giving it subtle flavors and a smooth melting texture.
Medium: Medium cheddar is the ideal compromise between sharp and mild varieties. It melts well and offers a bit more flavor than mild options.
Extra-sharp cheddar cheese offers a strong flavor, but with a lower moisture content, it doesn't melt as well. Save that cheese for a snack and use the other varieties for your mac and cheese recipes.
2. Parmesan
Parmesan is a salty cheese with complex flavors. For a mac and cheese recipe, consider the combination of sharper cheddar cheeses and a flavorful Parmesan. This cheese adds a boost of fruity, nutty notes to your favorite macaroni recipes. Parmesan is also ideal for grating on top of mac and cheese before you bake it to add golden color.
Choose Parmesan options that you grate yourself for a smoother melt and better texture. Using pre-grated alternatives may create a less appealing, gritty texture compared to fresh Parmesan.
3. Gruyere
Update your mac and cheese recipes to something more mature with Gruyere. It's a hard cheese that melts to a smooth and velvety texture, making it the best melting cheese for fondue — but it's just as delicious mixed with pasta. Gruyere has a flavor that combines nuttiness with earthiness and the slightest hint of sweetness. The result is a complex taste you probably never thought to pair with mac and cheese.
Consider combining Gruyere with white cheddar for a delicious mac and cheese dish. Add a pinch of freshly grated nutmeg to kick the meal up a notch and keep things sophisticated.
4. Brie
You might have enjoyed this creamy cheese on a cheese board before, but it makes the perfect addition to a macaroni recipe. Brie becomes liquidy and buttery when it melts, making for a gooey and delicious mac and cheese. Depending on what varieties you can find, brie can offer anything from mild to strong nutty and tangy flavors.
Combine brie with ingredients like Parmesan, bacon or garlic for a mac and cheese that elevates the classic comfort food to something sophisticated.
5. Smoked Gouda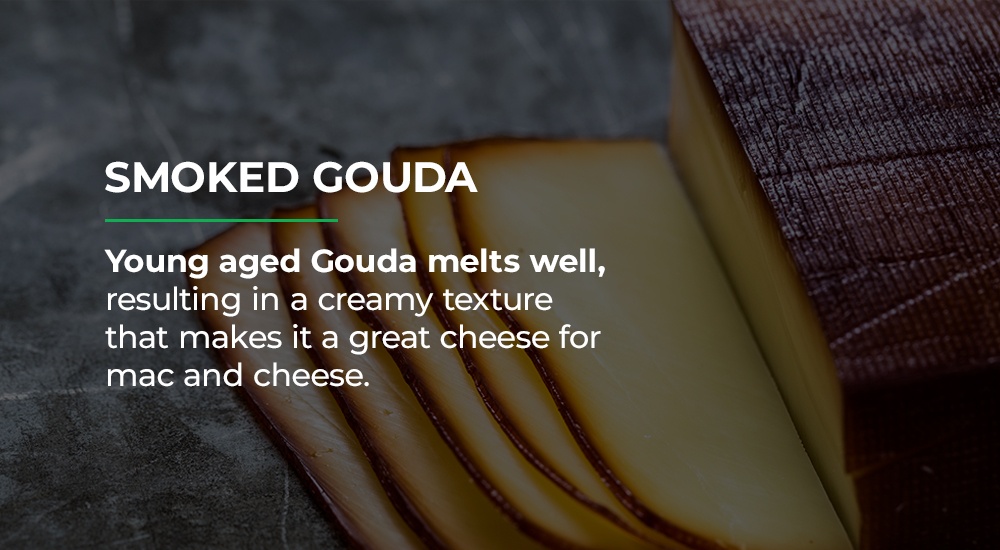 Enhance your meal with the almost meaty flavors of smoked Gouda. Young aged Gouda melts well, resulting in a creamy texture that makes it a great cheese for mac and cheese. Younger versions of this ingredient also offer a milder profile, meaning you can create a dish that everyone in your family will enjoy. Want stronger, more complex flavors for your mac? Opt for aged Gouda, which provides a robust flavor.
6. Monterey Jack
This cheese has a similar texture and flavor to colby and cheddar, making it a familiar swap for mac and cheese favorites. Monterey Jack melts perfectly for this dish, creating a buttery, gooey texture. You can even combine it with colby and cheddar for a three-cheese mac that everyone will love.
7. Fontina
Fontina melts perfectly, putting it among the best cheeses for mac and cheese. Some varieties have a pungent, nuttier profile, while others are lighter, buttery and fruity. Fontina is versatile. Its texture and flavor make it ideal as a table cheese — one you snack on or add cold to dishes — and as a melting cheese. Melt and combine a mid-priced option with pasta for a grown-up macaroni recipe that even kids will love.
Mac and Cheese Recipes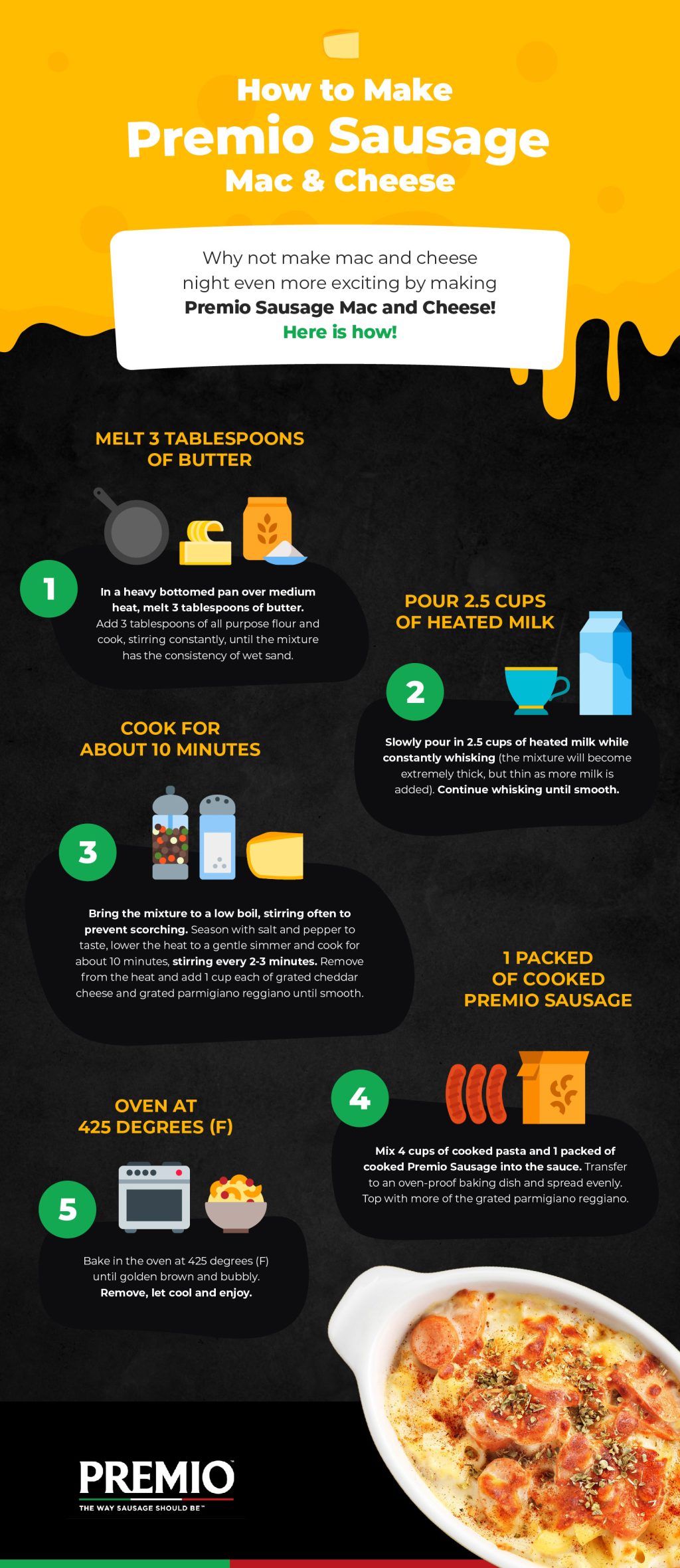 Ready to take the best cheeses and incorporate them into mouthwatering mac and cheese recipes? Get inspiration with these flavorful ideas:
Sausage Mac and Cheese
Take a basic mac and cheese recipe and kick it up with the addition of Premio Sweet Italian Sausage. This sausage mac and cheese recipe gets its creamy texture from shredded cheddar and Parmesan cheese. A combination of flour, butter and milk creates a thick base for the sauce, which you can pour over your favorite type of pasta.
For this simple recipe, cook and crumble the sausage, then combine with the prepared sauce and cooked pasta. Transfer everything to a baking dish and grate on more Parmesan cheese, which will become golden brown and bubbly in the oven. The creamy, flavorful cheeses combine with the delicious and authentic taste of sweet Italian sausage for a meal everyone will enjoy.
Bacon and Sausage Mac and Cheese
Different varieties of cheddar combine in this flavorful bacon and sausage mac and cheese recipe. Cook up a few slices of bacon and half a package of Premio Sweet Italian Chicken Sausage to combine with shredded sharp and white cheddar. You can cut the sausage into bite-sized rounds or crumble it up, depending on your preference. Thicken the cheesy sauce mixture with a blend of butter, flour and chicken broth for added richness and flavor.
No matter how you prep the ingredients, you'll get a mouthwatering comfort meal that's full of protein and flavor. And the addition of Premio Sweet Italian Chicken Sausage reduces fat without compromising on taste.
Comfort Mac and Sausage Bake
Create this mac and sausage dish with a combination of Romano, Mexican blend and feta — a few more of the best cheeses for mac and cheese. This comfort mac and sausage bake recipe gets an infusion of flavor from Premio Hot Italian Sausage and our sweet variety. That balance, combined with stewed tomatoes, spinach, basil, oregano and garlic, creates the most flavorful mac and cheese you've ever had.
These cheeses melt better than you might expect to create a luscious and flavor-packed macaroni dish. Feta has a high moisture content despite its crumbly appearance. The tangy, salty flavor plays well with Romano's saltiness, and the addition of Mexican blend cheese helps create a gooey, melty meal.
Enhance Your Mac and Cheese Recipes With Premio Foods
Combine the best cheeses for mac and cheese with another delicious addition — Premio sausage! At Premio Foods, we're dedicated to creating our products the way sausage should be. With no fillers or preservatives, Premio Sausage gives your recipes authentic, fresh flavors. And with so much variety to choose from, our range of products lets you find just what your family will enjoy for any meal of the day.
Shop Premio Sausage online today or find us in a store near you!