Best Foods to Stock in Your Freezer
The secret to having quick, easy meals on hand or saving food on the brink of going bad has always been the trusty freezer. Pulling a premade meal out of the freezer on a busy day or reheating a crucial ingredient can be a significant time-saver.
You can freeze virtually any type of food, but that doesn't mean you should. Your freezer has limited space, so what you keep in the deep freezer should mainly be practical and versatile foods that will store well for months. In this article, we'll share 15 of our favorite freezer foods, so you can be confident you have a fully stocked freezer for whatever life throws your way.
15 Foods You Should Always Have in Your Freezer
Here are 15 freezer must-haves to help you cut down on waste and ensure you always have what you need in the kitchen.
1. Chicken
It's always great to have some chicken on hand for when you're in a pinch. As a versatile lean protein, chicken goes well with just about any meal, and thaws more quickly than most meats. If you're not wild about chicken, turkey is a great alternative type of poultry to keep stashed in your freezer.
2. Ground Meat
From burgers and tacos to meatloaf and shepherd's pie, so many easy meals start with ground meat. You can also add ground meat to stews and pasta sauces or toss it on top of a pizza to provide an easy protein boost. Don't forget to think beyond beef — ground chicken and turkey also work well for meatballs and rice bowls.
3. Sausage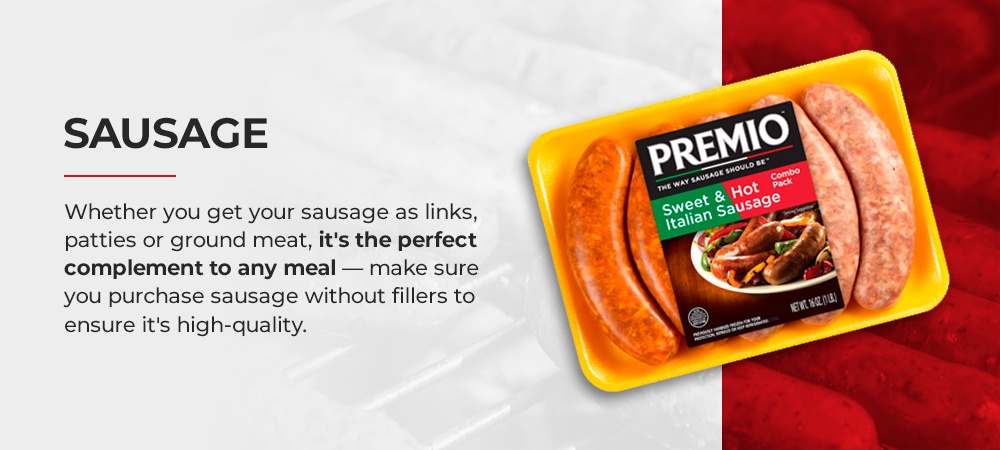 Sausage might be the ultimate protein to keep in your freezer because it has so many uses. Whether you get your sausage as links, patties or ground meat, it's the perfect complement to any meal — make sure you purchase sausage without fillers to ensure it's high-quality. Then, all you'll have to do the next time you need a hearty breakfast side or a flavorful entree is take some sausage out of your freezer.
4. Bread
Every good meal needs a side of bread, so always keep some bread handy in the freezer. Grabbing a frozen slice to make toast can be the perfect way to sneak in a quick breakfast on busy mornings. Bagels, English muffins and tortillas are other good carb options to store in the freezer.
5. Cooked Grains
Although grains are a great side dish, you don't always have time to boil water and let them simmer for minutes on end. Grains often take longer to cook than your main dish, so keeping some precooked grains in your freezer to reheat and serve alongside your other dishes can be convenient for busier evenings.
6. Broth
Homemade broth is delicious in everything from soup to risotto, but it doesn't keep long in the refrigerator. Before your broth spoils, put the leftovers in the freezer to save for future sauces and braises. Frozen broth retains its flavor and reheats quickly.
7. Butter
If you love to bake, you know the value of frozen butter. Using cold butter elevates a batch of scones or biscuits and takes a pie crust from falling flat to flaky. Stock your freezer with butter to ensure you're always ready for the next baking adventure or prepared for when you run out of butter — whichever comes first.
8. Bananas
No need to throw away brown, overripe bananas — put them in the freezer to use later for banana bread, muffins or smoothies. Frozen bananas, blended with a splash of milk, can also make a healthier version of soft-serve ice cream. Feel free to store your bananas peeled or unpeeled.
9. Berries
If you're stocking up on bananas for smoothies, you might freeze some berries while you're at it. As far as fruits go, berries handle the freezer well. Look for pre-frozen berries at the grocery, or pop fresh blueberries, strawberries, raspberries or blackberries in the freezer. Even if you're not a smoothie fan, you can use frozen berries to top desserts, make a compote or upgrade oatmeal.
10. Vegetables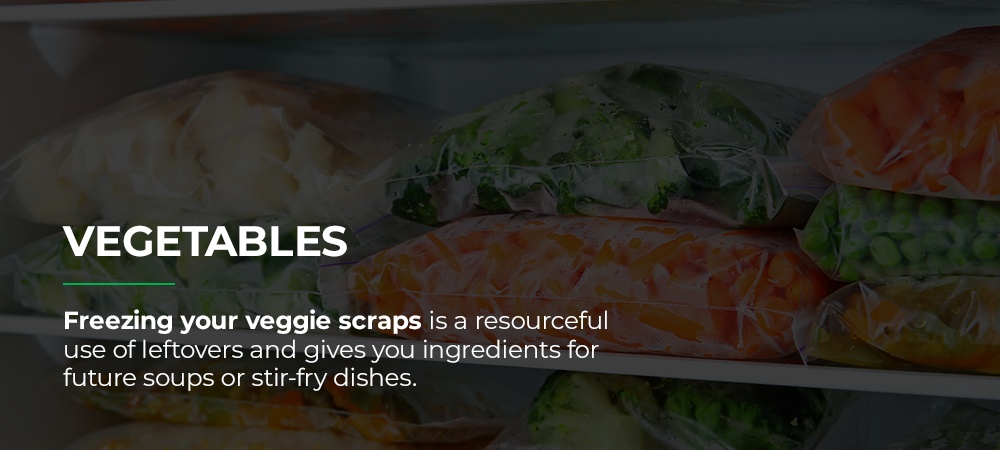 Just like berries, veggies are available frozen, or you can freeze some while they're fresh. Freezing your veggie scraps is a resourceful use of leftovers and gives you ingredients for future soups or stir-fry dishes. In times of crisis, a frozen bag of peas or corn also makes the perfect ice pack.
11. Fresh Herbs
Fresh herbs can take a meal from drab to fab, but they often go bad too quickly. You don't have to substitute dried herbs for fresh ones because you know you won't use the whole bundle in time — throw the leftover herbs in the freezer, and they'll last for months. Pre-portion your herbs by chopping them up and sorting them into ice cube trays before freezing.
12. Pesto
Whenever you go to the trouble of putting together fresh homemade pesto, you should always make a giant batch. You won't have to worry about a single drop of precious pesto going to waste, because the sauce freezes beautifully and keeps for months. Once again, ice cube trays help pre-portion your pesto, so you don't have to thaw all of it for a small serving of pasta.
13. Frozen Pizza
Everybody knows the feeling of those busy evenings when it's either pizza or no dinner at all. On those days, ditch the delivery and grab a premade pizza from your freezer. Boxed frozen pizza is easy to doctor up by adding fresh toppings, and cooks in minutes. And it's not just for dinner — crack an egg on top of a frozen pizza before popping it in the oven, and you've got brunch!
14. Cookie Dough
Who hasn't had a late-night cookie craving? Next time you decide to make a batch of cookies from scratch, reserve some of the dough for freezing instead of baking it all. Keeping some frozen cookie dough on handy will pay off when you only want one or two cookies to satisfy your sweet tooth.
15. Vanilla Ice Cream
A well-stocked freezer always has some ice cream in it, but a genuinely great one has a carton of vanilla ice cream. Vanilla ice cream is valuable purely for its versatility. You can dig into it as-is, dress it up with some fun toppings or sauces, scoop it alongside a slice of pie or cake, blend it into a shake, stuff it between two cookies or waffles, pour espresso over it — the list goes on! The point is, vanilla ice cream is vital to your freezer stock.
Find Premio Sausage for Your Freezer at a Store Near You
When it comes to freezer food, your family deserves the best. At Premio Foods, we make our sausage without any fillers, and it retains its fresh flavor even after months in the freezer. With a wide variety of classic Italian sausage and tasty chicken sausage, Premio products can appeal to even the pickiest of eaters and fit with any recipe.
Locate the store nearest you with Premio products to stock up on top-quality sausage for your freezer, and you'll never have to worry about what to make for a last-minute meal again!