The Best Sausage Air Fryer Recipes
Sausage is delicious any way you cook it — on the grill, in a skillet or simmered in a hearty sauce. But have you ever wondered if you can air fry sausage? If so, we're here to introduce you to the easiest, quickest way to serve sausage recipes to your family.
Using an air fryer to cook sausage means no grease splatters on your stovetop, no having to wait for the grill to warm up and, of course, delicious meals on your table in a pinch. Cooking sausage in an air fryer takes about 10 minutes. The temperature for cooking sausage varies by recipe, but you should always use a meat thermometer to ensure your sausage is cooked to a minimum of 160 degrees.
We've rounded up some of the best recipes to get you started cooking sausage in your air fryer. These ideas work well for all kinds of gatherings. Whether you're hanging with friends, tailgating at the big game, hosting family during the holidays or just serving a weeknight meal or weekend breakfast, our recipes have got you covered.
Air Fryer Sausage Recipe
First up is a basic air fryer sausage recipe you can use as a starting point for all kinds of meals. This recipe yields about four servings of perfectly browned sausage with crispy skin and a juicy inside. They're great sliced up and added to pasta dishes or casseroles, thrown on a bun and piled high with toppings, or simply on their own with a bit of spicy mustard. The best part? All you need is 10 minutes!
Start by arranging four Premio Italian sausage links in the basket or on the tray of your air fryer. Allow them to cook for 10-12 minutes at 400 degrees. Serve them immediately in the preparation of your choice!
Air Fryer Sausage and Peppers Recipe
Sausage and peppers is a classic Italian-American dish your entire family will love. You can serve sausage and peppers in many different ways, making this dish a go-to! This recipe yields about six servings and takes 30 minutes to make.
Start by preheating your air fryer to 390 degrees.
While the air fryer heats up, slice a yellow onion. Then clean, deseed and slice three bell peppers lengthwise into strips. We like using various colors here.
In a bowl, combine your veggies with a tablespoon of olive oil and season with a pinch of sea salt and pepper. Next, transfer them to your air fryer basket.
Arrange six Premio Italian sausages on top of the veggies. Place the basket inside and cook for about 20 minutes, flipping the sausages over midway through to brown them all over.
Serve the sausage and peppers alone, or plate them up with rice, mashed potatoes, polenta or any of your family's favorite sides!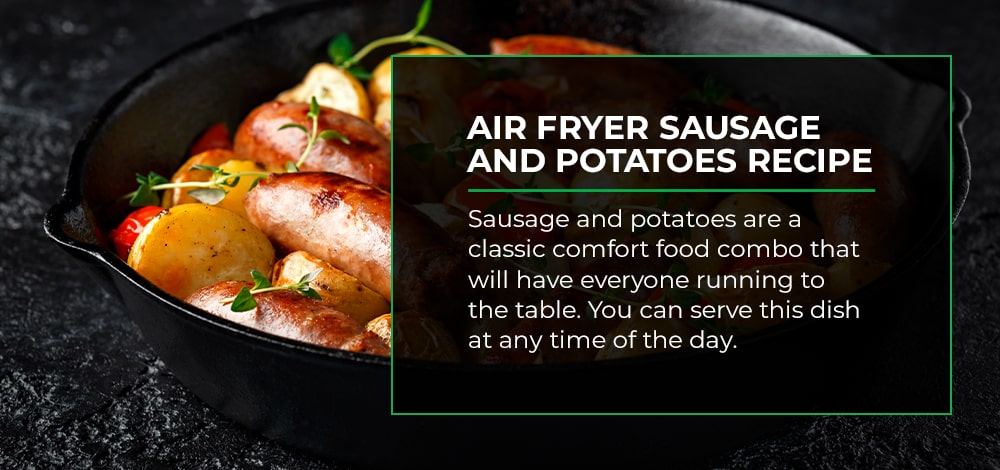 Air Fryer Sausage and Potatoes Recipe
Sausage and potatoes are a classic comfort food combo that will have everyone running to the table. You can serve this dish at any time of the day. If you're going for breakfast, just add eggs! You can top it with cheese for an easy, irresistible meal. This recipe cooks up in 30 minutes and serves about four.
Start by cutting 1 ½ pounds of baby potatoes in half. Then, slice an onion — yellow, white or sweet all work — into large wedges.
Toss the potatoes and onion into a gallon-size zippered plastic bag. Add 2 tablespoons of cooking oil, 1 teaspoon of seasoning salt, 1 teaspoon of garlic powder and ½ teaspoon of black pepper — freshly ground is best if you have it. Close the bag up and shake it gently until the veggies are coated in seasoning and oil.
Empty the contents of the bag into your air fryer basket and cook at 400 degrees for 15 minutes, stirring the veggies midway through cooking.
As the potatoes and onions cook, slice 16 ounces of Premio Hot Italian Sausage into 1-inch rounds.
Once the veggies have cooked for 15 minutes, add in the sausage rounds and cook for another 5 minutes.
Top with 1 cup of shredded cheese. Sharp cheddar and Monterey jack each work well here, but feel free to use any cheese you prefer or have on hand. Garnish with 1 teaspoon of dried parsley and serve with honey mustard, spicy brown mustard, ketchup, barbecue sauce or any other dipping sauce you choose!
Air Fryer Breakfast Sausage Casserole Recipe
Who can resist a warm, cheesy breakfast casserole? This one is great for slow weekend mornings and holiday brunches! It serves six and takes 30 minutes to prepare.
Start by lining the basket of your air fryer with tin foil.
Arrange one pound of frozen hash browns on the tin foil, and place one pound of Premio sausage over them.
Next, layer three diced bell peppers and ¼ cup diced sweet onion on top of the sausage.
Cook the veggies and sausage at 355 degrees for 10 minutes, stirring as needed for even cooking.
Crack four eggs into a bowl, and whisk. Pour them directly on top of the casserole, then cook for an additional 10 minutes.
Serve with salt and pepper to taste, and have fun with toppings! Hot sauce, sour cream, avocado, salsa and cheese send this delicious breakfast casserole over the top.
Air Fryer Sausage Balls Recipe
Sausage balls make a delicious snack or appetizer, perfect for the holidays or whenever the craving strikes. This recipe makes 10 servings and is ready in just 20 minutes!
Start by setting your air fryer to its highest temperature and letting it heat for 10 minutes.
In the meantime, add 1 cup of all-purpose flour to a large mixing bowl. Slice ¼ cup of cold, unsalted butter into small pieces and add them to the bowl.
Next, add 8 ounces of Premio ground sausage and mix everything together with your hands.
Sprinkle in ½ teaspoon sea salt and ¼ teaspoon ground black pepper. Add ¼ cup of sour cream and 2 tablespoons of heavy cream, milk or half-and-half until no dry flour remains. Finally, mix in 4 ounces of grated sharp cheddar.
Use a large spoon to scoop out about 3 tablespoons of the mix, then roll it between your palms to form balls.
Arrange the sausage balls in a single layer in your preheated air fryer basket. Cook them at 350 degrees for 10 minutes, shaking the basket midway through.
The sausage balls are done when they reach an internal temperature of at least 190 degrees. Remove them from the air fryer and place them on a cooling rack before serving.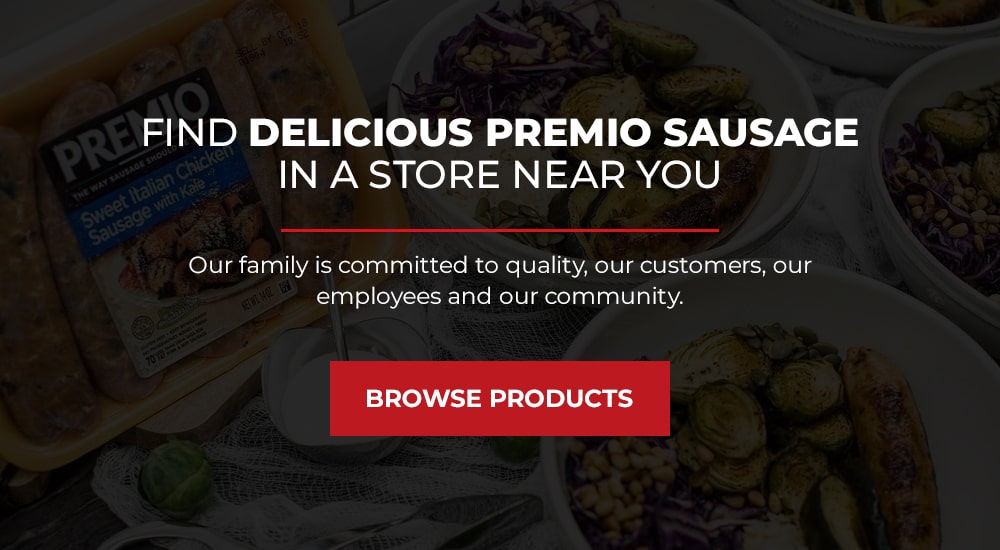 Find Delicious Premio Sausage in a Store Near You
Premio Foods has been crafting fine Italian sausage for over 40 years. Using butcher-quality cuts of meat, we make traditional Italian favorites and other popular varieties, like bratwurst, chorizo and kielbasa. Our family is committed to quality, our customers, our employees and our community. We work hard to bring you sausage the way it should be. Browse our products and recipes to get inspired, then use our store locator to find Premio sausage near you!