Dips to Desire
Whether it's time for a summer barbecue, birthday bash, family reunion, holiday get-together or just a night at home enjoying the game, nothing says good times like a delicious dip to enjoy with your friends and family as you relax or reconnect. The crunch of the chips and the full flavor of the dip piled on each scoop is irresistible, but a boring or bust dip can put a damper on the mood.
Do you want to take your basic dips and transform them into delicious dishes no one can get enough of? Serve up some unique, original recipes — complete with real Italian sausage — to make sure you and your guests are never disappointed. Flavorful and filling, these traditional Italian sausage dips will keep you coming back for more!
7-Layer Sausage Dip
Looking for a classic chip dipped packed with Mexican flavor, meat and all the goodness of a taco? This layered sausage dip is so satisfying, you can make it your meal. Here's how to concoct your own delicious dip. You'll need:
Tortilla chips
1/2 package Premio Sweet Italian Sausage Meat
1 cup Monterey Jack cheese
1 cup cheddar cheese
1 cup black olives
1 1/2 cups sour cream
2 medium diced tomatoes
1 can pinto beans, 15 oz.
2 minced cloves of garlic
1 packet taco seasoning
1 tsp cumin
1 tsp chili powder
1 lime
Salt
Black pepper
2 avocados
1/4 cup diced red onion
1 minced serrano chile
1/2 tomato, insides scooped out
2 1/2 tablespoons minced cilantro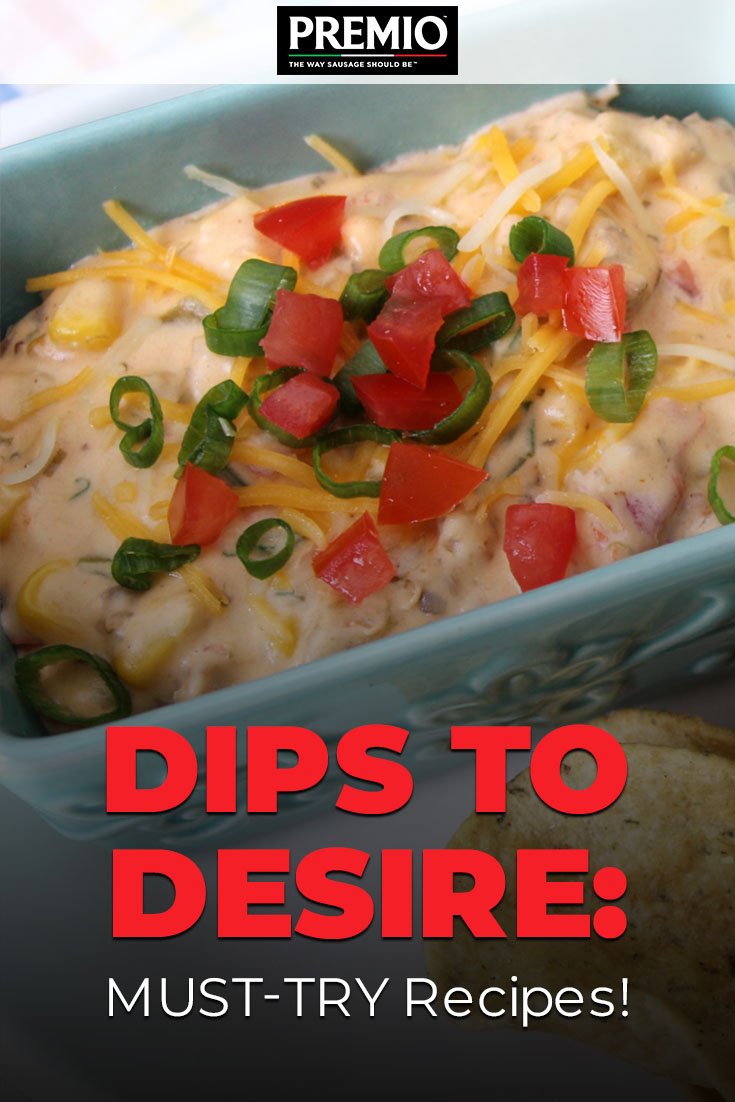 To begin, halve and pit your avocados, scoop their flesh into a bowl and use a fork to mash until slightly chunky. Add serrano chile, diced red onion, cilantro, the scooped-out half tomato and the juice of half of a lime. Mix to make guacamole, cover and keep in the fridge.
Brown the sausage meat in a skillet on medium-high and set aside. To make the refried beans, saute the garlic cloves in a pan until browned and combine with pinto beans, chili powder, cumin, taco seasoning and the juice from the other half of the lime. Mash to your desired consistency and season with salt and black pepper.
To build your dip, choose a large serving bowl and layer your ingredients from bottom to top in this order: refried bean mixture, sour cream, diced tomatoes, sausage meat, guacamole, black olives and cheese. Serve with your favorite tortilla chips and dig in!
Mediterranean Madness Sausage Dip
Looking for a dip that's a little different? Try this Mediterranean-style sausage dip for taste! Here's how:
1 package Premio Sweet Italian Chicken Sausage
1 large chopped onion
2 tbsp olive oil
4 oz. softened cream cheese
3 chopped garlic cloves
1/2 cup ricotta cheese
1/2 cup sour cream
2 tsp garlic powder
1/2 tsp salt
1/2 tsp black pepper
2 tsp dried basil
3 plum tomatoes, seeded and chopped
1 cup crumbled feta cheese
1 cup shredded mozzarella
1/4 cup chopped parsley
1 can black olive slices
1/2 cup chopped red bell pepper
Preheat oven to 375 and heat olive oil on medium heat in a skillet. Remove sausages from casings, chop and saute with garlic and chopped onion until browned. In a medium bowl, combine sour cream, ricotta, cream cheese, garlic, salt and pepper and 1 tsp dried basil. Mix with sausage, garlic and onion mixture, then pour into a baking dish and top with feta cheese, bell peppers and black olives. Place in preheated oven and cook for half an hour, then top with parsley and serve with chips. Delicious!
Chicken Sausage Cordon Bleu Dip
If you're craving a down-home comfort dip, this chicken cordon bleu recipe will hit the spot. Here's what to do:
2 slices chopped ham
1 tbsp unsalted butter
8 oz. cream cheese
1/4 cup shredded Swiss cheese
1/4 cup grated Parmesan cheese
1 tsp Dijon mustard
1/2 tsp Worcestershire sauce
1/4 tsp salt
1/4 tsp black pepper
8 crushed Ritz crackers
Preheat oven to 350 degrees, remove sausages from their casings and cook according to package directions, breaking sausage into small pieces and browning. In a mixing bowl, combine ham, butter, cheeses, mustard, Worcestershire sauce, salt and pepper. Mix well, add sausage and transfer to a baking dish, sprinkling crushed Ritz crackers on top. Bake for 20 minutes and serve with your favorite dippers or chips.
Pick Premio!
When it comes to delicious dips and other grilling sausage recipes, Premio has the best traditional Italian sausage around. Find our products in a store near you today. Happy cooking!