10 Fun Valentine's Day Date Ideas
Valentine's Day is a great opportunity to show your significant other how much you love them. Many couples exchange gifts and enjoy quality time together on this holiday. Try something new this Valentine's Day and plan a fun, unique date with your other half.
Spend an evening out or snuggle up on the couch, and end your evening cooking a romantic dinner together. We compiled a list of date ideas for couples for Valentine's Day, so you can plan an exciting evening with your loved one.
Interesting Valentine's Day Facts
Valentine's Day wasn't always about chocolate, flowers and fun dates with your sweetheart. It has an interesting history that dates back further than you may think. Some believe that its origins date back to a fertility festival in the sixth century B.C. known as Lupercalia.
Roman priests would sacrifice a goat and a dog during the Lupercalia festival to boost the fertility of Roman women, but the Christian community frowned upon this ritual. It's believed that Pope Gelasius outlawed this festival toward the end of the fifth century and replaced it with St. Valentine's Day.
One legend claims that Valentine's Day is associated with a priest who served during Rome's third century. During this time, Emperor Claudius II made a law that young men couldn't marry because he felt that marriage prevented men from being good soldiers. Valentine found this to be unjust and secretly performed marriages between young couples. Claudius had Valentine put to death when he discovered his actions, and many believe that Valentine's Day honors his memory.
Valentine's Day traditions have some interesting origins, as well. During the 19th century, a descendant of a chocolate manufacturing family in Britain, Richard Cadbury, began the tradition of gifting boxes of chocolate on Valentine's Day. The company developed a new technique to produce more chocolate varieties, and Cadbury used the holiday as an opportunity to sell more chocolate.
10 Fun Valentine's Day Ideas
Today, Valentine's Day is a day to celebrate your significant other. Whether you're in a new relationship, a long-term relationship, engaged, married or just friends, Valentine's Day is a great opportunity to plan a fun date with your loved one. If you're looking for some fun date ideas for Valentine's Day, consider the following activities:
1. Enjoy a Bonfire
Use your Valentine's Day chocolates to make some s'mores, and spend the night snuggled up by a cozy fire. Make it fun and create some unique s'mores flavors by trying different candy bars. Use your time around the fire to connect with your loved one by reminiscing on memories, asking fun ice breaker questions or talking about your dreams and goals for the future.
2. Take a Painting Class
If you're looking for creative Valentine's Day date ideas, learning something new together is a great bonding experience. Sign up for a virtual painting class and sip on some wine or cocktails to make it even more interesting. No artistic talent is necessary. You may discover that you and your loved one have hidden skills, but if not, you can spend the evening sharing some good laughs.
3. Play Some Video Games
Engage in some fun competition with your significant other. Pick a video game that you both enjoy, or play one that neither of you has tried before. Break out the Nintendo Switch and find some newly released games or stick to the classics like Mario Kart. Or, turn a virtual game night into a double date with your friends for the holiday.
4. Travel Around the World Virtually
Do you both love to travel but can't book any flights right now? Try signing up for a virtual travel experience. Some online platforms will connect you with local hosts in various countries who will give you virtual tours of their cities. You can ask them questions, learn about their country, shop for special souvenirs and even learn new skills.
5. Go for a Bike Ride
Bike riding is great exercise, and it's a fun way to spend some quality time outdoors with your love. Go for a ride around your city to explore together, or find a scenic park and take in all the sights. You can even stop at your favorite cafe for a drink and then head home to cook a meal together.
6. Test Your Skills in an Escape Room
An escape room is a creative, unique experience that requires visitors to find clues and solve riddles. Booking an escape room will give you and your significant other the chance to have fun, practice communication skills, laugh and be creative. An escape room is an exciting way to spend Valentine's Day, and it may even bring you and your valentine closer together.
7. Treat Yourselves to a Spa Day
Whether it's a couple's massage, a sauna session or facials, treat yourself and your significant other to a relaxing day at the spa. Many spas offer Valentine's Day specials and couples packages, so you can find affordable services for both of you. Take a break from your busy work weeks and spend Valentine's Day indulging in some relaxation. Or, plan a spa day at home to stay in and enjoy each other's company.
8. Visit a Museum or Art Gallery
Learn something new together or admire some beautiful art pieces. Visit a museum or art gallery on Valentine's Day and talk about your favorite exhibits to learn more about each other. Many museums also offer virtual tours online, perfect for couples who prefer to stay cozy at home.
9. Enjoy a Movie at Home
Sometimes, staying home is just as fun as going out. Keep your Valentine's Day relaxed in the comfort of your own home. Pick your favorite romantic comedy, or a thriller if that's more your style, to enjoy together. Load up on snacks or accompany your movie with a romantic meal.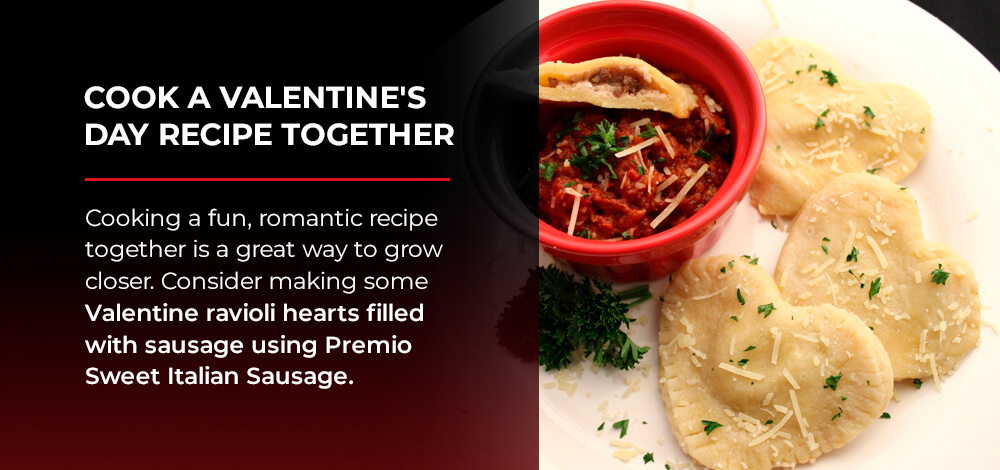 10. Cook a Valentine's Day Recipe Together
Avoid the Valentine's Day crowd and skip the stress of making dinner reservations. Cooking a fun, romantic recipe together is a great way to grow closer. Consider making some Valentine ravioli hearts filled with sausage using Premio Sweet Italian Sausage.
This sweet and savory Italian recipe gives you and your valentine the chance to learn something new together and show off your culinary skills. The ravioli filling consists of sausage, spices and delicious ricotta and cream cheese. You'll use a heart-shaped cookie cutter to make the cutest ravioli hearts out of homemade dough, and you can even enjoy the meal with homemade sauce. Short on time? Pick up pre-made dough and sauce for an equally delicious and romantic meal you prepare together.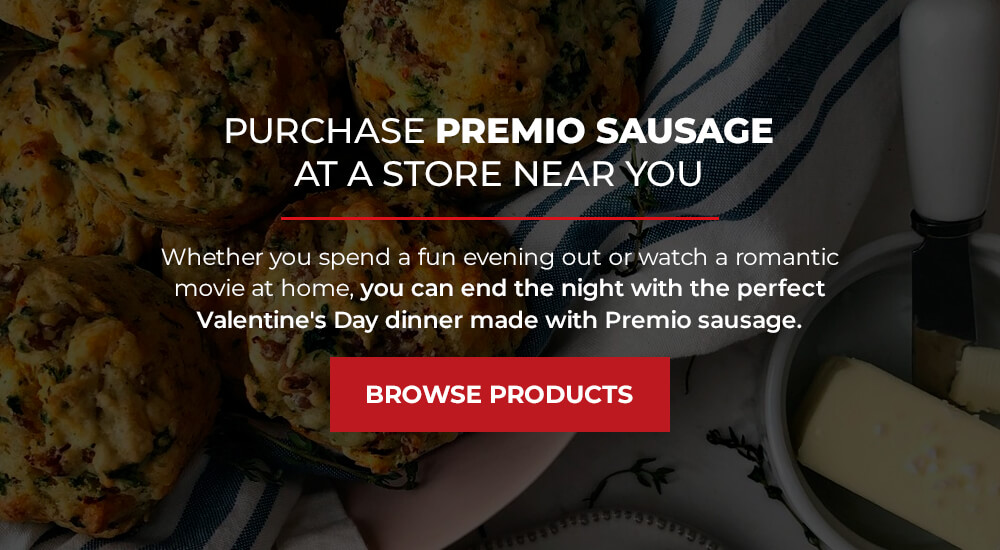 Purchase Premio Sausage at a Store Near You
Whether you spend a fun evening out or watch a romantic movie at home, you can end the night with the perfect Valentine's Day dinner made with Premio sausage. Find a store near you and plan your Valentine's Day meal with Premio's quality sausage products.