Cooking for a Crowd: Best Recipes and Tips
You invited the gang over, but now you're wondering what to serve everyone. Cooking for large groups can seem overwhelming, but having some go-to easy recipes for large groups makes the job much easier. It means you don't have to rely on pizza delivery to feed your group. Check out our best recipes for a crowd to help plan your party menu.
How Much Food to Make for a Crowd
One of the biggest questions you likely have as the host is how much food to make for your large group. No host wants to run out of food or leave guests wanting more, but you also don't want a month's worth of leftovers if you cook in bulk.
First, evaluate the event to get the information you need to estimate your food amounts. How many people are on the guest list? Are they all adults? Are any of them kids? Kids often don't eat much, especially at a party when there is so much excitement going on around them. What time of day is the party? Is it a sit-down meal or a buffet? How many different dishes are you making? How long will it last? If the party is going to last for several hours, guests may graze throughout the night and eat more food. Keep these things in mind as you plan the amount of food. If you have three different main entrees, you don't need enough of all three dishes to serve everyone, as guests will likely choose just one or have a smaller portion of two or three options.
Use these amounts for individual portions as a guide for planning your party quantities:
Appetizers: 2 to 3 servings per person
Soup: 1 cup per person
Salad: 1 cup or about 3 ounces per person
Meat or entrée: 6 ounces per person
Starches: 5 ounces per person
Dessert: 1.5 pieces per person
To see those numbers in action, your calculations for every 10 guests might include:
3 pounds of sausage
20 hot dogs
4 pounds of chicken, beef, fish or steak
3 pounds of potatoes
2 to 3 pounds of shrimp
1 gallon of soup
2 pounds of a green salad mix
3 cups of salad dressing
Keep in mind that some people may take more while others will eat less. Use these numbers as an estimate and add in a small buffer if you're worried about running out of food.
You'll also need to estimate drink quantities for the party. If you're serving punch or similar drinks, estimate about 1 gallon per 10 guests. For beer, wine and other alcoholic beverages, estimate about two drinks per adult per hour.
Types of Meals That Work Well for a Crowd
Meals for large groups should be easy to make in large batches and easy to serve to a large number of people. Not all dishes work well for this type of gathering. An intricate plated meal that requires hours of prep just isn't feasible for a large group if you're handling the cooking yourself.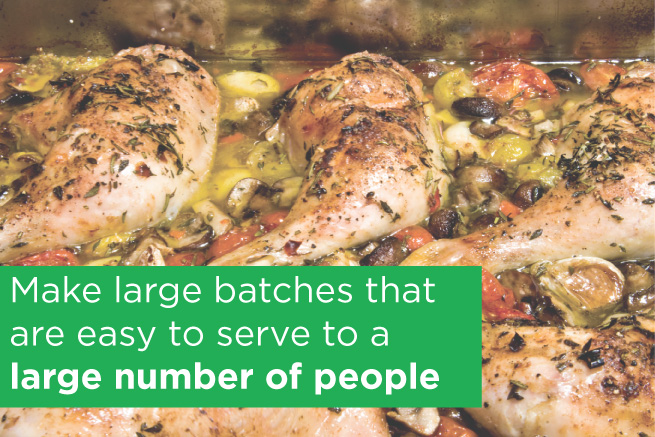 When choosing meals for your dinner, consider these factors:
Preparation: How involved is the prep work? Does the dish have a huge list of ingredients that all need extensive preparation? Can you buy the ingredients a few days in advance? Can you handle some of the prep work the day before, or does everything need to be done right before serving? Find a dish that is easy to prep with minimal ingredients to make your job easier.
Appeal: You may enjoy trying new and adventurous dishes, but many people prefer familiar flavors. Stick to classic dishes with wide appeal to keep your guests happy. Save the unusual recipes for a small dinner party with other adventurous eaters.
Batching: Another factor is how well you can scale the recipe. Your favorite family recipes likely aren't sized to feed a crowd. Some recipes are easy to double, triple or quadruple with success. Others are more challenging to prepare in large quantities.
Serving style: Opt for a dish that guests can serve themselves instead of something you have to plate for guests. A buffet-style presentation will be much easier for you to manage.
Serving temperature: Ideal foods for a crowd are items that taste great even if guests don't eat them immediately. Will the food get mushy and gross if it sits for longer than a few minutes? If so, consider something different. This allows guests to eat in shifts or fill a plate when they're ready without sacrificing flavor.
Saving Money on Food Preparation and Purchases
In addition to not wanting tons of leftovers after your big event, you also want to avoid breaking the bank just to throw the casual party of the season. A proven method to save a little on making recipes for a crowd is to consider your food buying and preparation methods.
As you look over your bulk recipes, you may notice that some ingredients should be diced, sliced and minced. Although it can be tempting to purchase already cut-up or shredded ingredients like carrots and cheese on your shopping trip, you can almost always get a significantly better deal when you buy untouched products.
Yes, this means you will have to set aside time to do some work, particularly if the recipes for a crowd involve a lot of chopping. However, you can also stretch your dollar by taking a more DIY approach. If you really get in a pickle, why not invite one of your closest friends over early and use the food preparation time to catch up while you both tackle the bulk recipes?
Pasta Dishes
Pasta is one of the easiest options when cooking recipes for a crowd. It's an inexpensive base for your dish, and most people like it. Baked pasta dishes, in particular, hold up well even if guests don't eat right away. Pasta is so versatile and has many different ingredient options, so you can make a different pasta dish every time you entertain without boring your guests.
Try some of these pasta options:
Lasagna: Layer delicious noodles, sauce and cheeses to create your signature lasagna dish. Add Premio sweet Italian sausage meat for rich flavor. Make a batch of vegetarian lasagna without the sausage if you have any vegetarians on your guest list. Assemble the lasagna before the party, so you can place it in the oven as your guests arrive.
Macaroni and Cheese: You don't have to settle for boring mac and cheese at your party. Get creative with different mix-ins to create a gourmet macaroni dish. Or set up a macaroni and cheese bar, so your guests can create custom gourmet noodle bowls. Start with your basic homemade mac and cheese. Keep it in a slow cooker, so it stays warm. Set out toppings, such as pulled pork, buffalo chicken, spicy sausage, grilled chicken, lobster, bacon, ground beef, salsa, broccoli, pepperoni and chili. Guests can scoop up a bowl of mac and cheese and top it the way they like it.
Baked ziti: Mix up a batch of baked ziti with your favorite pasta sauce and sausage. Top it with gooey cheese, and you have a dish that everyone can enjoy. Hold spare pans of the baked pasta in a warm oven, so it doesn't get too cold.

Sandwiches
Sandwiches also work well when serving a crowd. They're easy to eat, and everyone can customize their sandwiches to match their taste preferences. You can go with the standard lunchmeat sandwich, but opting for hot sandwiches kicks the menu up a few notches.
Serve up one of these sandwich options:
Sausage sandwiches: Sausage sandwiches work well for a hot option. You can cook the sausages ahead of time in the skillet and keep them in a slow cooker so they stay warm. Offer up grilled or sautéed peppers and onions to complement the sausages. Guests can grab sausages and choose their own toppings for a custom meal.
Pulled Pork: This BBQ classic is easy to make up ahead of time. Cook and shred your pork. Add your favorite sauces. Before the party, put the pulled pork in the slow cooker to warm it. Guests can fill their rolls with the pork and add any toppings to finish the sandwich.
Sloppy Joes: Just like pulled pork, this option is easy to make ahead of time. Simply reheat the prepared meat in a slow cooker, and dinner is ready to go for your guests.
Homemade Pizza
If pizza is your go-to party food for a crowd, consider making homemade pizzas this time. You can easily assemble the pizzas a few hours before the party and store them in the fridge for easy cooking. Save cooking time by pre-baking the crusts before topping them.
Make several different types of pizzas to satisfy different preferences. It's always safe to make cheese pizza along with other single-topping pizzas like sausage and pepperoni. Then, get creative by adding different toppings including assorted veggies and different types of cheese.
Bake two pizzas at once to save time. Cut the pizzas into thin slices, so more people can eat them while the rest of the pizzas bake. Pizza is an ideal food for a crowd because it's just as great when it starts to cool off. Guests can eat in shifts as the pizzas finish baking, and they can munch on the leftovers later in the party.
Skewers
Slide meats and veggies onto skewers for an easy meal option for crowds. You can easily skewer the ingredients before the party. Alternate things like chicken, steak or sausage with veggies like potatoes, peppers, onions, and mushrooms. Brush oil onto the skewers, and sprinkle them with seasoning, or drizzle them with your favorite sauce.
Grill the skewers just before you're ready to serve your guests. The smaller pieces of meat and vegetables cook faster than larger pieces so that they won't take long on the grill. Assign someone the job of grill master so that you can focus on other jobs at the party.
When the skewers are done grilling, guests can easily grab them and eat them as they mingle.
 Food Bars
Let guests serve themselves when you set up a food bar for your party. Many of the options allow you to prep the food ahead of time and keep ingredients in slow cookers for easy serving. Bars work well when cooking for crowds because guests can eat on their own timeline, and they get to choose their own toppings and ingredients. Offer a wide range of toppings, so that everyone can find something they like.
Here are some easy food bar ideas:
Taco Bar: Cook up several pounds of taco meat, such as ground beef,  chorizo sausage, spicy chicken or steak. Offer refried beans or black beans and all of the classic taco toppings. Make different types of salsa with both mild and spicy options to give guests variety. It's also a good idea to have both soft and hard tortilla shells. Chips and taco salad bowls are good ideas to include as well.
Soup Bar: Offer up two or three different types of soup for your guests. Try to choose different types of soup, such as chili, a creamy soup and a broth-based soup for variety. Put toppings such as cheese and sour cream with the soup. Bread bowls are also a hit if soup is the main course.
Baked Potato Bar: Baked potatoes hold up well in a slow cooker or roaster. Wrap them in foil, so guests can easily grab and top a spud. Topping ideas include chili, taco meat, sausage, cheesy broccoli, cheese, bacon, sour cream, salsa, fresh herbs and assorted veggies.
Pasta Bar: We already covered specific pasta dishes, but you can also turn that crowd staple into a bar option. Cook a few different types of pasta. Set out different sauces, including tomato, alfredo and pesto sauces. Add meats, such as sausage, ground beef and chicken. Round out the bar with fresh and cooked vegetables, different types of cheeses and other favorite pasta toppings.
Salad Bar: You can't go wrong with a salad bar. Fill large bowls with a few different types of lettuce or green blends. Make it a meal with cooked chicken, sausage, steak, pork or other proteins. Set up bowls of different vegetables, croutons, cheeses, beans and other salad options. Provide different types of salad dressings to match different taste preferences.
Cooking for a Crowd Tips
Choosing easy recipes to make for a crowd is the first step to success. Here are a few more tips to make your event go smoothly:
Plan Your Menu: Planning the food well in advance is critically important for any successful meal. Advance planning lets you shop for all ingredients and better manage the prep and cooking phases. Don't put off your party menu planning until the last minute.
Choose Familiar Options: If you're familiar with the recipe, you'll have a much easier time making it for a crowd and you won't feel as stressed. You never know what might happen when you try a new recipe, so it's best to stick to old favorites you feel confidant making
Prep Food: Handle as much of the food prep work as possible the day before and the morning of the event. Washing produce, peeling veggies, chopping ingredients and making sauces are all things you can do early. For some dishes, you can completely assemble the meal, and just toss it in the oven before the guests arrive.
Go Simple: You don't have to plan an elaborate menu and party activities. Keep the event simple and low-key to keep your stress levels down.
Use Your Slow Cooker: A slow cooker is a handy tool for prepping foods and keeping warm foods at a safe temperature. Keep dips, appetizers, soups, meats and other party foods in the slow cooker.
Follow Food Safety Guidelines: It's always important to follow food safety guidelines and ensure food is cooked thoroughly. That can sometimes take more time when you're cooking much larger batches than usual. Use food thermometers to test the temperature of dishes as they cool to ensure everything is safe to eat.
Accept Help: Your guests will likely ask what they can do to help. It might feel natural to tell them no, but don't be afraid to give them simple jobs to help get the food on the table faster and reduce your stress load.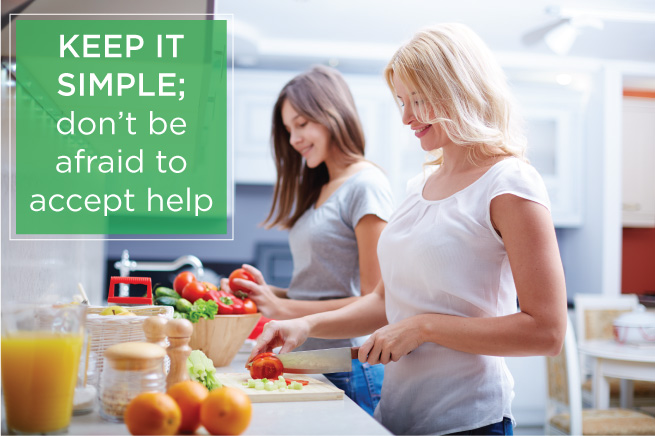 Setting the Stage at Home for a Crowd-Worthy Meal
You have your bulk recipes in hand, and your refrigerator, freezer and pantry are stocked with all types of yummy ingredients. Now, you just have to do the cooking and plating, right?
Well, sort of. You still need to think about the flow of how your guests are going to easily indulge in enjoying all those hours of food preparation.
First, consider the layout of your space. Where do you want your hungry visitors to eat? Will they sit on your comfy loveseat and sofa? Do you have extra chairs? Or are you envisioning that they will hang out around your kitchen island on barstools? In general, people like to have numerous options. Be sure to include ways for them to conveniently and securely juggle plates, utensils and beverages.
Next, examine flat surfaces that will allow you to showcase and offer your bulk recipes. For instance, you may want to use a coffee table for all the hors d'oeuvres and your dining room table for main entrees. When dessert time rolls around, simply replace the entrees with sweet treats. Be sure to place all the utensils and other items next to the food. Otherwise, your guests will have to hunt for them.
Finally, have a clean-up method in place. Many homes only have one small-to-medium-sized garbage can. If you are cooking for a crowd, you will likely need at least two garbage cans, plus at least one recycling bin. Be sure everyone knows how to properly dispose of everything. If you plan on being eco-friendly all the way and featuring reusable plates, everyday utensils and glassware, set aside room for dirty dishes. Be sure to also grab some extra dishwashing liquid — and perhaps a willing friend — for after-party tidying up!
Final Thoughts on Prepping Recipes for a Crowd
Above all else, when you decide to throw a large party, have fun! Making recipes for a crowd can seem overwhelming at first, but the experience can be second to none once you get the hang of the process.
If your food plans involve sausage, find a store near you that sells delicious, quality Premio sausages, and download a coupon to save money when you stock up for your large dinner party.