Delicious and Easy Gluten-Free Sausage Recipes
Are you a food-lover with an intolerance to gluten or dedication to a gluten-free diet? When it comes to finding delicious, healthy meal choices that exclude a certain type of ingredient to match your dietary restrictions, sometimes it can be difficult to enjoy a full, flavorful eating experience — but with sausage, that isn't so!
Luckily for you, gluten-free sausage is tasty and easy to find when you choose Premio. Our gluten-free sausage recipes can make your diet delicious and easy to cater to. Try these healthy sausage recipes for some new favorites.
Gluten-Free Buffalo BBQ Sausage Dip
Looking for a tasty gluten-free snack to enjoy at parties or bring out on game nights? This gluten-free dip really delivers. Here's how to whip yours up.
Ingredients:
1 tsp horseradish mustard
1/2 cup hot sauce
1/2 cup barbeque sauce
1/2 cup chunky blue cheese dressing
1/2 tsp black pepper
1/2 tsp garlic salt
1 container cream cheese
3 jalapeno-stuffed olives
Party-Tizers Veggie Dippin' Chips
Remove sausages from their casings and cook in a skillet over medium heat until browned, stirring occasionally and breaking into bits. In a bowl, mix cooked sausage, mustard, hot sauce, barbeque sauce, chunky blue cheese dressing, cream cheese, salt and pepper. Serve topped with jalapeno-stuffed olives and veggie chips. Enjoy!
Gluten-Free Pasta and Premio Fagioli
Craving an authentic Italian pasta dish? You don't have to give it up just because you're gluten-free! Here's a delicious, gluten-free take on pasta fagioli.
Ingredients: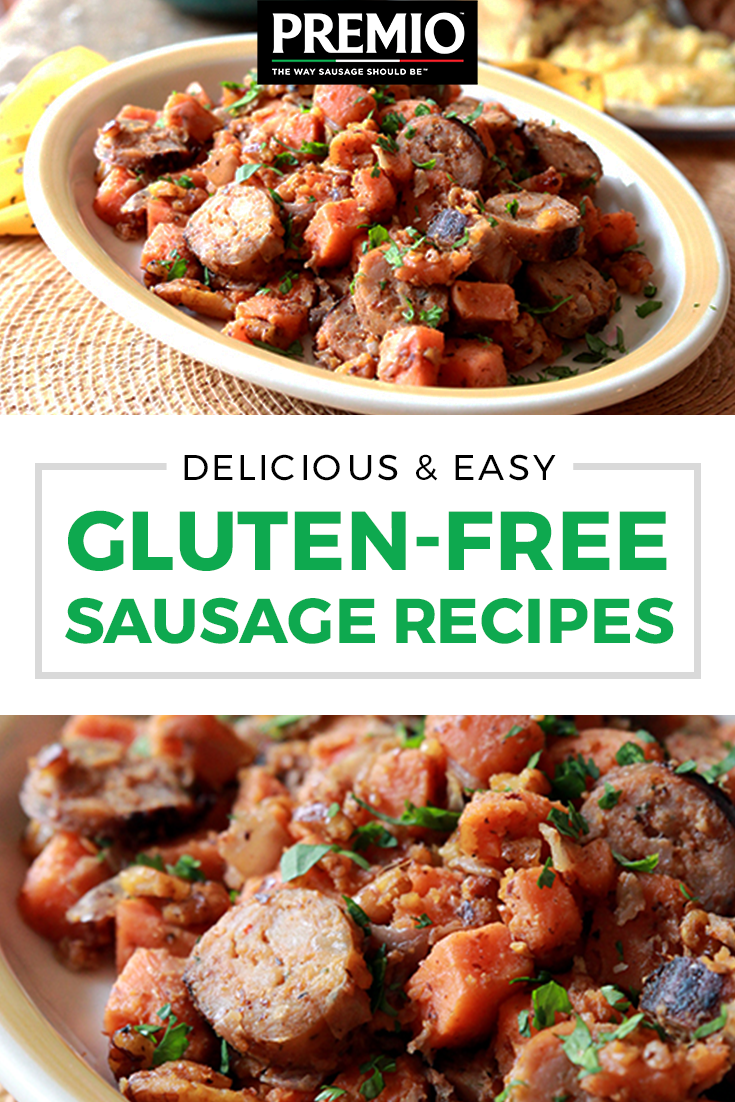 1 1/2 cups cooked, gluten-free pasta
1/4 cup diced celery
1/2 cup carrots
3/4 cups diced onion
2 cloves minced garlic
2 cans cannellini beans, no salt added
1 can fire-roasted diced tomatoes
1 bag fresh spinach
2 cups water
4 cups organic chicken stock, reduced sodium
1 tbsp extra virgin olive oil
1 tsp fresh thyme
1 tsp rosemary
2 tsp parsley
2 tsp oregano
2 bay leaves
Shredded Parmesan cheese
In a skillet over medium heat, saute onions and garlic in olive oil until softened. Add sausage and cook until thoroughly browned, stirring occasionally. Add sausage, celery, carrots, tomatoes, herbs, spinach, chicken stock and water along with salt and pepper to taste. For 4-6 hours, cook on high heat, then add cooked pasta and serve topped with shredded Parmesan.
Italian Sausage and Sweet Potato Hash
Hoping for a wholly hearty meal? This gluten-free sausage and sweet potato hash will fill you up and feed your comfort food cravings. Here's how to make yours.
Ingredients:
4 cups peeled and diced sweet potatoes
1 cup crushed or broken walnuts
1 medium diced onion
4 tbsp chopped cilantro or parsley
Olive oil
Place sweet potatoes in a bowl with 1/2 cup water, microwave on high for about 6 minutes until tender and set aside. Next, in a large skillet, toast walnuts over medium-low heat, stirring until well-browned. Remove from skillet and turn heat to medium-high, then add 1 tsp of oil and sausage meat, cooking for about 10 minutes or until browned.
Remove sausage, pat dry and set aside. Add onions to the same skillet and saute until soft and translucent, then add sweet potatoes, sausage meat, walnuts and 1-2 more tbsp of olive oil. Cook to combine flavors and brown sweet potatoes for 5-8 minutes. Serve warm, topped with cilantro or parsley.
Choose Premio
When you're looking for the most delicious sausage to incorporate into your gluten-free sausage recipes, choose Premio's top-quality varieties. Buy online, browse our healthy sausage recipes or find a store near you.