Family Dinners to Be Thankful For
There's nothing quite like gathering the family for a delicious, cozy meal in the fall. And nothing says fall flavor like real Italian sausage and seasonal produce! Whether you're huddling up for the big game or celebrating for the holidays, you'll want recipes that wow.
Here are four quick and easy sausage recipes you'll be thankful for as the holiday season approaches.
Note: All sausage should be cooked at a minimum of 165 degrees Fahrenheit
1. Sausage Stroganoff
Ingredients:
Directions: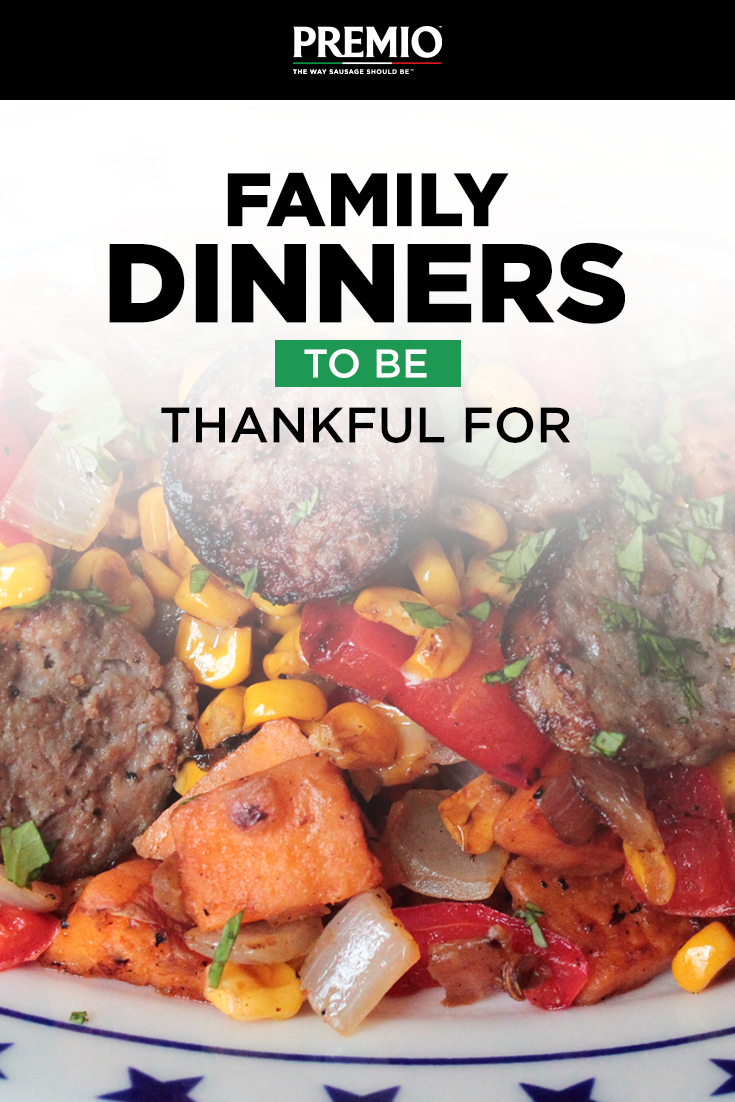 Place Premio sausage in a bowl, and put it in the freezer, uncovered
Fill a large pot about 2/3 of the way with water. Boil noodles according to package directions, strain and set aside.
Slice sausage into 1/2-inch segments.
Cook sausage in olive oil over low/medium heat until lightly golden.
Add mushrooms, onions and garlic and cook for 4 mins.
Add spices and then the broth.
Boil until sauce is thick and remove from heat.
Stir in sour cream, then pour over noodles on a plate.
2. Sausage Sweet Potato Salad
Ingredients:
Directions:
Cook sausage over medium heat in a skillet until browned, then set aside. Leave the liquid.
Scrape corn from cobs and add corn, sweet potato, peppers and onion. Sauté on medium heat until sweet potatoes are browned, then set aside.
Cut sausage into bite-size pieces and combine with vegetables in a bowl.
In a different bowl, add coconut oil, olive oil, Dijon mustard, honey, garlic and apple cider vinegar. Whisk until smooth and pour over sausage/vegetables.
Sprinkle cilantro over salad.
3. Sausage Carbonara
Ingredients:
Directions:
Boil water in a large pot and add pasta. Cook until al dente.
Remove the sausage from casings, then crumble and brown in a skillet.
Drain the pasta and keep 1 Tbsp. pasta water. Do the same with the sausage and keep 1/2 Tbsp. drippings.
Combine sausage, pasta along with both the drippings and pasta water.
Stir in eggs and cheese over low heat until the eggs are cooked. Serve immediately.
4. Italian Chicken Sausage and Peppers
Ingredients:
Directions:
Grill sausage over medium-high heat and cut onion and pepper into strips.
Cut sausage into bite-size pieces once cooked and add vegetables and tomato sauce.
Place ingredients in a grilling pan and cover. Grill until vegetables are tender. Stir occasionally.
Sausage is a staple of many hearty cold-weather meals, and now is the time to try kick your cooking up a notch. Visit Premio for more savory fall sausage recipes that your family will love for autumns to come!