How to Make an Awesome Charcuterie Board
These days, charcuterie boards seem to be all the rage. Any dinner party guest can agree there's just something about having a variety of bite-sized snacks spread out in front of you that's downright delightful. But how exactly do you make a stunning charcuterie board with the meat, cheese, bread and other ingredients arranged perfectly?
If you're caught up in the charcuterie confusion, have no fear — we're here to clear up any classic charcuterie faux pas you may be making. Below, you'll discover exactly what a charcuterie board is, top tips for creating an impressive charcuterie board and the best ingredients for the perfect charcuterie board. Keep reading to learn how to take your hosting skills to the next level.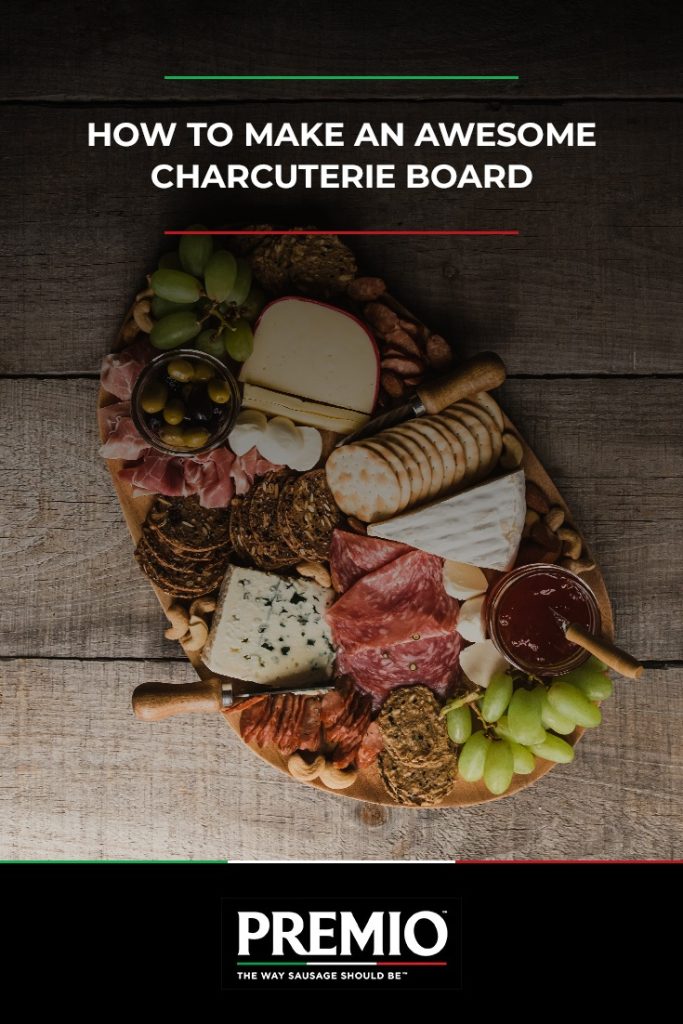 What's a Charcuterie Board?
Although charcuterie technically refers to preparing and assembling cured meats and other meat products, most people use the term charcuterie in reference to any assortment of meats presented alongside accompaniments like cheese, crackers, fruits and spreads. Crafting a charcuterie board involves artfully arranging these elements on a serving board for guests to enjoy.
While the concept of a charcuterie board may be basic, creating the perfect charcuterie board requires a bit of strategy. To master the art of charcuterie, you'll need to know some of the most popular types of meats to include, what ingredients pair well with each other and how to put together an impressive spread.
7 Tips for Making a Charcuterie Board
Check out the seven tips below to learn how to make a charcuterie board that will wow your guests.
1. Start With a Solid Foundation
While you don't necessarily have to use a fancy wood cutting board as the base or platter, you'll want to use something you can make look somewhat aesthetically pleasing. For example, you could use a baking sheet and cover it with a decorative cloth. Most importantly, you'll want to make sure whatever you use as your base is clean and safe for serving food.
Along with the board itself, you may want to include dishes for plating and utensils for serving. Try to keep it simple by sticking with white or clear dishes, which will give your charcuterie board an air of elegance.
2. Use Multiple Types of Meat
Keep your charcuterie board interesting by incorporating a unique combination of meat types and flavors. For example, you can have a dry-cured meat selection along with slices of a smokier sliced meat. Try to mix it up a little with slices of a specialty Italian sausage or a spicy chorizo sausage. Consider slightly folding the meats and arranging them in a "river" across the board to create visual appeal.
3. Get Cheesy
When it comes to constructing a charcuterie board, cheese is a must. Try to include a minimum of two or three cheeses on your board to complement the variety of meats you chose. Just like the meats, make sure you use different types of cheeses with unique tastes and textures. For instance, you could have a firm smoked Gouda, a soft goat cheese chevre and spreadable whipped ricotta.
4. Don't Forget the Carbs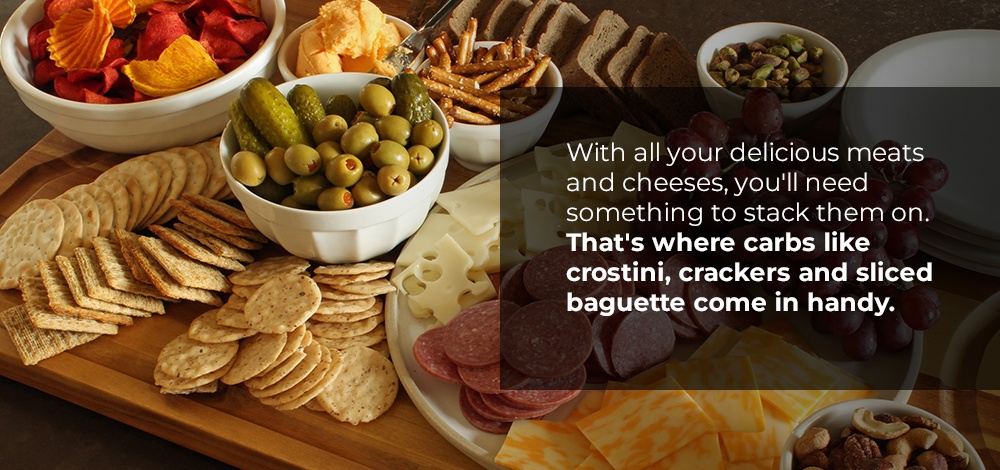 Once you've picked all your delicious meats and cheeses, you'll need something to stack them on. That's where carbs like crostini, crackers and sliced baguette come in handy. While plain bread is always a good choice for salty meats and cheeses, you can try to match the ingredients you're offering with a flavored loaf of bread, too. An herb cracker tastes lovely with almost any cheese.
5. Include a Warm Component
Especially if you're serving your charcuterie board in the winter, you'll want to add something warm to the board. For example, a crisped-up sausage or baked brie will give the charcuterie board a cozy and inviting feel. Incorporating some warmth on the board will make your charcuterie spread appealing to all of your senses.
6. Keep It Fresh
Add a pop of freshness to your charcuterie board by bringing in in-season ingredients. Specifically, fruits like apples, pears, figs, pomegranate seeds and grapes can make great additions to just about any charcuterie board. Additionally, cucumber spears and carrot sticks are simple yet refreshing veggie options for dipping. For an even more refreshing feel, use fresh herbs as a garnish on your board.
7. Focus on Variety
Providing a variety of textures on your charcuterie board will be pleasing to both the eye and the palate. If you add something creamy to your board, make sure you contrast it with a crunchy component. The same rule applies to taste — for every sweet item you add to your board, try to incorporate something savory.
10 Best Ingredients to Add to Your Charcuterie Board
Although you have the freedom to customize your charcuterie board however you prefer, incorporate the following ingredients to get the best results:
Cured meats: Cured meats like salami, pepperoni and prosciutto work exceptionally well on charcuterie boards because they're salty and pair well with sweeter ingredients. Cured meats are also easy to fan out to create a visually appealing presentation.
Italian sausage: Cooking up and slicing some fresh Italian sausage for charcuterie is a sure-fire way to set your board apart from other boards. Because fresh Italian sausage is so flavorful and satisfying, it makes the perfect accompaniment for milder charcuterie components.
Cheeses: Soft cheeses perform especially well on charcuterie boards because they're easy to spread on crackers. Brie, gorgonzola, burrata and cream cheese with jelly on top are always crowd-pleasers. That being said, make sure you include some hard cheeses like pecorino romano, manchego or even cheddar, too
Bread: Whether you go with a crusty baguette, delicate ciabatta or a hearty whole-grain loaf, you can't go wrong with putting bread on your charcuterie board. Look for a type of bread that will slice well and be a good base for stacking ingredients.
Crackers: As a solid vessel for supporting spreads, meats, cheeses and more, crackers are a must on any charcuterie board. Using flavored crackers both gives milder cheeses a blank canvas to shine on and makes your board more interesting. Try to include a variety of cracker shapes to make your board look more fun, too.
Fruits and veggies: Fresh fruit is a charcuterie necessity because it lightens up the heavier ingredients like meat and cheese. Adding sweet fruits like berries, grapes and apple slices will also provide a nice contrast to more savory ingredients. Consider veggies like sliced bell peppers, as well.
Nuts: Nuts are a much-needed charcuterie ingredient for providing some crunch. Incorporate your favorite types of nuts on your charcuterie board to expand its array of textures.
Olives: Including olives on your charcuterie board is a classy and sophisticated way to give your spread some pizzazz. Salty green olives pair excellently with more mild charcuterie ingredients.
Jelly or jam: Having a spread like jelly or jam on your charcuterie board gives guests something to tie the ingredients together. A piece of bread or cracker layered with meat, cheese, and a dab of jam makes for the perfect bite.
Honey: Honey is your secret charcuterie ingredient. Putting out some honey for guests to drizzle over their charcuterie selections will provide the perfect touch of sweetness for balancing out sharp cheeses and savory meats.
Purchase Premio Sausage at a Store Near You
If you're ready to make an awesome charcuterie board, make sure you gather top-notch ingredients from Premio. Premio offers a wide variety of sausage styles that are perfect for crafting a flavorful and memorable charcuterie board. All Premio products are fresh, authentic and made without any fillers — the way sausage should be!
Use our store locator to find the Premio nearest you and start constructing your charcuterie board today!