Recipes for the Ultimate Pizza Lover
Who doesn't love pizza? With its cheesy exterior, doughy interior, touch of sweet tomato sauce and array of tempting topping possibilities, nothing makes a better lunch, dinner or snack than a steaming slice of your favorite-flavored pizza. If you're a pizza lover and a chef, you probably enjoy getting your hands dirty by getting in on the pizza-making action. These delicious sausage pizza recipes will satisfy your taste buds and make any meal delicious.
Pizza With Premio Hot Italian Sausage, Peppers and Onions
Looking for delicious recipes for pizza with sausage? This Italian sausage with pepper pizza is simple yet delicious.
Here's how to make yours.
Ingredients: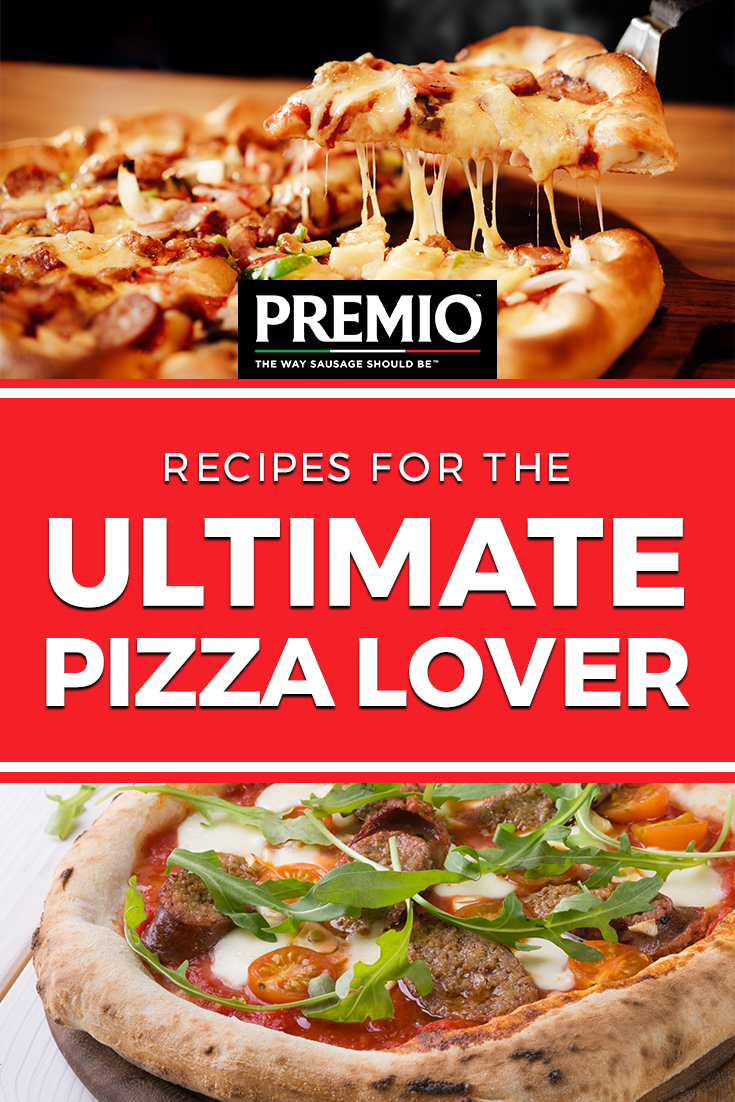 2 1/2 cups flour
1 packet dry, active yeast
2 tbsp olive oil
1/2 tsp sugar
1 tsp salt
1 cup warm water
1/2 package Premio Hot Italian Sausage Meat
1/2 chopped green bell pepper
1/2 chopped red bell pepper
1/2 chopped yellow onion
1/2 cup pizza sauce
2 cups Mozzarella
1/4 tsp dried basil
1/4 tsp garlic powder
1/4 tsp oregano
Olive oil
Preheat your grill. Combine sugar, yeast and warm water in a bowl, allowing sugar and yeast to dissolve and letting sit until the mixture becomes creamy. Next, add the olive oil, salt and flour, and stir until smooth. Let stand for 5 more minutes.
Grill your sausage in a pan over the grill until browned and cooked through, then set aside and saute onions and peppers in the same pan until soft; set aside. Put your pizza stone on the grill, close the lid and let heat for 10 minutes, then roll out your pizza dough.
In a bowl, combine pizza sauce, garlic powder, dried basil and oregano. Place your rolled-out pizza crust on the pizza stone and spread with the pizza sauce, leaving an inch of dough around the edges to form the crust, then top with mozzarella, onions, peppers and sausage. Brush the crust with olive oil and close the lid, letting the pizza cook with the vents open for about 9 minutes. When the cheese begins to bubble and the crust is golden, remove your pizza, let it cool and enjoy!
Premio Sausage Zucchini Crust Pizza
Hoping to try something a little different? This healthy, mouthwatering zucchini crust pizza will be your new favorite!
Ingredients:
1/2 package Premio Hot Italian Sausage
1 1/2 cups pizza sauce
1 large zucchini
2 1/2 cups Mozzarrella cheese
Onion powder
Garlic powder
Dried basil
Oregano
Olive oil
Salt
Pepper
Preheat your grill. Place your pizza sauce in a bowl, seasoning with oregano, onion powder, garlic powder and basil to taste, then set aside. Over indirect heat, grill your sausages with the lid closed for 15 to 20 minutes until browned and cooked through, then slice sausages into coins and set aside.
Cut off the ends of your zucchini and slice into 3/4-inch pieces, then brush either side with olive oil, season with salt and pepper and grill until tender, making sure to cook evenly on both sides. Remove the zucchini slices, spread with pizza sauce, mozzarella and sausage slices and place back on the grill, cooking for 7-8 minutes until cheese begins to bubble. Remove from the grill and serve your mini zucchini pizzas. Bon appetit!
Pick Premio
Your homemade pizza won't be complete without a taste of Premio sausage. Find our delicious products in a store near you today.