How to Improve Your Cooking Skills
While you may know your way around the kitchen, there are plenty of ways to boost your skills. Here are 10 tips for how to be a better cook, along with some easy recipes to get you started.
10 Tips for How to Be a Good Cook
Did you ever wonder why your cooking isn't as delicious as the food in a restaurant? Whether you are a professional chef or you're a beginner in the kitchen, you can benefit from these tips for how to improve your cooking skills.
1. Use Plenty of Salt
Salt naturally brings out the flavor in a dish. Novice chefs either use this preservative sparingly or throw on too much at the end. You should use a healthy amount from start to finish, adding a little bit at each step of the recipe. Professionals use sea salt because they believe it has a better taste and texture than table salt. Always use more salt than you think is necessary to season your food properly.
2. Keep Your Knives on Hand
Professional chefs use several knives, including a paring knife, a chef's knife and a carving knife. The chef's knife cuts, chops and minces, while the paring knife is for intricate detailing. A carving knife slices thicker items, like meats and bread. You should sharpen your knife often and hold it correctly to maintain a uniform cut.
3. Cut on Wood or Plastic
Wooden or plastic composite cutting boards are durable for daily use, and they won't dull your knife's blade. To avoid cross-contamination, you should use several cutting boards while you cook. Since wood can hold germs, only cut fruits, vegetables and bread on your wooden cutting boards. Save your plastic composite boards for cutting uncooked meats.
4. Include High-Quality Ingredients
Fine restaurants cook with fresh fruits and vegetables and the highest-quality meats. If you want restaurant-quality food, you can check out a local farmer's market and find organic produce. You can find healthy meat at the grocery store. Premio Chicken Sausage has 60% less fat than USDA data for pork and beef sausage, but with all the taste you've come to expect from our Premio grand.
5. Organize the Kitchen
As you prepare to cook, have all the ingredients you need in place. If you have everything within reach, you'll save time and make sure the process of cooking your food runs smoothly. Read through the recipe and measure out each ingredient, including anything you need to cut or wash before you start.
6. Clean as You Work
Cleaning the kitchen can be a challenge when you're trying to cook, but a disorganized kitchen usually results in a messy meal. You should clean your kitchen as you cook, washing pots and pans as the oven is preheating and wiping surfaces while the food is cooking. By washing your utensils and plates after using them, you protect your food from cross-contamination and have more space to work.
7. Keep Space in the Pan
When cooking food in a pan, putting in too much at once will lower the temperature. The excess liquids will also steam your food instead of sauteing it. To get more flavor, you should dry the items before putting them on the pan and make sure the pan is hot.
8. Create a Balance of Flavors
Professional cooks find the right balance of a mixture of flavors, including spicy and sweet. Food that's too sweet or too spicy is challenging to eat, so you have to blend several flavors to create a pleasant taste in your dish. Adding a splash of vinegar or acidic fruit extract can help harmonize the taste of your cuisine.
9. Determine the Proper Measurements
While recipes in a cookbook are helpful, it's up to you to choose the proper measurement of each ingredient. You should stick to the recipe and use the right amount of flour or milk, but you are in control of the spice or flavor. Try a small pinch of a new spice before deciding how much to put in the meal. As you grow in your cooking expertise, you'll learn how to substitute ingredients to make your food taste even better.
10. Trust Your Senses
You can determine the right cooking time and presentation of your meal with your senses. Food is an experience, so be creative with the textures and visual elements you employ. To figure out if your meat or vegetables are ready, you can inspect them with your eyes or feel their tenderness with a fork.
3 Easy Recipes to Practice Your Cooking Skills
As you're learning how to be a better cook, you should get some practice. Try these three recipes to improve your cooking skills and gain confidence in the kitchen.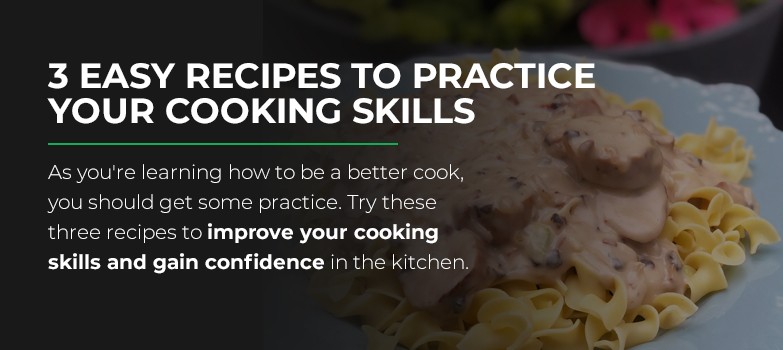 1. Smoked Sausage Tacos
These sausage tacos are fun and easy to make. Pick up these ingredients at the grocery store:
1 16-ounce package of Premio Hot Italian Sausage Meat or Premio Sweet Italian Sausage
3/4 cup of sour cream
1 tablespoon of taco seasoning
1/2 cup of diced red tomatoes
6-8 soft or hard taco shells
1/2 cup of shredded cheese
1 cup of shredded romaine lettuce
1 cup of guacamole (optional)
1/2 cup of salsa (optional)
To make ground sausage, you can remove the meat from the casing. Follow this easy recipe and try incorporating some of the tips you learned into your cuisine:
Mix the sausage meat with taco seasoning and cook on medium heat in a pan until it's brown.
When the taco meat is ready, place it in the taco shell and garnish with cheese.
Add the remaining toppings in whichever order you prefer.
2. Egg Roll in a Bowl
This dish contains plenty of vegetables, healthy fats and proteins, including:
1 pound of Premio Original Pork Sausage
2 tablespoons of sesame oil or oil of your choice
1 teaspoon of white or red vinegar
2 tablespoons of garlic
1 tablespoon of dried or squeeze ginger or 1 teaspoon of freshly grated ginger
1 14- to 16-ounce bag of coleslaw mix
3 tablespoons of coconut aminos or soy sauce
You can follow these instructions and practice trusting your senses:
Heat sesame oil on medium heat in a large pan.
Add garlic and stir until you can smell it.
Cook sausage on the pan, breaking into small pieces until brown.
Mix in the coleslaw, aminos, vinegar and ginger.
Stir the whole mix together for about five minutes, until the coleslaw is tender.
3. Sausage Stroganoff
Cooking Sausage Stroganoff will put your professional skills to the test with these hearty ingredients:
1 16-ounce package of Premio Sweet Italian Sausage
1 cup of light sour cream
1 8-ounce bag of wide egg noodles
2 8-ounce cans of chicken, vegetable or beef stock
2 tablespoons of olive oil
1 tablespoon of dried parsley
1 8-ounce package of diced mushrooms
1 teaspoon crumbled black pepper
1 minced yellow or white onion
1 teaspoon of paprika
1/2 teaspoon of salt
4 crushed garlic cloves
1/3 cup of white or wheat flour
Follow these instructions and be creative as you cook:
Place sausage links in a bowl and put it in the freezer.
Bring a pot filled two-thirds of the way with water to a boil and cook the egg noodles based on the package's directions. Drain noodles into a colander and set aside.
Take the sausages out of the freezer and put them on a plastic cutting board. Slice the meat into half-inch coins with a sharp knife.
 Pour the olive oil into a large skillet on low-medium heat to cook the sausage slices. Cook for eight minutes or until heated throughout, turning medallions often for even cooking.
Keep the heat on the low-medium setting. Set aside cooked sausage in a medium-sized bowl.
Combine garlic, mushrooms and onion on the skillet. Heat until the onions are translucent and the mushrooms are tender.
Stir the sausage back into the skillet with the vegetables.
Stir in flour, salt, paprika and pepper, then the chicken stock.
Bring the mixture to a boil as you stir while the sauce thickens.
Remove the skillet from the stove and stir in the sour cream.
Put the cooked egg noodles on a plate and pour on the sauce.
Find Premio at a Store Near You
If you're ready to be a better cook, try adding all-natural sausage to your dish. Premio makes chicken and pork sausages to give your meal an extra boost of protein. Use our store locator to find a distributor near you.