3 New Summer Food Trends to Try This Month
Nothing describes summer better than rolling out the gas or charcoal grill, laying out a few slabs of meat on the sizzling grate and watching the smoke rise across the sky. With summer in full swing, new food trends begin to emerge, shaping the way you can expect to grill and eat over the next few months — dazzling our taste buds and making food more exciting and savory than ever.
Summer 2019 Grilling Food Trends
It's not unusual for a new season to bring about new cravings and ways to transform favorite foods into something new and more exciting. Summer 2019 is no different. With grills heating up across the country, many already found new summer food trends you can't afford to miss:
Grilled Vegetables: Trade potato chips and pasta salad sides for healthy and greener alternatives. This summer you can expect to find a rainbow of different grilled vegetable options including smoked beet salads and roasted carrots, as well as several classic grilled items like corn, bell peppers, mushroom and onions. While your grill's hot, also consider grilling popular summer stone fruits like cherries, peaches and nectarines.
Global Flavors: You don't have to travel the world to get a taste of exotic cultures — more global flavors are becoming readily available in American supermarkets like Mediterranean urfa biber spices, zhoug and sumac. Incorporate these interesting flavors into your favorite meat rub or seasoning for an unforgettable grilling experience.
Wood Fired Foods: One of the biggest summer food trends involves swapping out charcoal for wood chips in home grilling. In the past, using wood instead of charcoal wasn't simple or affordable for many, but new types of wood materials and improved wood-burning grill options change this. Now you can infuse a smoky and savory natural wood flavor into your favorite grilled burgers, steaks, pork, seafood and vegetables.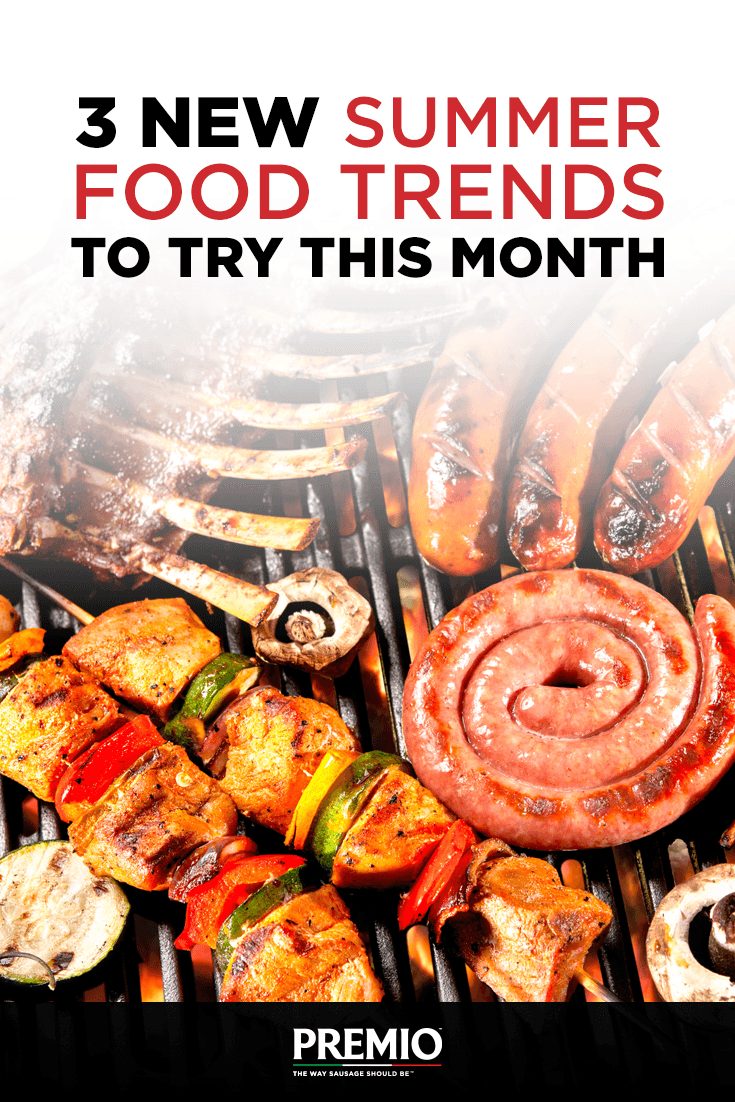 Add a Bit of Sausage to That — Our Favorite Summer Sausage Recipes
Get ready for your next summer backyard bar-b-q with some creative, healthy and tasty summer sausage recipes including:
Chicken Sausage Burger With Zesty Fig Mustard: Trade out your standard beef patty with an innovative and delicious chicken sausage burger made from Premio's savory, yet lean Sweet Italian Chicken Sausage Griller Patties. To elevate your grilling experience, pair this burger patty with an easy, homemade fig mustard sauce.
Premio Coconut Pineapple Shrimp and Sausage Skewers: Get a taste of the Caribbean at home with our fruit and sausage skewers. Make a marinade using coconut milk, garlic, onion powder, paprika, cayenne pepper and salt for your shrimp then grill these up with your fruit and sweet chicken sausage.
Spicy Sausage Pecan Crumbled Salmon: When you need to add a bit of zest to your wood-fired grilled salmon, consider combining Dijon mustard, butter, honey, breadcrumbs, pecans and parsley to create a delectable topping, then add a bit of crumbled chicken sausage once the salmon is cooked for an unforgettable meal.
Whether inside or on the grill, always cook through until sausage reaches an internal temperature of 165 F. using a meat thermometer. For more fun and healthy summer sausage recipes and inspiration, explore our collection of other favorite grilling recipes.
Find the Best Sausage For Your Next Outdoor Cookout at Premio Foods
When you need the best grilling meat for your next outdoor event, check out Premio's wide selection of delectable sausages online or in your local grocery store. We have more than 40 different varieties of Italian, pork and chicken sausages. With so many tasty summer recipes, which do you think you'll try first?