5 Kid-Friendly Breakfast Ideas
Looking for breakfast recipes for kids that they'll actually enjoy? It can be challenging to serve up something everyone will love in the morning, and when you're all in a hurry to head off to school and work, breakfast time becomes crunch time. Luckily for you, that stress ends now.
We've got five kid-friendly breakfast ideas that are sure to start everyone's days off on the right foot. Quick, simple and delicious, these recipes are everything you need to kick-start the day.
Tips for Kid-Friendly Breakfasts
When it comes to making breakfast for kids, a few tips will go a long way, no matter what you end up making. Kids and parents alike enjoy a breakfast that's:
Fast: During the week, you and your kids want something quick before they have to run off for school. But your quick breakfast ideas for kids don't only have to consist of a bowl of cereal. There are plenty of quick and easy recipes out there to try.
Easy to eat: When you think of easy breakfast recipes for kids, you think of meals that are fast to make. But you'll also want ones that are easy to eat in the morning, which is especially great if you're running late. Grab-and-go options are great for older kids who can eat on the go, and simple meals help speed along the getting ready process for younger kids.
Fun: Sometimes, it's tricky to get kids to eat breakfast, especially if they're picky eaters, so try to make mealtime more exciting. For a fun breakfast for kids, incorporate color, something sweet or fun shapes and faces. They'll be more interested in what's on their plate if it looks fun to eat.
Full of options: Part of a fun breakfast is giving your kids some options. Whether that be offering a variety of toppings or having a few different choices each morning, giving options makes breakfast fun for kids. They're more involved in what you make and will be excited about what they get to eat.
Healthy: Healthy breakfasts may not sound like something kids would enjoy, but with a few simple changes to the usual, you'll have breakfast ideas for kids that aren't full of sugar. Include fresh fruit or whole grains wherever you can for delicious, healthy meals to start the day.
There's also nothing wrong with saving special recipes for the weekend or mornings when the kids don't have to rush around and get ready for school. Sit down together whenever you have time and enjoy our five kid-friendly breakfast recipes.
5 Easy Breakfast Recipes for Kids
We've got breakfast ideas that kids and parents alike will love, all using delicious Premio Sausage. Remember for each of these recipes to cook the sausage to a minimum of 160° F or 165° F for chicken sausage. Use a meat thermometer to ensure everything is cooked to just the right temperature and serve up the best breakfast ever.
Check out these five kid-friendly breakfast ideas, then comment below to let us how they turned out:
1. Premio Brunch Cups
These brunch cups are fun, tasty and simple. They're perfect for enjoying on the go, but you can always sit down to enjoy this recipe at breakfast or brunch with your family. Have these brunch cups on their own or as part of a larger, weekend breakfast. To make this awesome recipe, follow these steps:
Preheat the oven to 375° F.
Cook one package of Premio Sausage by package instructions then cut into half-inch pieces.
Lay out half a package of crescent rolls on a cutting board.
Press or roll the dough at any perforations then cut into 12 equal squares.
Grease a muffin tin with half a cup of melted butter or oil.
Press a square of crescent dough into each compartment of the muffin tin to form cups.
Beat six eggs, three tablespoons of milk, salt and pepper together and transfer to a container with a spout for easy pouring.
Distribute the cooked sausage throughout the crescent cups.
Distribute one cup of shredded cheddar, mozzarella or your favorite cheese on top of the sausage in each cup.
Carefully pour the egg mixture into each of the cups.
Put in the oven and bake for 15 minutes.
After you remove the cups from the oven, you can either eat them warm or let them cool to room temperature. Feel free to get creative with this recipe based on what your family likes to eat, as well. Add some cooked peppers and onions or other fillings you enjoy with eggs to some of the cups before baking to give your kids options. You could even top these with more cheese, sliced green onions or your kids' condiment of choice once cooked.
2. Premio Pancake Muffins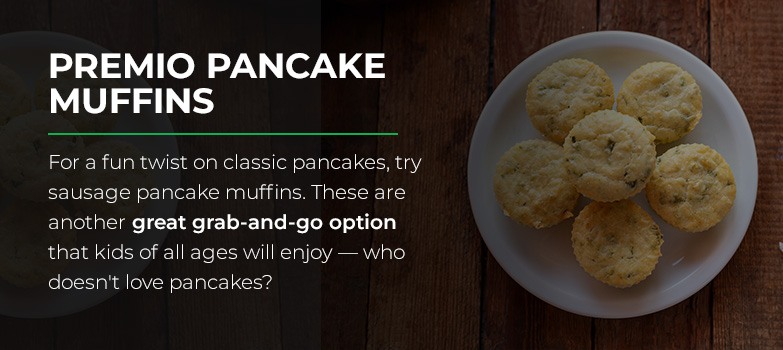 For a fun twist on classic pancakes, try sausage pancake muffins. These are another great grab-and-go option that kids of all ages will enjoy — who doesn't love pancakes? Here's how to make this breakfast treat:
Preheat the oven to 350° F.
Lightly grease and flour nine compartments of a muffin tin and fill the remaining three cavities halfway with water for even baking.
In a bowl, combine one cup of white flour, one-quarter of a cup plus two tablespoons of white sugar and two teaspoons of baking powder.
Stir the dry ingredients to combine and set aside.
In a separate bowl, beat one egg, three-quarters of a cup of milk, half a cup of melted butter at room temperature and half a teaspoon of vanilla extract.
Combine the wet and dry ingredients, mixing thoroughly until well-combined.
Cook one package of Premio Sausage of your choice in a skillet then cut into bite-sized pieces.
Fold the cooked sausage into the batter.
Scoop the mixture into the prepared muffin tin, using a cookie scoop or ice cream scoop for even proportions.
Bake for 14 to 16 minutes, or until the edges turn light brown.
Take these pancake muffins out of the oven and serve immediately after they've cooled a bit. Top or serve with maple syrup for a sweet addition. Baking a breakfast recipe for kids like this gives you a bit more time in the morning since you won't have to watch over pancakes as they cook in a pan.
3. Apple Spice Sausage Muffins
Some simple swaps in a boxed spice cake make this kid-friendly breakfast recipe. Try out these apple spice sausage muffins any time:
Cook one pound of Premio Sausage according to package instructions in a pan or skillet.
Remove the cooked sausage from the stove, chop and drain. Pat dry before cutting to remove excess oil if you'd like.
Sprinkle the cut sausage with half a cup of dry spice cake mix to help it incorporate.
Mix the sausage into the rest of the cake mix.
Add other ingredients on the box but substitute any oil for equal-parts applesauce.
Prepare a muffin tin with melted butter or oil.
Fill each compartment half to three-quarters full.
Bake following package instructions for muffins or until the top springs back to the touch.
Got picky eaters on your hands? Tell them they get to eat cake for breakfast and serve them these fun and simple apple spice sausage muffins. Swapping applesauce for oil in the recipe makes it more flavorful and incorporates some fruit into their morning. Serve with apple slices or on their own for a great meal to start the day.
4. Sausage and Cheddar Biscuits
These savory sausage and cheddar biscuits are a fun twist on a sausage and gravy style breakfast. Everything comes together in one convenient bite in this recipe:
Remove casings from one pound of Premio Sausage Links and break sausage into pieces.
Combine the uncooked pork with three cups of biscuit mix and two cups of shredded cheddar cheese.
Add one and a half cups of milk or different ingredients based on the biscuit mix's instructions.
Spoon biscuits onto a parchment-lined or greased baking sheet.
Bake for eight to 12 minutes, or until biscuits are golden brown and the sausage is fully cooked.
For crispier sausage, precook it in a pan and cut it into bite-size pieces before incorporating it into the biscuit. You won't have to worry about balancing the cooking time of the biscuits and that of the sausage if the meat is already cooked.
5. Sausage and Eggs With Raspberries
Add plenty of options with this flexible breakfast. With three components that are easy to swap out, we love to dig into some sausage and eggs with raspberries:
Create sausage patties with Premio Sausage Meat or cook up links with your choice of Premio Sausage, all according to package instructions.
Cook your kids' favorite style of eggs from scrambled to fried.
Serve the sausage and eggs alongside fresh, washed raspberries.
Feel free to pair sausage and eggs with a variety of fruits or something that's in season that your kids will enjoy. This meal is a great example of the tips we provided above — it's simple to make, gives your kids plenty of options and has a healthy spin thanks to the fruit you add. Arrange what you make into fun patterns or a face for younger kids and give everyone the chance to customize their breakfast.
Find Delicious Premio Sausage Near You
Make breakfast and other meals of the day more delicious with Premio. We craft a variety of pork, chicken and turkey sausage with a unique blend of butcher-quality cuts that give your breakfast, or any meal, a mouthwatering spin. At Premio, we never use fillers, and with 60% less fat than USDA data for pork sausage, Premio will be the star of the breakfast table.
Check out our products to find your new favorite breakfast addition today, and use our store locator to find delicious Premio Sausage near you.