At-Home Date Night Ideas
You don't need to make a reservation at a popular restaurant or book tickets for an expensive event to have a great date night. Whether you can't find a sitter or you'd rather enjoy your partner's company in the comfort of your own home, you can still have a romantic date night without leaving the house.
If you're looking for some stay-at-home date ideas, we've put together a list of romantic date ideas for an at-home experience sure to wow your partner.
1. Have an Indoor Camp-Out
Take glamping to a whole new level without ever leaving the house. Feel like a kid again by making your living room your campsite. Here are some ideas to make your home date feel like a camp night out:
Build a fort in the living room with an inflatable mattress you can share.
Make cookout grub over the grill.
Snack on some popcorn and trail mix.
Start a spooky movie and cuddle under the covers.
Fall asleep to the sound of recorded crickets, streams or campfires.
To get the full experience, you may want to pretend you're away from home and can't do chores or answer work emails. Turn your phones off completely, and try not to let any chores distract you.
2. Listen to a Full Album
Not as many artists release cohesive albums that tell a story, but they do exist. We're more likely to put a playlist on shuffle than listen to an album in order in its entirety, which is what gives this date idea a fun twist.
Pick an artist you both love, or choose from a genre you'd like to get to know more. If you have a vinyl player, this would be the perfect time to break it out. Turn on the speakers, pour a glass of wine, sit back and let the music take you away as enjoy each other's company.
3. Piece Together a Puzzle
When was the last time either of you sat down and put together a puzzle? Maybe you used to work on puzzles as a kid, but you've fallen out of touch with the pastime. After all, it can be difficult to set aside the table space and the time to focus on finishing a puzzle.
Dedicate an evening for the two of you to work together to start and finish a puzzle. Pick a feasible number of pieces, so you aren't done in twenty minutes but you don't end up frustrated and unsatisfied because the puzzle takes too long. For an added personal touch, order a custom puzzle made from a photograph of the two of you.
4. Read a Book to Each Other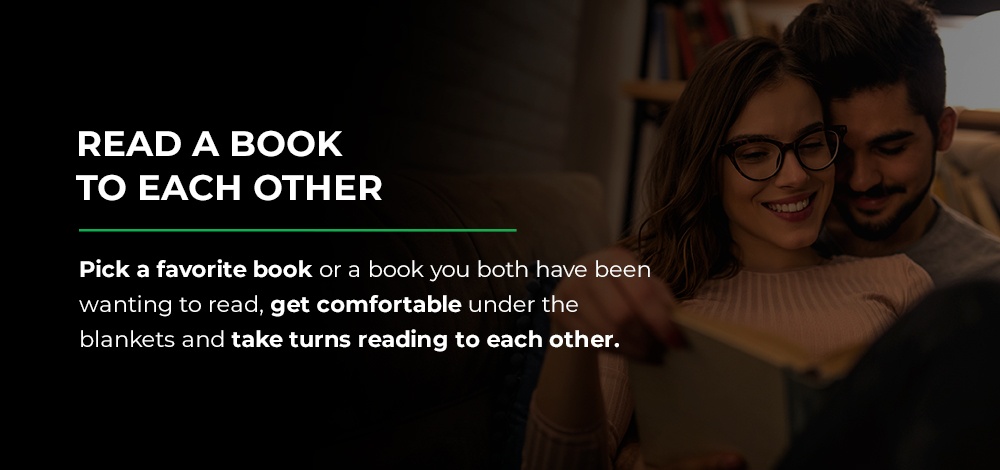 While you may consider reading a solitary activity, it can actually be a great way to connect. Pick a favorite book or a book you both have been wanting to read, get comfortable under the blankets and take turns reading to each other. You could split it up by chapter, or pick a book with multiple perspectives. For example, if you choose "The Time Traveler's Wife," one person could read the role of Clare and the other could read Henry's part.
5. Set up an At-Home Spa
If you're focused on the cost, the price tag of a spa day can take all the relaxation out of the experience. If you both want to unwind, you can turn your home into a spa of its own. To set the mood, you can:
Dim the lights and light candles
Turn on a diffuser with essential oils
Find an app with recordings of relaxing nature sounds
Run towels in the dryer so they're warm
Different spa options to help each other relax include:
Giving each other massages — start with the back and don't forget the face, neck, legs and feet
Using a homemade face mask
Soaking in a bubble bath with essential oils and Epsom salt
Offering a manicure or pedicure to your partner if they want one
6. Play Games
Whether you both like to get competitive or just enjoy playing together, board and card games give you a chance to let loose with some structured fun. You could go old-school with Yahtzee, Trivial Pursuit or Scrabble, or you could mix it up with a new game. You could try Bananagrams or Codenames, or break out the console and play a two-player video game.
7. Set up a Wine, Beer and Cheese Flight
A flight is a sampler platter for wines and beers. It allows you to try a few ounces of each drink so you can get adventurous with your drink choices without committing to a full pint or glass. Flights are a fun way to explore a craft or local vineyard's offerings, but you don't need to head to a restaurant to enjoy a fine dining experience with this at-home date idea.
Select four to six wines or beers you'd each like to try. Then, buy some crackers, cheese, meats, fruits and breads to round out your charcuterie board. Arrange the drinks so you can each try a sample at the same time. Compare your experiences, see what cheese pairs best with the flavors, and just enjoy the food, drink and company.
8. Recreate an Early Date
When you've been together for years, what constitutes a regular date night changes over time. If you were high school sweethearts, maybe you watched late-night reruns of classic game shows on the basement television. If you met in college, maybe you got lattes and attended sports games together. If you met in your twenties, maybe you both crashed on the apartment couch after eating takeout because it's all you could squeeze in during your work schedules.
Try some at-home date night ideas inspired by your early dating life to invoke some nostalgia and reminiscing together.
9. Create a DIY Paint-And-Sip
You can easily set up your own paint-and-sip within the comfort of your home with a bottle of wine, some paint supplies and an internet connection.
Pick one of the countless paint tutorials you can find online and get creative. You can look on YouTube or find an episode of Bob Ross's "The Joy of Painting" to follow along. You could even find a series of step-by-step photos if you want to take the difficulty up a level. For added fun, pick a topic or subject, sit facing each other, and don't reveal your creations until you both have finished.
10. Cook a Romantic Meal Together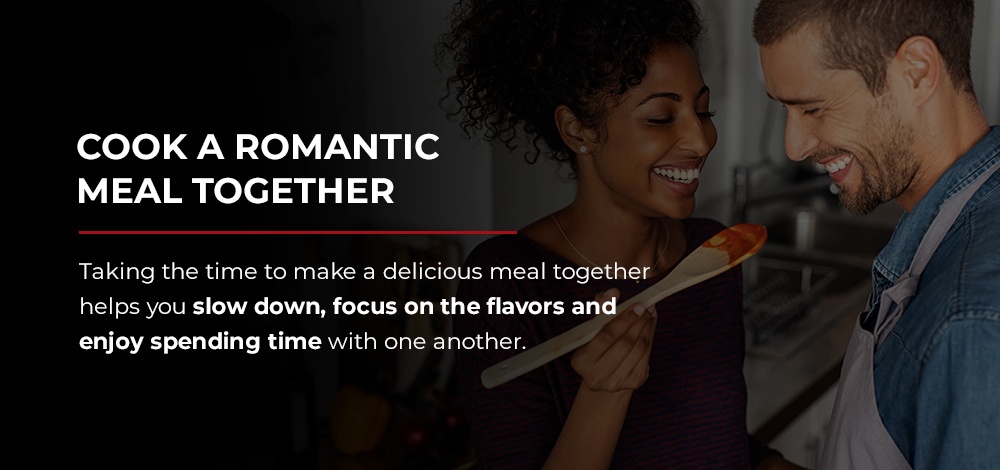 If you consider eating together a romantic experience, cooking the meal together makes it even more so. Taking the time to make a delicious meal together helps you slow down, focus on the flavors and enjoy spending time with one another.
Dinner tastes even more exquisite when you know where the ingredients came from and how much time and care went into making the dish. There are all sorts of meals to fit every palate and level of cooking experience. Here are some fun recipe options to consider:
For an extra sense of romance, turn the lights down low and eat by candlelight.
Find Premio in a Store Near You
If you're looking to make a meal part of your date night, use Premio for quality sausage products. With our wide variety of delicious flavors, you're sure to find the meat to match and enhance any meal. Premio sausage takes date night from good to great.
To find where you can get Premio sausage products near you, use our handy store locator today!