Easy Breakfast Sausage Recipes For Toddlers
When you're cooking for a toddler, it's important that the food is safe, nutritious and fun to eat. Starting their days with healthy breakfasts gives your child the boost they need to grow and learn. Check out these yummy breakfast recipes for toddlers to delight their palates.
1. Bacon-Wrapped Sausage Stuffing Bites
Get ready to see your toddler's face light up when they take their first bite of this breakfast treat. The combination of bacon, sausage and stuffing will make breakfast a breeze! Our Bacon-Wrapped Sausage Stuffing Bites call for browned Premio Sweet Italian Sausage and health-boosting vegetables like onions and celery. Homemade breadcrumbs and crispy bacon add another element of texture that will make this dish irresistible.
What Makes This Recipe Toddler-Friendly?
Part of what makes this meal special is that you can share it with your child. It's especially kid-friendly because:
The completed wraps are small enough to hash out serving sizes for toddlers without wasting a single bite.
Adding the celery, fresh herbs and onion give this one a valuable dose of veggies.
The bread content makes stuffing bites a complete meal with a good balance of grains, meat and greens. All you have to do is give your little one some low-sugar fruit juice to drink with it, and the vitamin C will ensure they get all necessary vitamins early in the day.
How Long Does It Take?
While preparation takes a little longer than just cooking sausage and bacon, the nutritional value of this meal makes the extra steps worthwhile. When you're planning to make the perfect bacon wraps, it's best to prepare the stuffing the night before and store it in a covered bowl in your refrigerator.
Prep time: You'll spend around 30 minutes browning your sausage, breadcrumbs and preparing the ingredients.
Cook time: Pre-made stuffing balls are baked in the oven for 20 to 25 minutes.
How Can You Ensure This Recipe Is Safe to Eat?
The most important step for any recipe with sausage is to cook the meat to a minimum internal temperature of 160° F, or 165° F for chicken sausage. Since everyone's cookware heats with a slightly different consistency, using a meat thermometer is the most reliable method for checking the temperature.
2. Cornbread Stuffing Muffins With Sausage
Our hearty Cornbread Stuffing Muffins With Sausage are a great way to get your toddler to eat their veggies. Cornbread, the star of this dish, combines with sausage and other vegetables for a delicious, savory breakfast treat. Bake your favorite cornbread mix topped with Premio Mild Italian Sausage and veggies for a warm breakfast that's ready in no time.
What Makes This Recipe Toddler-Friendly?
Cornbread muffins are a fan favorite for kids. This recipe is good for toddlers because:
These muffins are easy to grab and take with them when they're on the go.
The combination of celery, onions and cranberries means that your child gets a full serving of vegetables and a small serving of fruit.
The cornbread mix makes this a well-balanced meal with all the important parts of the food pyramid covered.
How Long Does It Take?
Preparation involves chopping your choice of red or green onions and dicing and sauteing celery and onions. We recommend pre-preparing the stuffing and storing it in the refrigerator overnight to cut down on prep time in the morning.
Prep time: You'll spend about 15 minutes preparing the veggies and cooking the sausage.
Cook time: The muffins bake for about 20 minutes.
How Can You Ensure This Recipe Is Safe to Eat?
This recipe calls for you to bake the meat as part of the filling, but you should make sure it's cooked thoroughly before the final baking process. Avoid breaking up raw sausage meat to sprinkle into the muffins. Check the internal temperature of the meat after you fully cook it before crumbling it up for later use.
3. Sausage French Toast Rolls
Make your little one's breakfast special with these Sausage French Toast Rolls. The familiar flavors of sausage and cinnamon merge into a winning combo, and the soft bread makes the perfect receptacle for the tasty filling.
Start by wrapping Premio Original Pork Sausage in your bread of choice. Dip it in an egg batter and cook on a skillet until golden. Your little one will love eating these warm and dipped in their favorite syrup.

What Makes This Recipe Toddler-Friendly?
One of the biggest advantages of this recipe is that it's quick. Additionally, French toast rolls are kid-friendly because:
The small roll shapes are easy to serve and eye-catching.
The sweet taste of cinnamon and sugar appeals to kids who are picky about their food.
The sausage provides protein and B vitamins, making them more nutrient-rich than plain French toast.
You can complement this breakfast with a dipping sauce and a tray of dippable fruit.
How Long Does It Take?
Prep time: You can cook the sausage in about 10 minutes.
Cook time: Making the French toast takes another 10 minutes.
How Can You Ensure This Recipe Is Safe to Eat?
If you choose to cook the sausage a day or two in advance to save on time, make sure that the internal temperature gets back up to at least 160° F before serving. Fully cooked sausage stored overnight should still be uniformly reheated before consumption.
4. Sausage Sweet Potato Bake
The best part about a Sausage Sweet Potato Bake is that it's super simple to make! Mix your Premio Original Pork Sausage with vitamin-rich sweet potatoes, pineapple and peanut butter, then bake. Your toddler will love the sweetness of this dish — and you'll love how easy it is to make!
What Makes This Recipe Toddler-Friendly?
This recipe is perfect for kids who love sweet potatoes. Here are the top reasons this sausage sweet potato bake is great for toddlers:
The apple juice and pineapple add a full serving of fruit with vitamin C to make this a well-balanced breakfast.
Sweet potatoes are high in potassium and contain several other essential minerals and vitamins.
The addition of the sweet peanut butter and sausage provides protein and healthy fats for energy.
How Long Does It Take?
To save time on this recipe, it's best to cook and mash your sweet potatoes beforehand and store them in a covered bowl for the morning.
Prep time: This estimate will depend upon how you cook your sweet potatoes. Microwavable produce cooks in about five minutes, whereas it takes around 40 minutes to soften sweet potatoes through boiling.
Cook time: Baking this dish takes around 30 minutes.
How Can You Ensure This Recipe Is Safe to Eat?
Cook your sausage consistently to an internal temperature of at least 160° F and drain the grease before placing it in your casserole container. Avoid using raw sausage in this recipe, as the additional baking time only heats up the rest of the ingredients to melt.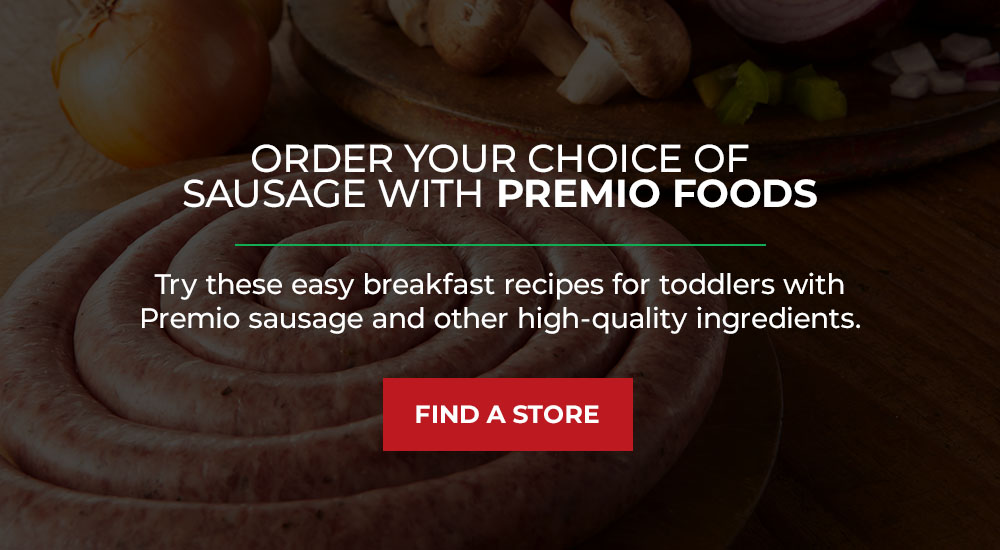 3 Bonus Tips to Get Your Toddler to Eat Breakfast
Combined with your fun breakfast recipe for toddlers, these tips can help make breakfast a breeze:
Cook together: Getting your toddler involved in the cooking process gives them more ownership over their food and can help make them more likely to eat it.
Make it fun: Get creative and serve your toddler their favorite meal in a new way.
Use small portions: Start out with a small serving and gradually increase it over time as they get used to eating breakfast regularly.
Find Premio Foods Near You
Whether you make an easy breakfast recipe for kids or a date night meal for your significant other, win everyone's tastebuds over with Premio Foods.
Use our store locator tool to find the closest location near you and start cooking today!