Egg-cellent Easter Hosting Tips
Are you hosting an Easter bash at your house this holiday season? While throwing any party can be stressful, planning a themed get-together can seem even more demanding. But don't throw in the towel just yet — we've got all of your Easter party tips covered.
Be the perfect host and throw an Easter party that'll have your closest friends and family enjoying a day of fun and festivities with the following tips and tricks:
Plan the Perfect Centerpiece
When you invite guests over for an Easter get-together, it's vital to ensure their first impression of your party is a great one. How can you tie your décor together into a pleasing and admirable aesthetic? By making sure your centerpiece is the perfect Easter accessory!
Start off with a basic flower vase or pot and add an Easter/springtime spin. Get the kids involved in decorating the pot with paints, flowers and glitter. Next, add a bouquet of classic white or light pink flowers to the vase and place it in the center of your table for a display that'll turn heads — for the right reasons.
Bring the Games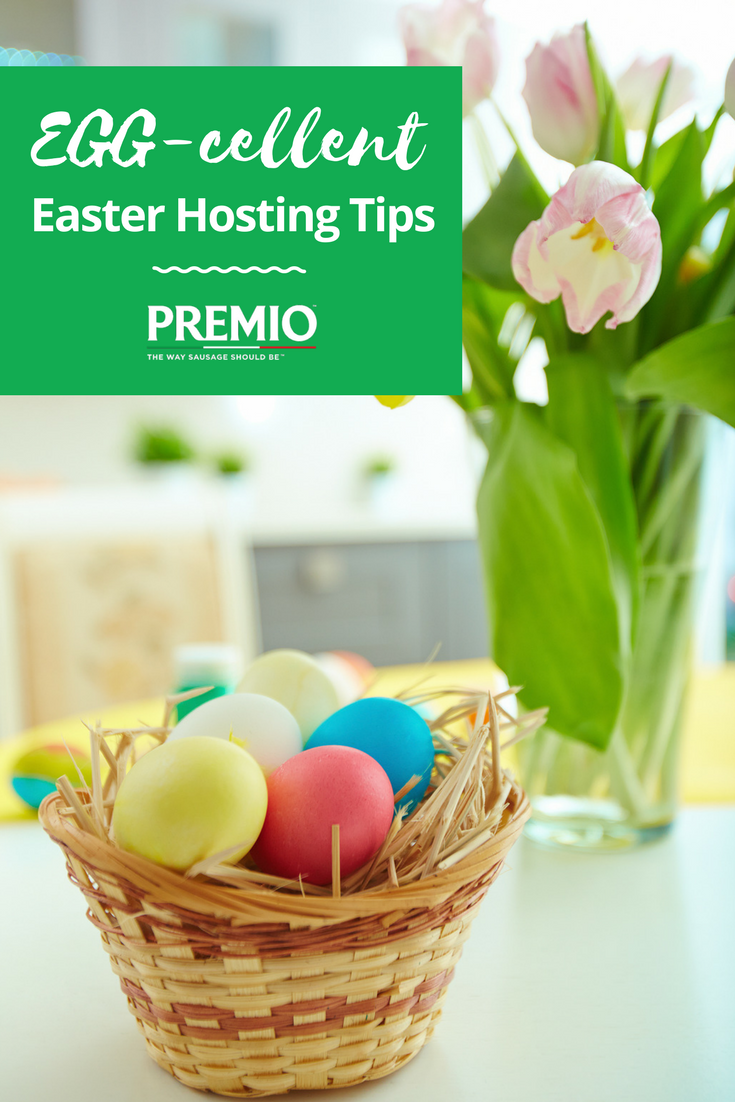 What would an Easter party be without some fun and games? Make sure the children — and adults, too — have a ball by including the following Easter must-have activities:
Plan an Easter egg hunt — with a twist. Is it really an Easter party without an egg hunt? Instead of opting for the traditional egg hunt, which consists of kids merely finding hidden treasures scattered throughout the house, transform this quest into a fun investigation. Give each child one egg to start and place a clue inside each egg that leads them to the next. You'll enjoy watching these mini-spies find their way to the ultimate prize!
Launch Confetti Eggs. These eggs will be ready to smash in good fun — you might think of them as an Easter-themed piñata. Hollow out a raw egg by making a hole on one end and letting the yolk drip out. Then decorate the eggshells! Once they are dry, fill them with confetti. Once each egg is filled, use tissue paper and glue to seal up each hole — and voila! Your children will be ready for hours of endless fun!
Make a "Guess How Many" jar. There's nothing more classic than a good old-fashioned guessing jar. Fill a mason jar or large container with jelly beans and have all of your guests predict how many are inside. For the winner, pick a fun Easter-themed prize or give the entire jar full of jelly beans away instead!
Serve Your Dishes Easter-Style
Nothing is more reminiscent of Easter than a delicious and hearty meal. Not sure what to cook? Be sure to start off every dish with a helping of our mouth-watering Italian sausage, for a meal that's guaranteed to please the entire family.
Begin the evening with our Premium Scotch Eggs, which places the classic hard-boiled egg at the center. The secret to this feel-good recipe lies in the outer layer — a mixture of our Premio Sausage blend with bread crumbs and flavorful spices.
Don't forget to include a delicious side dish, too. Our Premio Sausage Mac N' Cheese is guaranteed to satisfy even the pickiest of eaters. Every spoonful will include a creamy bite of melty cheese, pasta and our Premio Sweet Italian Sausage. It's so delicious that you may just find yourself preparing this tasty snack every night for dinner!
Invest in Quality Ingredients
Be sure to check out some of our other best Italian Sausage recipes to incorporate into your everyday family meals.
When it comes to throwing the perfect Easter party, the real key is spending time with family and friends — but food and fun sure make it even more special. Find a Premio store near you!