Easy Prep for Back-to-School Dinners
When summer's heat begins to cool and stores start stocking shelves with pencils and notebooks, it means one thing — the new school year is upon us. As the laid back days of August come to a close, September brings a new set of challenges for busy parents. How do you get your kids to and from school and their after-school activities, go to work yourself and prepare delicious, nutritious meals for your family?
It can feel overwhelming to plan an entire week of dinners. But the more you can prepare in advance when you have the time, the less stress that puts on you throughout your workweek. As time becomes more precious during this busy time of year, here are some easy prep tips for back-to-school dinners.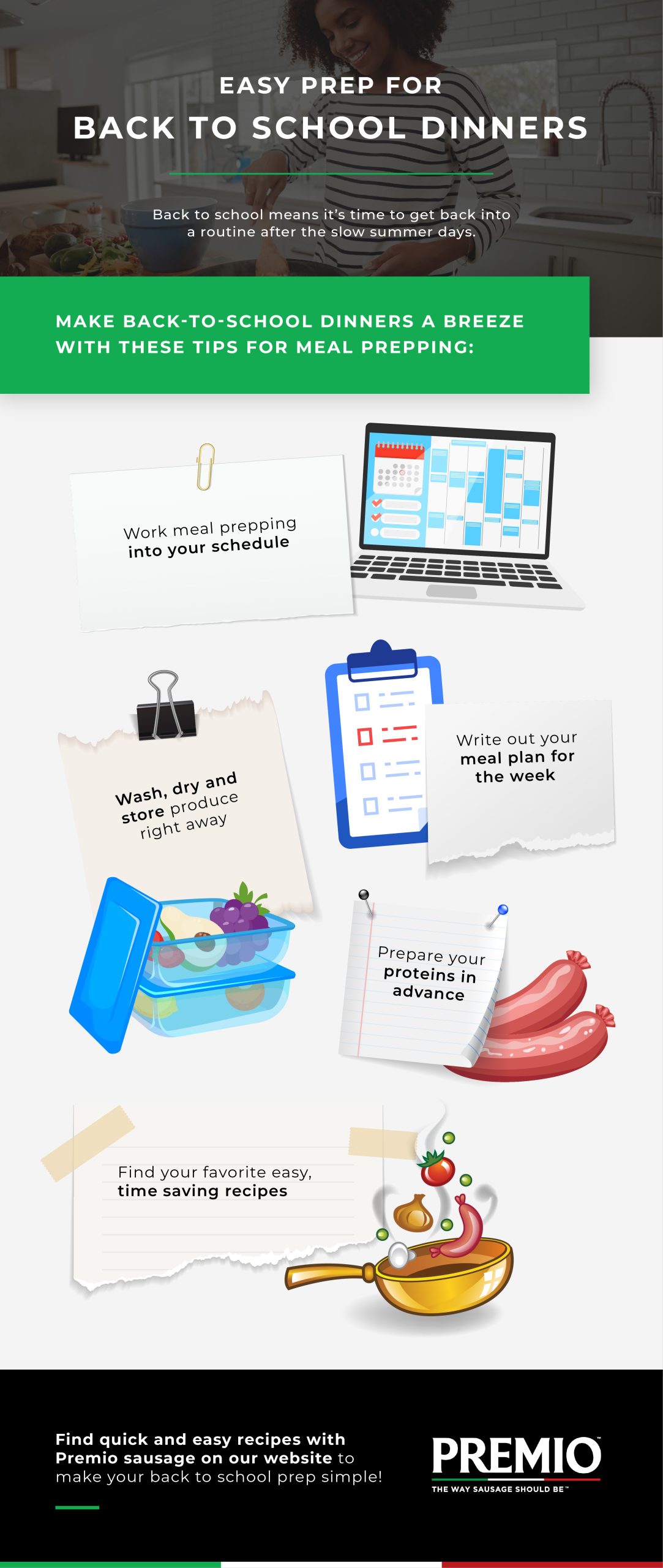 Work Meal Prepping Into Your Schedule
While many people use Sundays as an opportunity to prepare for the busy week ahead, there is no rule saying when you have to meal prep. Find a time that works with your family's schedule. You can even meal prep twice a week if it's more manageable.
Write Out Your Meal Plan for the Week
Each day of the week has its own happenings. From practices to meetings to appointments, it's important to map out your week and revolve your meals around what's going on. There may be days where everyone gets home right at dinner time, which might be a good time for a slow cooker meal.
Once you've got your family's schedule in mind, put your meal plan together using some of your favorite recipes or researching new time-saving recipes online.
Wash, Dry and Store Produce Right Away
Instead of stuffing your fruits and veggies in the fridge after you get home from grocery shopping, take some time to prep your produce. If you wash, dry, chop and store these items in air-tight jars or containers right away, they're ready to go when you need them.
Separate produce you'll be using as an ingredient in a meal or a side dish from those that will serve as snacks for the kids. If it helps, label your ingredients with the day of the week you'll be using them or with the name of the meal.
Prepare Your Proteins
Another time-saving hack you can use when meal prepping is to prepare your planned proteins in advance. You can always cook and reheat them on meal day. However, sometimes meats are not as flavorful when cooked too far ahead of time. Whether your meal incorporates chicken, beef, pork or sausage, here's are a few tips to cut down on your overall cooking time:
Buy your meats in bulk, and portion out what you need for each specific meal. Then put these portions in the fridge or freezer, depending on when you plan to use them.
Whether your recipe calls for your meats to be sliced or cubed, you can cut them up well ahead of time.
Marinate your meats in advance so they're ready to go. This both saves you time and adds incredible flavor to your proteins.
Easy Time-Saving Recipes

Whether you're a budget-conscious mom or a busy working parent looking to feed your family delicious meals, here are a few easy sausage recipes you can use to start your meal prepping journey.
Crockpot Lasagna
Crockpot Lasagna is a new take on an old Italian classic — which makes it even easier to enjoy this family-friendly favorite. Saute your onions and Premio sausage ahead of time and store them in the fridge to save even more time. Then layer the ingredients in your crock-pot the morning you wish to serve up this delectable dinner. Eight hours later, you and your family will be enjoying melted, cheesy goodness with each bite.
Smoked Sausage Tacos
Taco Tuesday is a go-to meal option for every busy parent. You and your family will love Smoked Sausage Tacos. Delicious sausage cooked with taco spices can be prepared ahead of time — as well as your choice of garnishes, like shredded cheese, diced tomatoes, lettuce and more. On meal night, all you have to do is warm up the meat and pack either soft or hard taco shells with all your fixings.
Got any back-to-school meal prep tips for other busy parents like you? Leave a comment below and let us know. Be sure to incorporate Premio sausage into this week's meal plan. Your kids will thank you. Use our store locator to find Premio Foods at a store near you.