10 Ways to Make Pizza Night Fun for Kids
Whether you enjoy ordering from your favorite local restaurant or making your own at home, pizza is a great way to bring families together. Make pizza night even more special with these kid-friendly pizza ideas that will have your kids asking for pizza night to be every night!
1. Serve Breakfast Pizza
Combine breakfast for dinner and pizza night with a delicious morning brunch pizza. With breakfast favorites like sausage and hash browns, this recipe is sure to change up your typical pizza night. Consider serving your breakfast pizza with milk or orange juice to complete the breakfast for dinner feel.
An overview of morning brunch pizza:
Preheat the oven to 375 degrees Fahrenheit.
Place refrigerated pizza dough onto a greased pan.
Brown Premio sausage, drain, then add onion into the same pan and cook until caramelized.
Sprinkle frozen hash browns, sausage, onion and cheese over pizza dough.
Beat together milk, eggs, salt and pepper, then pour the mixture over the pizza and sprinkle on parmesan cheese.
Bake for approximately 25-30 minutes.
Remember to always cook pork sausage to a minimum internal temperature of 160 degrees Fahrenheit and chicken sausage to 165 degrees Fahrenheit. Double-check the temperature with a meat thermometer.
2. Try Pizza Kebabs
Enjoy that classic pizza taste in a new and exciting form. Kids can customize their pizza kebabs, or pizza tornadoes as we call them, to include only the toppings they will eat. Say goodbye to family disagreements on what toppings to get.
Pizza tornadoes are great for kids who love to use their hands and build things. Set out a variety of different toppings for kids to choose from, and help them build their personalized pizza tornado.
An overview of pizza tornadoes:
Preheat the oven to 400 degrees Fahrenheit.
Add Premio sausage and any other desired toppings to the skewer.
Wrap half-inch strips of pizza dough around the skewer.
Brush the skewers with olive oil and season with basil, oregano, thyme and black pepper.
Bake for 15 minutes or until the sausage is completely cooked.
Add shredded mozzarella cheese on top and bake for another 5 minutes.
3. Make Pizza Dippers
While pizza is fun to make, it can also be fun to eat. By cutting pizza into thin strips instead of the traditional slice, kids can enjoy dunking their pizza into various dipping sauces. Use small sauce cups to make dipping even more enticing. This pizza shape allows kids to enjoy and engage with their dinner as they "play" with their pizza dippers and dunk them.
4. End the Meal With Dessert Pizza
Keep the pizza fun going by making a dessert pizza to enjoy after dinner. If your kids are picky eaters and only want their classic pizza choice for dinner, dessert pizza is a great way to keep pizza night from getting old. With so many dessert pizzas to choose from, like s'mores, cookies and cream, peanut butter cup and even cinnamon roll, you can easily try a new recipe each week.
Try a simple, customizable cookie pizza to get you started:
Bake chocolate chip cookie dough as one giant cookie, using package instructions for oven temperature and bake time.
Wait for the cookie crust to cool.
Spread Nutella across the crust like it's pizza sauce.
Add desired toppings, like M&M's or marshmallows.
Slice the cookie pizza like a traditional pizza and enjoy.
5. Go Sweet With Fruit Pizza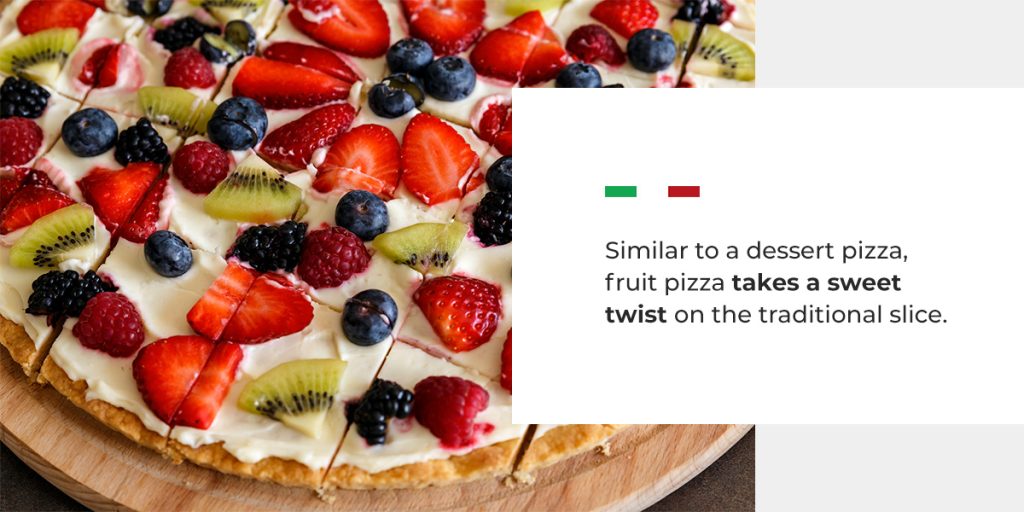 Similar to a dessert pizza, fruit pizza takes a sweet twist on the traditional slice. Here's how you can make one:
Use a pancake or sugar cookie dough for your pizza crust and bake according to the packaging instructions.
Let your crust cool.
Spread marshmallow fluff or Cool Whip over the crust to act as your sauce.
Let your kids pick out their favorite fruit to use as colorful and tasty toppings.
Slice the fruit and top the pizza.
Cut the fruit pizza into traditional pizza slices and enjoy.
6. Have a Pizza Tasting Party
With so many delicious types of pizza to choose from, why pick only one when you could try them all? OK, you can't try every kind of pizza, but you can start by choosing a few different styles to share. Get kids involved by letting them pick a new pizza for the family to try!
If you want to get extra creative, consider having a "pizza around the country night." Grab a New York style, Chicago style, Hawaiian style and BBQ style, and hold a family vote to see which area truly has the best pizza.
7. Decorate With Pizza Toppings
Keep pizza night exciting by letting kids make edible art with pizza topping decorating. Provide a variety of toppings like pepperoni, Italian sausage, green peppers, olives and anything else your kids might enjoy. Remember, you want them to eat the pizza after decorating, so make sure they are only using toppings they actually like!
Let kids make their own designs or create some friendly family competition by having a theme everyone has to follow. Snap photos of everyone's designs, and let friends and family vote on their favorite on social media. The winner gets to pick the theme for next time.
8. Make Fun Pizza Shapes
Who says pizza has to be round or square? One of the best parts of making homemade pizza is there are no rules. Swap out the classic pizza shape for unique options like:
Hearts: For a heart-shaped pizza, simply mold the raw pizza dough into a heart before popping it in the oven. Bunch up aluminum foil to help the heart hold its shape as it bakes.
Snowmen: You can make a snowman by vertically placing two personal-sized pizzas in a row and connecting them before baking.
Ghosts: To make a ghost pizza, buy a pre-made store pizza crust and use a cookie cutter to shape your ghosts.
Dig through your collection of cookie cutters to get even more fun pizza ideas for your kids!
9. Make Your Kitchen a Restaurant
Make kids feel like real chefs with their own chef's hat and apron. Keep the fun going by letting them come up with a name for their new restaurant and have them design and create a menu. An imaginary restaurant makes pizza night fun for kids while letting you spend quality time with them.
10. Decorate Your Own Pizza Boxes
After your kids have so much fun making their pizza, they may be impatient to wait for the pizza to cook. Keep them engaged — and distracted — until the pizza is ready by having them decorate their own pizza box. Provide a plain box and some markers, and watch their imaginations blossom.
Find Pizza-Night-Worthy Premio Sausage Near You
Family pizza night will be fun and delicious with Premio sausage included in your toppings. Our sausage provides a familiar, fresh and authentically Italian taste while also containing 60% less fat than USDA findings for pork and beef sausage, making us the perfect choice to serve your family.
With a variety of Italian and chicken sausages to choose from, there's sure to be a sausage that complements any style of pizza. Find the perfect sausage addition to your pizza by using our store locator.