Meal Prep Tips for a Busy Week
Come Sunday we're all left asking, "Where did the time go?" as we get ready for another busy week. Make-ahead recipes can save you time when you're hustling Monday through Friday. The question is, what meals do you make, and what tricks can make the process that much easier?
Our five meal prep tips here to help! Check them out below.
Create a List
We rely on grocery lists — even more so when we're doing make-ahead recipes. That means calculating just how much tomatoes, sausage or other ingredients you'll need to make enough meals for the week.
A go-to rule for meal prep lists is to double your bigger items, like your produce and meats, and not your seasonings and spices as your taste buds will dictate just how much hot sauce that chili really needs.
Lists also prevent you from forgetting items and having to double-back to the store during your cook-off.
Use Overlapping Ingredients
Make your meal prep easier by choosing recipes with identical ingredients. Say you're searching for a 30-minute sausage recipe, for example. You'll want to try and find recipes that use the same type of sausage, like our Sweet Italian Sausage.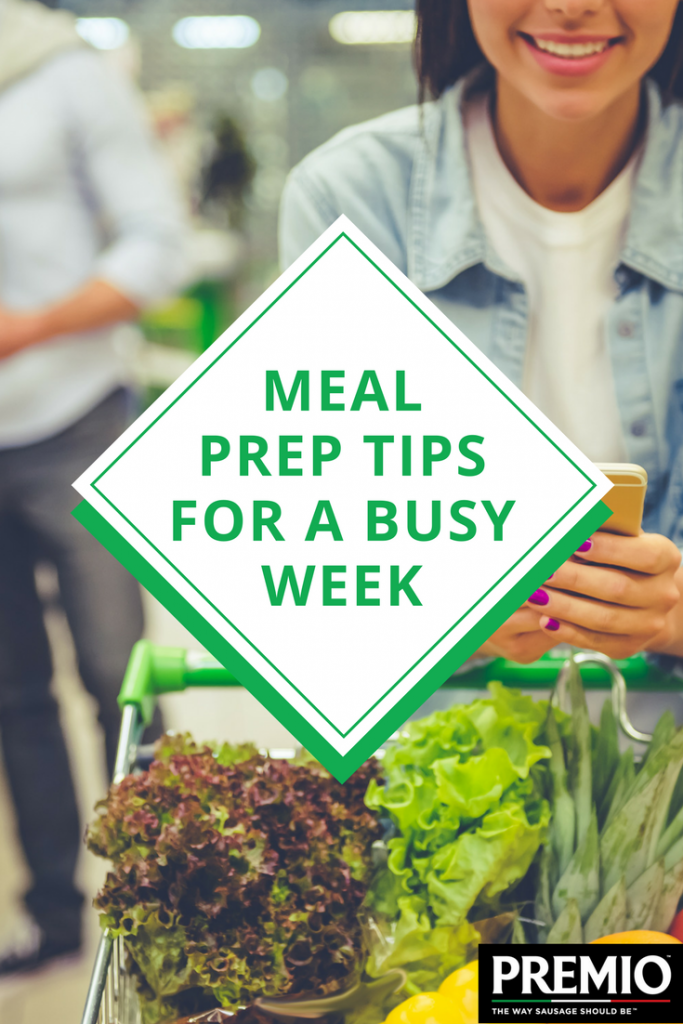 And just because you're using overlapping ingredients, like sausage, doesn't mean your meals will be the same. You can do a lot, in fact, with a sausage link, from making a sandwich to a pasta dish or even a dip you can pair with some pita bread.
Find Freezer-Friendly Make-Ahead Recipes
Because meal preparation is all about preparing ahead of time, you want to choose recipes that are freezer-friendly, plus easy to reheat. Reviews for recipes can also give you a heads-up if the meal isn't spectacular after reheating.
Make sure your Tupperware for storing your meals is also durable. A cheap container can crack in the freezer, which won't make your day any less hectic.
Cut Your Food Before You Cook
Dicing up your food before you toss it into the oven or onto the skillet is an excellent meal prep tip. If you slice and dice afterward, your ingredients are hot, which can make it difficult to hold and cut them.
Pre-prepared food can also help your prep process. Instead of purchasing ground sausage meat for burgers, for example, go with patties to skip a step.
Cook Everything at Once
Gather your baking pans and skillets to expedite cooking your make-ahead recipe. Using all your stovetop's burners and filling your oven to max capacity can help you finish cooking faster. Remember, of course, to not leave your kitchen unattended and to keep an eye on all your food.
Find 30-Minute Sausage Recipes With Premio
Finding excellent Italian sausage is easy with Premio. Our family is also here to help you during those hectic weeks, by providing easy, 30-minute sausage recipes that are delicious. Browse our recipes today or share your meal prep tips with us! We'd love to hear them.