Tips for Sticking to Your Healthy Eating Resolution
It's time to say goodbye to the habits and memories of the last 12 months and make room for a brand new start. As the New Year has finally arrived, you may be excited to get a head start on your goals. If your New Year's resolutions include eating better and practicing healthier habits, how can you stick to those sentiments without burning out and hoping to do better when the next year comes around?
There's a delicious way to diet when you make a few simple switches, and Premio is here to help you stay healthy and satisfied all year. Here are our top three tips for healthy eating this year.
1. Cut Out Processed Food
When it comes to taking care of your body, losing weight and aiming for a healthier lifestyle, your first step should be to remove all the unhealthy foods in your diet. You might think this means cutting carbs or strictly limiting sugar intake, but it's even easier than that. You don't have to drastically reduce your caloric intake or never enjoy your meals again to live a healthier life — you just have to stop eating so much processed food.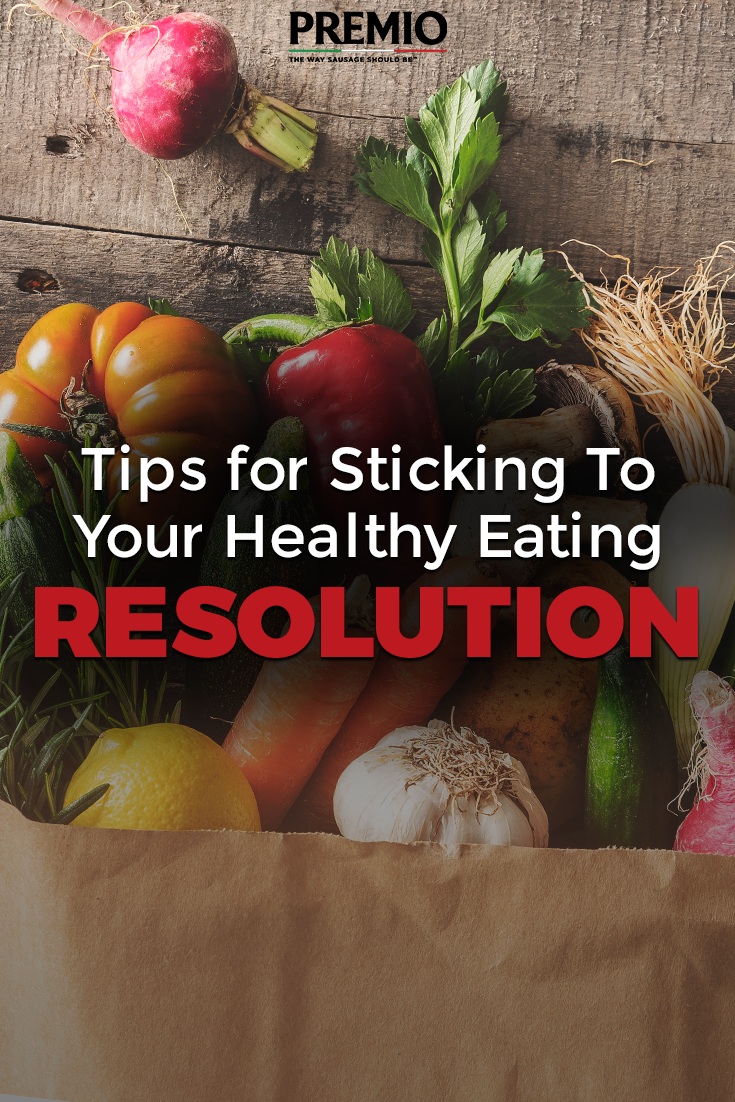 When life is busy, options like satisfying snack foods and pre-packaged meals seem like an easy, affordable go-to, but they're wreaking havoc on your body. Did you know processed foods make up more than 61 percent of the average American's diet? Almost 1000 calories a day can be traced to our intake of junk food and processed food — plus, it's full of unhealthy additives and trans fats. Try to cut back on packaged and processed foods — you'll certainly see the difference.
2. Substitute Chicken for Red Meat
Red meat is a tempting, delicious protein — but with its proclivity for saturated fat and high cholesterol levels, it's better to think of it as a treat and try not to eat it overly often. If red meat meals are your staple, try substituting them with something just as flavorful but lower in fat — like chicken. Swapping out your favorite meat for a just-as-juicy alternative like Premio Italian Chicken Sausage, for example, is sure to keep your taste buds satisfied while making your meals leaner.
3. Cook Your Own Meals
Even though it's easier on your schedule, it can be hard to stay healthy when you constantly opt for takeout, eating out or drive-throughs at dinnertime. Instead, try to stay home most days and make your own meals — that way, you can control what's going into your body and make sure you're making the healthiest choices. Plus, cooking offers you a sensory experience and lets you build a better relationship with food.
To get you inspired with great cooking ideas and even better flavor, try these easy low-carb sausage recipes like Premio's Sausage Zucchini Crust Pizza, Oven Sausage Winter Veggie Roast and more.
Healthy Sausage Recipes for Dinner and More
When you're determined to follow through with your healthy New Year's Resolution by eating and cooking more nutritious meals, Premio is here to provide you with ingredients and inspiration. Explore our healthy sausage recipes for dinner and enjoy the full flavors of our chicken sausage and other varieties today.