What to Serve With Mac' n Cheese
Mac' n cheese is an American staple. Families all across the country can't get enough of the gooey deliciousness, and we don't blame you! However, as much as you and your kids love this cheesy dish, you still need to add another side or entree to make it a complete meal.
When dinner time rolls around, you don't want to waste any time scrambling to come up with ideas for what to eat with mac 'n cheese. This list of tasty combinations will provide the inspiration you're looking for while perfectly complementing the savory flavor of your favorite mac 'n cheese recipe.
Cabbage and Apple Slaw
Coleslaw is a summertime classic, but add in a squeeze of lime and crisp apples, and you have a side dish that adds flavor to any dinner. Cabbage and apple slaw requires traditional coleslaw ingredients, with just a few additions. All you need is a granny smith apple, red cabbage, scallions and mayonnaise. Add in a glaze made of honey, mustard and lime juice, and you have a refreshing and colorful side dish for your mac 'n cheese meal!
Cheesy BBQ Sausage Bites
When you don't want to resort to the same dinnertime foods, brainstorming new entree ideas for what to serve with mac 'n cheese can become another chore on your to-do list. But this cheese barbeque sausage bite recipe is sure to become a family favorite. What really brings this recipe to the next level is the slice of savory bacon around the sausage. You can cook your bites in the oven or roast them on the grill for an added smokey flavor.
Chicken Sausage Burger
Forget frozen hamburgers. If you're looking for a filling meal to complement your mac 'n cheese, these chicken sausage burgers offer a fresh new take on a classic recipe. It's no secret that there are major nutrient differences between chicken and ground beef. Chicken is leaner and has more protein and fewer calories. When you combine these chicken burgers with a drizzle of fig and mustard sauce, you have a tasty and luxurious entree worthy of a five-star restaurant.
Crispy Oven Tilapia
Now, tilapia may not be your first thought when looking for mac 'n cheese side ideas. But tilapia is full of protein and potassium, and with the right breading, you can create a truly delicious dish. You can coat your fish with cereal, breadcrumbs or even salty potato chips, then fry it in the oven with just a coat of cooking spray. Serve it with a side of tartar sauce, creamy pesto or lemon butter sauce.
Fried Green Beans
Parents of picky eaters — rejoice! You finally have a solution to get your kids to eat their veggies with a smile! Fried green beans are a simple side dish and only take a few minutes to make. You can bake them or pop them in the air fryer. But to cook them the old-fashioned way, you just need flour, breadcrumbs, vegetable oil, an egg and fresh green beans. The end result is a crispy French fry substitute that is 100% kid-approved.
Meatballs

You can never go wrong with adding meatballs to your meal. There are dozens of different meatball recipes out there, and some incorporate fillings like cheese, potatoes, tomatoes and spinach. This means you can try a new type of meatball every time you make mac 'n cheese. And if you don't like to serve them with marinara sauce, you can coat them with buffalo sauce, spicy barbeque, Swedish sauce, honey garlic or sweet and sour sauce.
Potato Sausage Casserole
When the cold weather sets in and all you want to do is warm up with some comfort food, a sausage potato casserole is the perfect meal. Just grab your favorite brand of Italian sausage, and layer it with cream of mushroom soup, cheddar cheese, potatoes and onion, and you have the ultimate pairing for your mac 'n cheese.
Roasted Brussels Sprouts
The stigma against Brussels sprouts is long gone. They have officially been declared an elite food — as long as you prepare them correctly. No one likes unseasoned veggies. So if you're trying to integrate more vegetables into your kid's diet, make sure that you sprinkle your sprouts with olive oil, lemon juice, salt and pepper. Pop them in the oven on a baking sheet to roast them, or you can cook them in a skillet to get the outside layer nice and crispy.
Saucy Barbeque Ribs
What goes with mac 'n cheese better than savory barbeque spare ribs? The best part about cooking ribs is that you can put them in a slow cooker in the morning, and they'll be ready by the time you get home for dinner. The secret to getting fall off the bone ribs is to remove the membrane, cover them with barbeque sauce and bake them on low heat for at least eight hours.
Spicy Sloppy Joes
When it comes to quick and easy dinner solutions, sloppy Joes are a beloved favorite guaranteed to make your family smile. But to make your dinner truly delicious, we recommend skipping the canned meat and making your sloppy joes from scratch. This version takes the classic recipe you know and love and adds some spice to the mix. With hot Italian sausage and dry mustard, you get another layer of flavor to match the sandwich's signature sweetness.
Sweet Potato Fries
Few French fry substitutes can match up to the original. But sweet potato fries are about as close as you can get. Sweet potato fries have soared in popularity because they taste amazing and are packed with vitamin A, potassium and fiber. You can play to their sweetness with a coating of cinnamon sugar, maple syrup or blue cheese and honey.
If you like your sweet potatoes on the savory side, try seasoning them with cayenne pepper, garlic powder, sea salt and olive oil, or top them with cheddar cheese. No matter how you make them, you'll have a tasty and nutritious side dish for family dinner.
Make It a Complete Meal With Premio Foods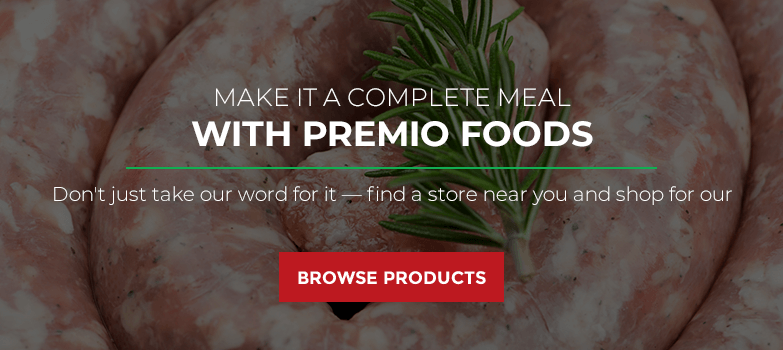 When it comes to thinking outside the box, no one does it better than Premio Foods. After 40 years in the business, we know that quality ingredients are the true making of a delicious and memorable family dinner. That's why we only use the finest Italian meat and freshest herbs to create our gourmet sausages.
Whether your recipe calls for traditional real Italian sausage, or you want to explore new flavors with inspired world flavors, Premio Foods has delicious varieties to match every taste and preference. But don't just take our word for it — find a store near you and shop for our renowned sausage products today!