Winter Foods for Kids
For kids, winter weather means cozy blankets and countless hours of fun in the snow. But for parents, winter means another change in the menu as seasonal fruits and vegetables rotate once again. If you're looking for some culinary inspiration, these kid-friendly meals for cold weather will provide the inspiration you need to keep your children full and satisfied all season long.
Main Courses
When you're looking for healthy winter foods to serve your family, there are plenty of nourishing dishes that will keep the kids happy and save you time in the kitchen.
Mini Pot Pies
Chicken pot pie is an elite comfort food, and a miniature version is the perfect proportional size for your kiddos. And, of course, there's the bonus of loading it with some extra vegetables so your children get all the nutrients they need.
All you need to make these tasty pastries is crescent roll dough, a bag of frozen mixed vegetables, chicken gravy and cubed cooked chicken breasts. Use a cupcake tin to line the pies with the dough, then fill your pies. Just 10 minutes in the oven, and you have fresh pot pies!
Hearty Soups
Forget cans of premade soup. Treat yourself and your family to a fresh pot of homemade comfort in a bowl. Prepared with in-season vegetables, savory sausage and seasoned broth, these easy soup recipes will provide all the warmth you need to make it through the snowy season. Just make sure that when you prepare meals using sausage, you cook the meat to an internal temperature of 165 degrees Fahrenheit.
Twice-Baked Sweet Potatoes
Whether you like them prepared with savory seasonings or garnished with sweet toppings, sweet potatoes are a delicious and nutritious winter food for kids. This recipe for twice-baked sweet potatoes plays to the signature flavor and texture of the beloved harvest vegetable. With sweet Italian sausage, cranberries, cinnamon, brown sugar, salt and finely chopped pecans, you can't go wrong with adding this side to your meal plan.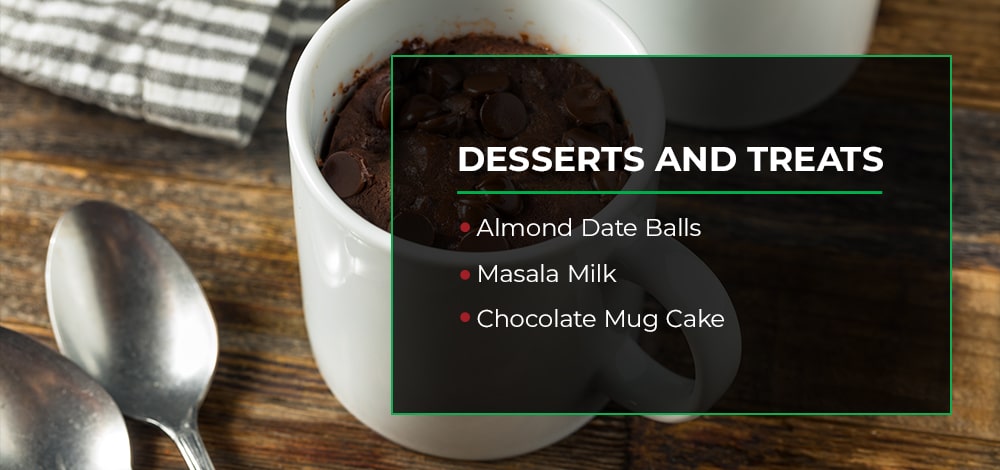 Desserts and Treats
You can't have a list of the best winter foods for your children without including a few treats.
Almond Date Balls
Almond date balls are a fast and easy dessert you can make in a pinch. Dates are naturally sweet, so you don't need any additional sugar. And they're high in fiber and rich in antioxidants, which makes them perfect for creating a healthy dessert.
By mixing one and a half cups of chopped dates with a cup of ground almonds, cardamom powder and shredded coconut, you can create a dough-like dessert to shape into balls. Fry the almond date balls on a pan with butter on low heat for just a few minutes, and dessert is ready!
Masala Milk
Milkshakes are for summertime, but masala milk is the winter dessert drink of choice! Masala milk is a tasty drink made with nuts and spices. It's great for your digestion and is packed with protein and calcium. It's even thought to cure colds, sore throats and coughs.
To make your own masala milk, you need these ingredients:
Almonds
Cashews
Pistachios
Brown sugar
Cinnamon
Cardamom
Cloves
Saffron
To make, soak the nuts in warm water, peel off the skin, then grind them into a paste with some milk. Boil more milk on low heat, then add in your spices and whisk the ingredients together. Add your nut paste into the mix and simmer until the milk becomes thick. Now you have a unique dessert to satisfy your kids' sweet tooth.
Chocolate Mug Cake
What's better than warm chocolate cake? To a child, their own personalized chocolate cake! Mug cakes are a great dessert to make with your kids because all you need to do is measure out the ingredients and mix them together. Just a few minutes in the microwave, and you have a warm and tasty treat.
To make your mug cake, just pour these ingredients into a microwave-safe mug and mix until combined:
Three tablespoons each of flour, sugar, milk, chocolate chips and vegetable oil
Two tablespoons of cocoa powder
One-fourth teaspoon of baking powder
A pinch of salt
Microwave for 90 seconds, then decorate with your choice of frosting and sprinkles.
Snack Time
Playing in the snow is tiring, and your kids will need to fuel up to get their energy back before heading outside to finish their snowball fights and igloos. These healthy snacks are fun to make and on-theme for the snowy season.
Mozzarella Snowman
Snowman-themed foods are super cute and fun to create and deconstruct. For this winter snack, all you need is three round slices of mozzarella cheese, two mini pretzel sticks and some black peppercorns or black sesame seeds. Lay out your cheese slices flat on the plate so they resemble the parts of a snowman. Then, use the sticks to create arms, and the peppercorns or seeds to create the face and buttons. Voila! You have a delicious cheesy snowman.
Popcorn Balls
This winter-inspired treat is fun to make with your kids, with plenty of room to customize with icing, sprinkles, nuts or candy. Popcorn balls are a simple snack that only requires kernels, sugar, butter, mini marshmallows, vanilla extract and salt.
Just warm canola oil on medium heat, then add the kernels and sugar. When the kernels are popped, take a second pan and melt the marshmallows with butter, then add the vanilla and salt. Coat the popped kernels with the mixture and enjoy the sticky task of forming small spheres. The last step of decorating is up to you!
Snackable Lunch Meat Crackers
Sometimes the best solutions for snack time are the simplest ones. When you already have a full to-do list and need a fast snack to satisfy your kids, use what you already have in your refrigerator and let the creativity come through in the presentation.
You can use small Christmas- and winter-themed cookie cutters to make fun shapes out of lunch meat and cheese. Then, stack the ingredients on your family's favorite crackers to complete the presentation. In the end, you have a festive snack that has a ton of protein.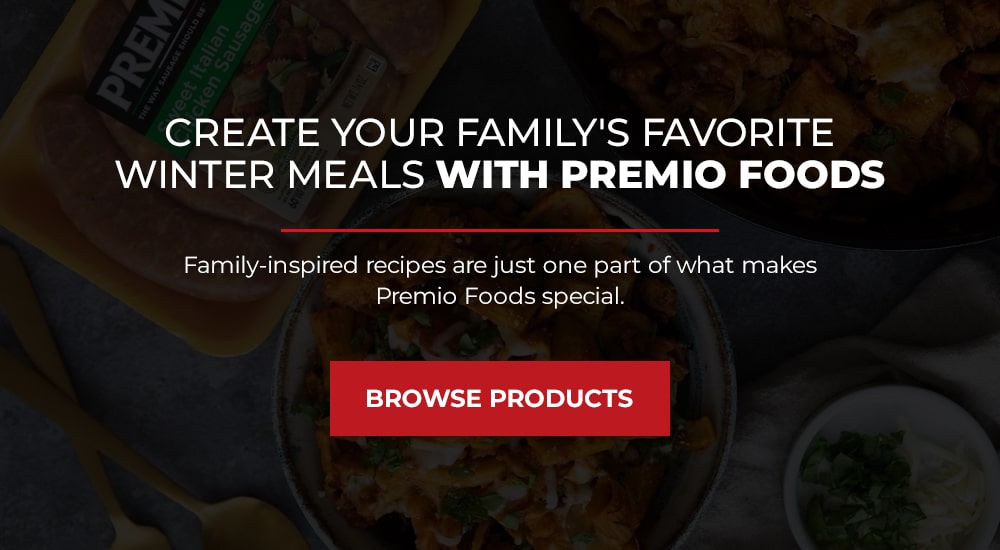 Create Your Family's Favorite Winter Meals With Premio Foods
Family-inspired recipes are just one part of what makes Premio Foods special. As a fine sausage producer, our practices are based on generational traditions that put passion and family at the forefront of our mission. Using only the freshest herbs, spices and cuts, our premium sausage products bring the authentic flavors of Italy to your home.
Find Premio sausage at a store near you and start cooking your favorite winter recipes today!