4 Homegating Recipes for Football Season
Now that football season is here, it's time to gather your friends and family together and throw a homegating party! While you cheer on your favorite football team from the comfort of your home, be sure to pair your favorite drinks with savory snacks and sides.
To help you get started, we put together four of the best football season recipes that you can serve up at your next homegating party.
1. Football Sausage Rolls
Our football sausage rolls are sure to be a hit at your homegating party. Sweet Italian sausage is chilled, cut into bite-size pieces and then sauteed in a skillet. Once they are browned, each bite-size piece is placed into the refrigerated crescent dough and baked for 20 minutes.
As it bakes, the crescent puffs up around the sausage, creating a football shape. Then, once they are baked, you can take either white or gray icing and add "laces" on top of each "football." The finished result is sausage rolls that taste just as good as they look.
2. Buffalo Chicken Sausage Sliders
For something a bit more filling, fire up your grill and serve up our buffalo chicken sausage sliders. This homegating grill recipe packs in plenty of flavor with Premio hot and spicy Italian chicken sausage and Frank's red hot sauce. Blue cheese, sour cream and celery tone down some of the spiciness while also adding complementing flavors.
Served up in a potato roll, these sliders are sure to appeal to all of your friends and family.
3. Touchdown Taco Dip
Of course, you can't have a tailgating party without a dip! Our touchdown taco dip is both filling and flavorful. Your guests won't be able to resist this chunky, chili-inspired appetizer. Best of all, it's quick and easy to prepare.
Sweet Italian sausage is sauteed and then mixed with canned hot dog chili, refried beans and cheddar cheese. Then, sour cream and freshly cut tomato chunks are added on top of the dip for extra flavor and an eye-catching garnish. We suggest pairing the dip with Super Grains Dippin' Chips or your favorite scoopable chips.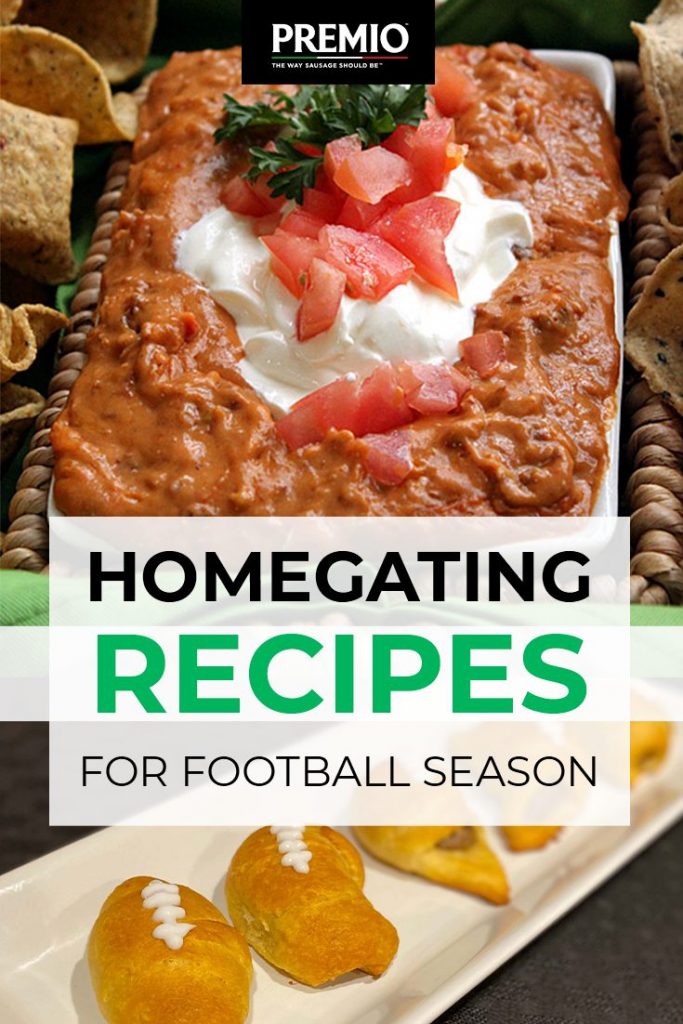 4. 4th and Goal Sausage and Broccoli Rabe Bubbling Italian Cheese Dip
If you want to impress your guests, our 4th and goal sausage and broccoli rabe bubbling Italian cheese dip is one homegating recipe you'll definitely want to try out. This creamy, cheesy dip features plenty of bold Italian flavors ranging from the sweet Italian sausage to the roasted red peppers.
Served warm with Veggie Dippin' Chips, this dip will be impossible to resist.
Find Premio Sausage in a Store Near You
Whether you are looking for traditional Italian sausage or ethnic varieties, Premio will make your game day recipes delectable. Our sausage, which is crafted using the finest ingredients, tastes exactly the way sausage should.
To start planning your next tailgating or homegating party, use our store locator tool to find Premio products in a store near you.
Do you have any homegating tips or tricks? Share them with us in the comments!