5 Easy Recipes to Celebrate National Pizza Day at Home
National Pizza Day is a great day to plan a fun-filled family night, surprise your significant other with a homemade pizza or have a game night with friends. If you need a sausage pizza recipe to make your celebration even more special, Premio Foods has a few mouth-watering options for you.
Also, remember you'll want to cook your Premio sausage to an internal temperature of at least 160 degrees Fahrenheit.
1. Sausage and Roasted Veggie Pizza
If you want to stay healthy, our sausage and roasted veggie pizza is for you. Start by rolling out some premade dough, and cover it with your choice of sauce. Next, sprinkle cheese over the dough. Be sure to cook your Premio sausage until it's brown. Then, go wild on veggies. Toss onions, green peppers, broccoli and whatever else you like on your pizza. Crumble the meat over the pizza, too.
Once you've arranged your toppings, pop the pizza in the oven for 12 minutes, and enjoy.
2. Chicago Deep Dish Pizza
Our sausage deep dish pizza will make you drool. This recipe includes directions on making your own thick, homestyle pizza crust. Once you've made the crust, add your toppings. Our recipe calls for San Marzano tomatoes, three kinds of cheese and quality Premio Sweet Italian Sausage. Just be sure to thoroughly cook the meat before placing it on the pizza.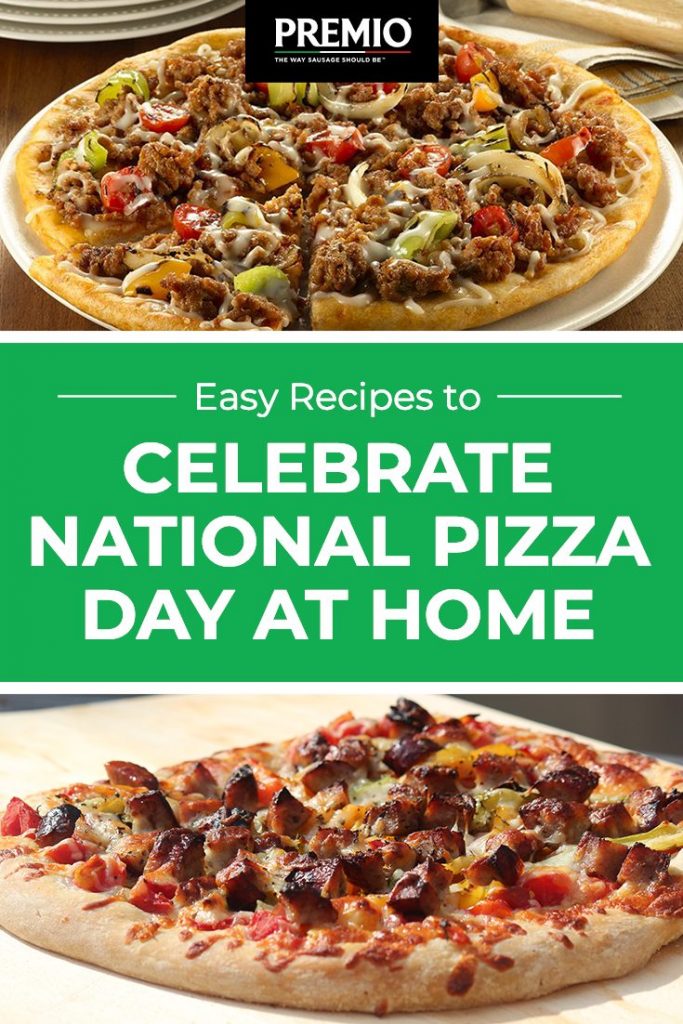 Garnish the finished pizza with some red pepper flakes and enjoy.
3. Manly Premio Sausage, Peppers and Onion Grilled Pizza
Need a pizza that packs a punch? Make this Premio sausage and vegetable grilled pizza. Loaded with everything that makes your tastebuds sing, this pizza is perfect for a National Pizza Day poker night or televised sports game. In the recipe, you get to grill veggies, grill the pizza crust and sauté some delicious Premio Hot Italian Sausage.
Then, layer all of the tomatoes, savory veggies and sausage on the smokey crust. Talk about flavor!
4. Greek Style Pizza With Sausage
For a simple yet flavorful pizza, try our Greek-style pizza with Premio Sweet Italian Sausage. Roll out a premade pizza dough, and spread some of your favorite tomato sauce over the top. Then, cover the dough with classic Greek toppings like kalamata olives, Feta cheese, sun-dried tomatoes and artichoke hearts. Our sausage brings a touch of sweetness that marries the flavors together.
Be sure you make enough because this pizza recipe will go fast!
5. Premio Pizza With Heirloom Tomatoes, Basil and Gorgonzola
If you're looking to take your pizza game to the next level, you need our heirloom tomato and gorgonzola pizza. It brings fresh herbs and savory sausage together for a flavor like no other. Let tomatoes, salt, pepper and olive oil simmer on the stove. Once they're done, spread the tomatoes over a premade pizza dough. Then, sprinkle some cooked sausage and gorgonzola cheese over the tomatoes.
Finish off your rich, savory meal with coarsely chopped basil, and dig in.
Trust Premio Sausage to Bring Flavor and Spice to Your Favorite Meals
From a healthy meal to a movie-night favorite or a family-friendly dish, honor National Pizza Day with a delicious recipe. At Premio Foods, we offer sausage the way it should be. To find Premio sausage in a store near you, use our grocery store locator and get cooking.