Add Pizzazz to Your Pizza Night
Just about everyone agrees that pizza is utterly, completely and eternally delicious. Case closed. Yet sometimes we all want something a little more exciting than pepperoni, cheese and sauce.
The next time you're craving a slice of hot, gooey pie that tastes extraordinary, check out these four sausage pizza recipes. Each one adds a special element of taste to please your palate and drive your senses wild. 
Just one note of caution: You might not be satisfied with your usual serving size. Consequently, it's a good idea to make a couple of these gems so everyone leaves the table ultra-satisfied.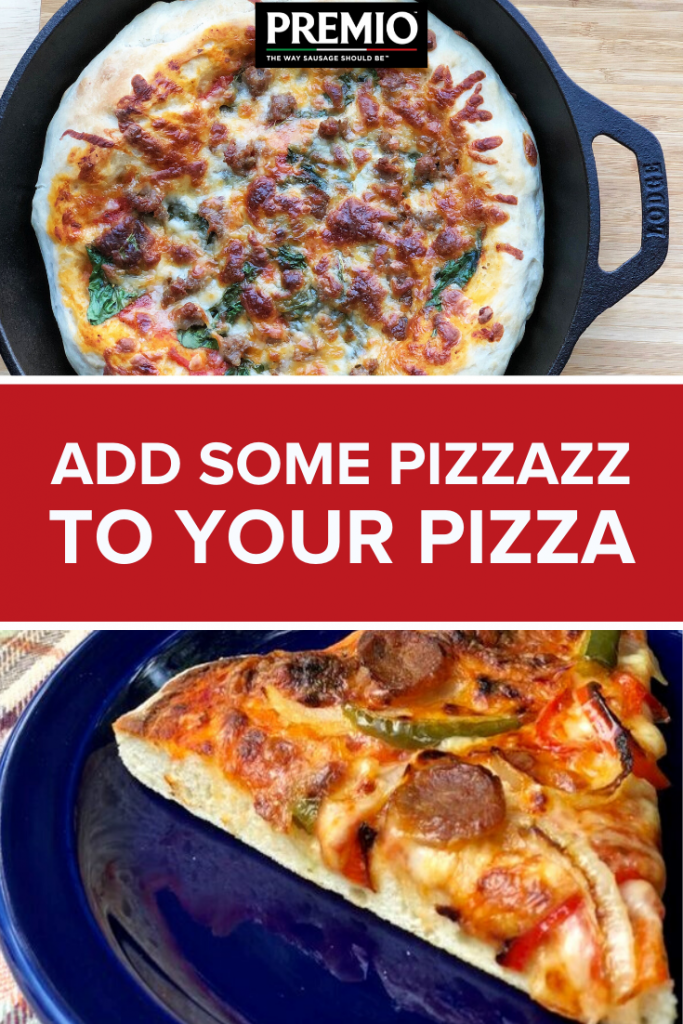 Try Some Pizza With a Touch of Sophistication
Who says that wine and pizza can't go together? In the Premio Sausage Mobster recipe, Marsala wine blends neatly with upscale ingredients including Baby Bella mushrooms, sun-dried tomatoes and the shredded Italian cheese blend of your choice.
You'll appreciate this particular type of sausage-filled pizza because it substitutes the standard tomato sauce for something a little more like alfredo-meets-heaven. You've never had a blend of Italian flavors on a crust quite like this. As one of our favorite recipes for pizza with sausage, this fabulous choice is ideal for date nights and couples' parties.
Get Your Protein and Veggies Piled High on a Pie
Imagine succulent hot Italian sausage and grilled veggies stacked high atop a wonderfully doughy crust. That's what you'll get when you fire up the grill and make our Manly Premio Pizza recipe.
We'll be honest — this pizza isn't for people with tender taste buds or appetites. In fact, it's the King Kong of pizzas in terms of sheer volume and intensity. Accordingly, it goes well with a tall glass of beer at a summertime picnic. However, this recipe for pizza with sausage is just as at home on your football game buffet table.
Give the Herb Garden a Nod 
Let's say you spend a lot of time growing an herb garden indoors or outside.
Why not add some of your favorites to a pizza with sausage? Our Sausage Spinach Skillet recipe calls for tons of dried herbs,
but you can substitute fresh ones if you'd like.
Want another reason to try this recipe for a pizza bursting with sausage toppings? It cooks in a cast-iron skillet, giving it an exceptionally crisp and irresistible texture. You'll never go back to plain, boring pizzas when you discover how much a little spinach and herbs can rev up an otherwise traditional sausage pizza dish.
Make Your Taste Buds Dance From the Heat
You say you like a little sizzle from your sausage pizza recipes? Hold onto your pizza stone. Our Hot Italian Sausage and Peppers recipe makes the ideal base for a pie as hot as you can handle. 
Though the ingredients call for bell peppers, you can certainly toss in a few jalapeños or habaneros for fun. Just be sure to have something on hand to quench your thirst after devouring this spicy monster.
Premio Sausage Makes Pizza Night More Exciting and Tasty
Who says pizza can't be decidedly different? Surprise your hungry table companions with a few pizza varieties that take pizza night to new heights. You will also need delicious Premio sausage as well, of course. Use our store locator to find Premio sausage near you!