Celebrate Cinco de Mayo With the Flavors of Mexico
With spring back in the air, it's time to prepare for seasonal festivities and special occasions, like Cinco de Mayo!
Whether you're celebrating your family heritage or taking part in a party or parade, you should honor this traditional holiday with all the flavors of Mexico.
Featuring the best taste of chorizo sausage and other cultural flavors, here are four Cinco de Mayo recipes to inspire you.
1. Sausage and Butternut Squash Enchiladas
Warm and tangy, this butternut squash enchiladas recipe offers a creamy, spicy take on one of your favorite Mexican dishes. Here's what you'll need:
1 package of Premio Sweeet & Hot Italian Sausage
1 cup canned red enchilada sauce
2 tsp olive oil
1 seeded, diced jalapeno
1 onion, diced
1 clove garlic, minced
2 1/2 cups peeled, diced butternut squash
10-oz. can tomatoes with green chilies
11 1/2 cups canned black beans, drained and rinsed
1 tsp cumin
1/2 tsp chili powder
1/4 cup cilantro
1/4 cup water
8 flour tortillas
1 cup shredded Mexican cheese
Sour cream (optional)
2 tbsp. chopped scallions to garnish
Salt and pepper to taste
Ready to get cooking? Here's how to craft those creamy enchiladas:
After preheating your oven to 400°F, pour 1/4 cup of your enchilada sauce into a large baking dish. Set aside.
Over medium-high heat, add 1 tsp olive oil and saute your sausage links until firm and browning. Using your spatula, break the sausages into smaller pieces and brown thoroughly to an internal temperature of 160°F. After adding another tsp of olive oil, stir in jalapeno, onion and garlic, cooking until fragrant and tender — about two to three minutes. Next, add butternut squash, tomatoes, black beans, cumin, chili powder, cilantro and water. Stir, season with salt and pepper, then cover, continuing to cook on low for half an hour.
Lay out flour tortillas, place 1/3 cup veggie and meat filling in center and roll, placing them seam-side down in the baking dish. Cover enchiladas with the remaining 3/4 cups of enchilada sauce and top with Mexican cheese.
Cover with foil and bake for 10 minutes until cheese has melted. Top with optional sour cream and scallions. Perfect for a party of four to eight.
2. Mexican Spaghetti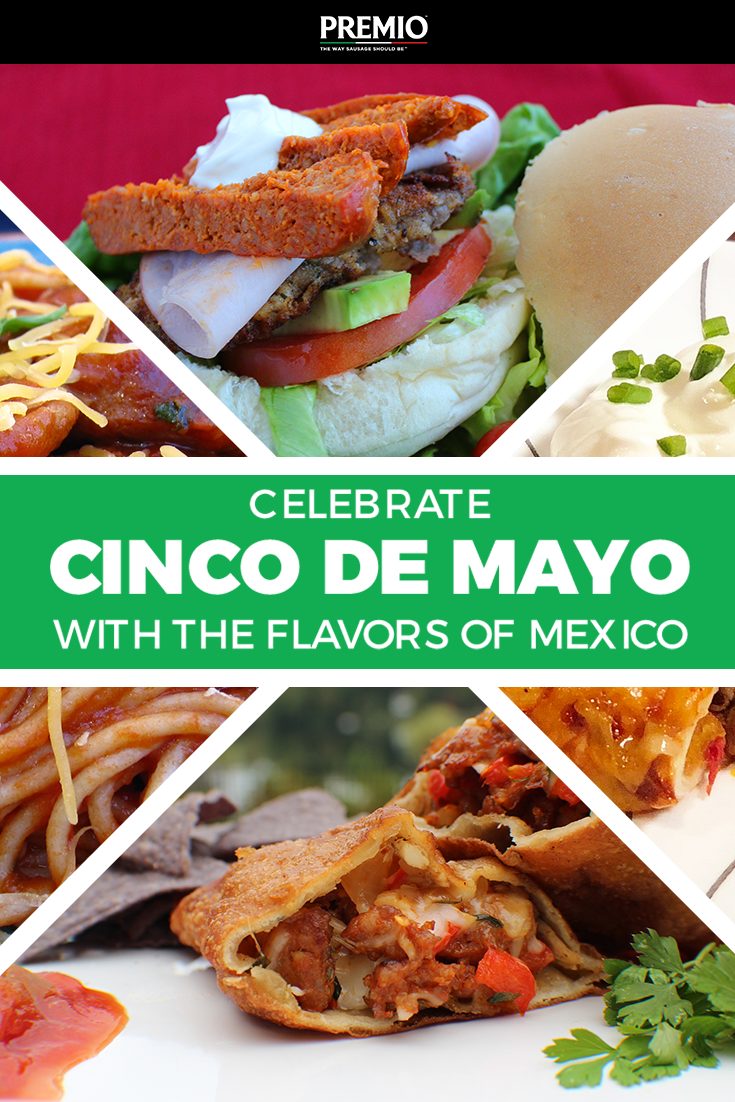 Add a little Mexican flair to an Italian favorite for this Cinco de Mayo recipe. Here's what you'll need:
2 tbsp olive oil
1/2 tsp salt
1/4 tsp ground pepper
1 tsp ground cumin
2 tsp chili powder
1 6-oz can tomato paste
1/4 cup chicken broth
1 cup reduced fat shredded cheddar
1/2 cup salsa
16 oz spaghetti, cooked
Turn your ingredients into a satisfying meal with these simple steps:
In a large pan over medium-high, add olive oil and sausage, cooking for about five minutes until browned to an internal temperature of 160°F.
Stir in salt, pepper, cumin and chili powder and cook for an additional minute, continuing to stir.
Add tomato paste, chicken broth and salsa, cooking for two minutes until thickened
When spaghetti is prepared according to package directions, mix with sauce. Serves four.
3. Ultimate Sausage Tacos
Want to celebrate with a traditional taco recipe that also has a fun twist? These ultimate sausage tacos will blow you and your party guests away. You'll need:
1 package Premio Hot Italian Sausage
2 cups chunky salsa, medium or mild, divided
1 (16 ounce) can black beans or kidney beans, drained and rinsed
3/4 cup water
1 package taco seasoning
1 1/2 cups shredded Mexican 4-cheese blend
Shredded lettuce
6 soft or hard taco shells
1/2 cup sour cream
1/4 cup sliced green onions
1/3 cup sliced pitted black olives
1/3 cup sliced jalapeno peppers
1/2 cup prepared guacamole
Once you've gathered your ingredients, follow these three simple steps:
Remove the sausage casings and brown the meat over medium-high heat, stirring frequently to break up the sausage. Pour the fat into a separate bowl, then discard it later.
Once the meat is cooked, add water, beans and taco seasoning. Heat the mixture to boiling, then cook it over low heat for five minutes, stirring occasionally.
Fill your taco shells with the sausage and bean mixture, lettuce and other toppings. Enjoy!
4. Premio Chorizo and Cheese Empanadas
For a classic taste of Mexico, try these spicy chorizo empanadas.
For the filling, you'll need:
2 cups ground Premio Chorizo Sausage
1/2 cup diced red bell peppers
1/2 cup diced onion
1 tbsp minced garlic
2 tbsp chopped parsley
2 cups mozzarella cheese, grated
1 1/2 tsp salt
1 tsp pepper
Here's what you'll need for the dough:
1/2 tsp salt
2 cups all-purpose flour
2/3 cup shortening
6 tbsp water
And to finish the empanadas, you'll need:
1/8 cup water
2 eggs
Dough
Filling
Here's how to put it all together:
In a skillet over high heat, saute chorizo meat until thoroughly browned, remove from pan and set aside. Add peppers, garlic and onion and cook until translucent. Remove from pan and mix with sausage meat in a bowl.
For the dough, combine salt and flour in a mixing bowl and add in shortening gradually. Add in water and knead for five minutes to form the dough. When finished, roll out dough to a 1/8-inch thickness and cut into four-inch circles.
Lay out dough circles on a lightly floured surface.
Mix water and egg in a small bowl.
Place a large spoonful of vegetable and sausage filling in the center of each dough round, wet dough edges with egg mixture and fold, using a fork to seal.
At 330°F, fry your empanadas in oil and serve warm. Feeds four or five.
Find the Best Chorizo Sausage From Premio
Love our Cinco de Mayo recipes? To find out where to buy chorizo sausage for all your holiday fun, search for a Premio retailer near you.