10 Delicious Air Fryer Recipes to Try
Whether you're new to air frying or a self-proclaimed expert, these air fryer recipes are the best — and sure to become a standard in your weekly cuisine. Air fryers can cook everything from vegetables and frozen food to meat and fish. Just remember that when cooking meat in an air fryer, the internal temperature should always reach 165 degrees Farenheit. You can use a meat thermometer to check the temperature of the meat to ensure it's cooked through.
With 10 delicious air fryer recipes to try, there is no doubt that your family and friends will be impressed and demand to know your culinary secrets.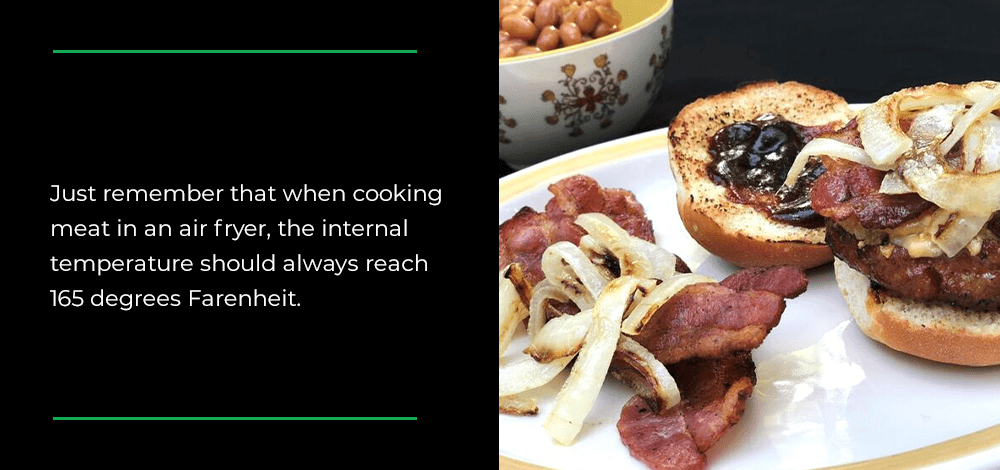 1. Cheesy Chorizo Empanadas
You can never go wrong with a well-made empanada.
Ingredients:
2 cups mashed potatoes
½ cup shredded cheddar cheese
2 premade pie crusts, room temperature
1 egg, beaten with 1 tablespoon of water
5 ounces ground Premio Chorizo Sausage
Seasonings: minced garlic, oregano, salt, pepper and paprika.
Directions:
Brown chorizo in a skillet and season generously. Mix cheddar cheese into the mashed potatoes.
Unroll the pie crusts and use a glass to cut out circles of dough.
Roll the excess dough into a ball, and repeat steps 3-4 until all dough is used.
Spoon potatoes and meat onto one half of each dough circle. Fold the other half over top and use a fork to crimp the edges.
Coat the bottom of your air fryer with nonstick spray and place empanadas inside. Brush the tops with egg wash.
Heat to 350 degrees Farenheit and cook your pastries for four minutes. Turn them over and brush the other side with egg wash. Cook for another four minutes.
2. Sausage Bacon Burger
This air fryer sausage recipe will make four patties, so make sure there is enough for everyone at the table!
Ingredients:
2 packs of Premio Hot Italian Sausage
½ medium yellow onion, sliced
¼ cup hot sauce
8 slices bacon, cooked
¼ cup beef broth
2 cups Gouda cheese, shredded
4 brioche buns
Directions:
Sauté the onions until translucent, then season with salt and pepper. Add hot sauce and broth, stirring to combine.
Shape meat into four equal patties and season liberally. Cook the patties at 360 degrees Farenheit for four minutes on each side.
Add cheese to the burgers and melt. Serve burgers with buns and garnish with bacon and sauce.
3. Southwest Egg Rolls
When it comes to air fryer recipes, this one will add lively flavors to your repertoire.
Ingredients:
Olive oil
1 pound boneless skinless chicken, cooked and shredded
1 cup black beans
¼ cup green onion, sliced
1 cup fresh spinach, chopped
¼ cup bell pepper, diced
2 cups cheddar cheese, shredded
1 pack of egg roll wraps
Seasonings: salt, pepper, cumin, garlic powder, chili powder
Directions:
Set the egg roll wraps aside and combine all the other ingredients in a bowl.
Lay out egg roll paper. Scoop the mixture onto the bottom corner of the wrapper.
Fold the bottom of the wrapper, then bring the exposed two sides together so the points touch. Brush water on the exposed edges and tightly roll. Place the finished roll on parchment paper.
Brush each roll with olive oil, then cook in the air fryer at 380 degrees Farenheit for five minutes. Flip egg rolls and cook for another four minutes.
4. Summer Veggies With Chicken Sausage
This summer-inspired recipe ticks all the boxes while bringing all the flavor.
Ingredients:
1 cup cherry tomatoes, halved
1 bell pepper, diced
Olive oil
2 zucchini, cubed
1 yellow onion, cubed
Lemon juice
Balsamic vinegar
Seasonings: minced garlic, salt and pepper
Directions:
Whisk oil, vinegar, lemon juice and seasonings in a bowl.
Mix vegetables together in a separate bowl, then coat veggies with marinade.
Heat the air fryer to 375 degrees Farenheit and cook the sausage for 10 minutes.
When the sausage is done, remove and replace with the veggies. Cook for eight minutes, stirring occasionally.
5. Air-Fried Sausage
Craving sausage? This quick and easy recipe will give you perfectly cooked sausage every time.
Ingredients:
Directions
Use a knife to make three evenly placed holes around each link.
Place sausages in the air fryer and cook at 400 degrees Farenheit.
Cook until browned, approximately 10 minutes. Use a meat thermometer to check the internal temperature is 165 degrees Farenheit.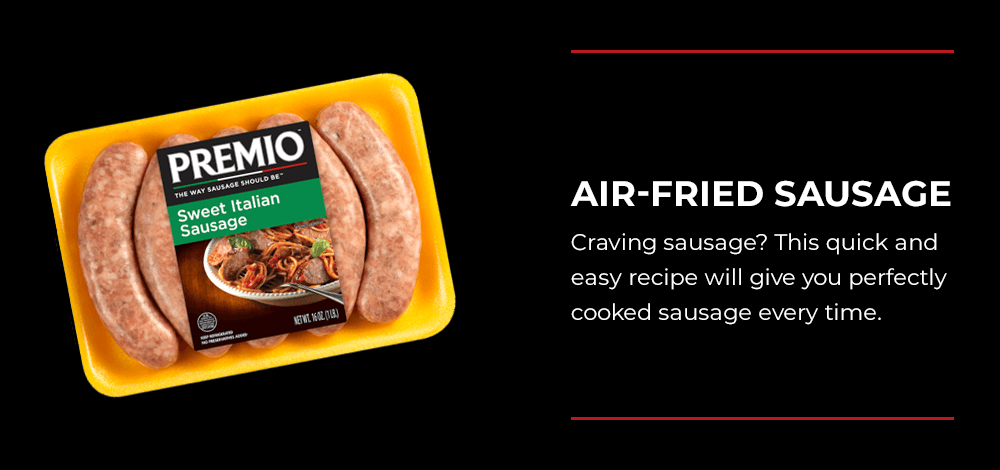 6. Cauliflower Bites
Cauliflower is the new chicken. And these tasty bites will prove it!
Ingredients:
Buffalo sauce
Olive oil
1 head of cauliflower
Directions:
Separate cauliflower florets from the stem and leaves or use pre-trimmed cauliflower.
Coat the air fryer tray with cooking spray and heat to 400 degrees Farenheit.
Coat florets with olive oil, and separate the batch in half.
Cook the first half for four minutes. Toss, then cook for another four minutes.
Repeat step four with the second batch.
Drizzle with your favorite sauce and enjoy.
7. Bacon-Wrapped Chorizo Dates
Simple and irresistible, you're going to love this sweet and savory recipe!
Ingredients:
8 ounces of Chorizo
6 bacon slices, sliced horizontally
12 dates, sliced midway lengthwise with pit removed
Directions:
Brown chorizo in a skillet.
Stuff each date with the meat.
Wrap each bacon half around the dates and secure with a toothpick.
Cook in the air fryer for six minutes at 390 degrees Farenheit.
Turn dates over and continue cooking for another four minutes.
8. Tandoori Chicken
Drumsticks are a cookbook staple — but this marinade brings them to the next level.
Ingredients:
Olive oil
1 cup natural yogurt
8 drumsticks
½ cup tandoori paste
Directions:
Slice slits lengthwise into each drumstick.
Mix tandoori paste and yogurt in a bowl, then toss drumsticks in and evenly coat. Marinate for 30 minutes.
Heat air fryer to 360 degrees Farenheit and coat basket with oil. Place four drumsticks inside and cook for 10 minutes.
Turn the chicken over and continue cooking for five minutes.
Replace with the remaining chicken and repeat steps three and four.
9. Quiche Lorraine
Air-fried quiche? Yes, please!
Ingredients:
1 cup shredded Swiss cheese
5 eggs
½ cup of heavy cream
Refrigerated pie crust
Bacon, cubed
1 red onion, chopped
Directions:
Using a rounded fluted tart tin, cut a hole in the pie crust about 1 inch larger than the tin.
Line the tin with the pie crust, ensuring the crust is even with the top.
Place the tin in the air fryer and cook at 300 degrees Farenheit for five minutes.
Remove the tin from the air fryer.
In a pan, cook bacon until it's done and caramelize the onion.
Add cheese, bacon and onion to the bottom of the tart tin.
Whisk eggs with heavy cream and spoon into crust.
Cook at 300 degrees Farenheit for 10 minutes or until the egg is set.
10. Harvest Casserole
Get a taste of fall any time of year with this delicious, savory-sweet casserole.
Ingredients:
3 ounces Brussel sprouts, quartered
1 sweet potato, cubed
½ white onion, cubed
2 red apples, peeled and cubed
4 sausages, sliced in rounds
3 bacon slices, diced
Olive oil
Seasonings: salt, pepper and thyme
Directions:
Prepare veggies and coat with oil and seasonings.
Cook Brussel sprouts, potato, onion and apples in the air fryer at 360 degrees Farenheit for eight minutes.
Add bacon and sausage to the basket and cook for another 10 minutes, or until meat is cooked through.
Shop Premio Foods for All Your Recipes
Whether you're meal prepping for the week or cooking dinner for the family, look to Premio Foods for the finest ingredients. With over 40 years of experience crafting high-quality sausage, Premio Foods knows how to elevate every dish with fresh meat made with you in mind. Find Premio Sausage in a store near you and start shopping today!