Dinner for Two — Recipes for a Stay at Home Valentine's Day
From setting the dinner table to making sure the champagne is chilled and your outfit is right, you have many details to manage for your Valentine's dinner at home. Save yourself some stress and let Premio Foods lend a helping hand.
Try one or all of our Valentine's Day Premio sausage recipes that set the mood and impress your loved one. Just make sure to cook our Premio sausage to a minimum of 160 degrees Fahrenheit. Use a meat thermometer to track the temperature so that your sausage tastes just right.
1. Scrumptious Stuffed Mushrooms
If you're looking for a simple recipe with minimal ingredients and big flavor, try these sausage and cheese stuffed mushrooms. Hollow out some Baby Bella mushrooms and stuff them with a cream cheese, sausage and cheddar-Swiss mixture. After you fill them, dip the exposed mixture in bread crumbs and bake in a red wine bath for 15 minutes.
You'll have a cozy, delicious meal that provides a bit of festive flair.
2. Chef Capons Premio Sausage Clams
If your partner is a seafood fanatic, then this Premio sausage clam dish is sure to be a hit. Choose the sausage you think sounds best and cook with garlic, peppers and oil. After the sausage has turned a golden brown, add in some neck clams and tomatoes. To combine the flavors, add two cups of white wine. The recipe also incorporates shrimp, lemon juice and basil for a fresh kick.
Serve the dish with toasted baguettes and butter.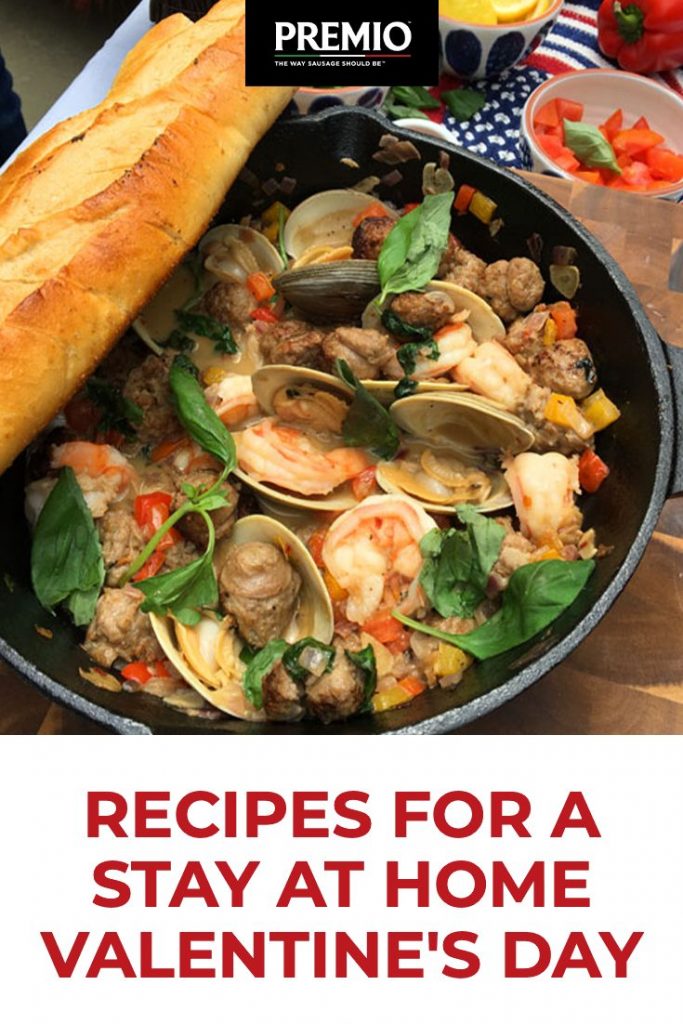 3. Grandma Mary's One-Pot Hardy Minestrone
If you want to stay warm and cozy on Valentine's Day, our hardy minestrone recipe is a great solution. All you have to do is cook some Premio sausage to a golden brown color. Then, add vegetables and garlic to the pan to soften and absorb some smokey flavor. After these foods have simmered, add some chicken stock and another round of vegetables. Lastly, add some pasta shells or ditalini.
Pour the minestrone into bowls and serve with a toasted baguette.
4. Valentine Ravioli Hearts Filled With Sausage
Looking to impress your partner? Our homemade Valentine ravioli hearts should do the trick. The recipe guides you through the pasta making process so that your partner experiences a delicious meal made entirely from scratch. Once you roll out the pasta dough, place spoonfuls of the sausage-ricotta mixture two inches apart on half of the dough. Fold the clean half over the mixture half, and cut out hearts with a cookie cutter.
You'll leave your partner speechless with this meal!
5. Premio Shrimp Sausage Passion
If you need a simple and delicious dinner option, our shrimp sausage pasta dish has a thick creamy sauce that can make anyone swoon. All you need to do is boil pasta noodles in a pot and sauté cut up Premio sausage in a saucepan. In another saucepan, create the sauce by combining oregano, garlic, shrimp and butter. Once the shrimp have cooked, add cream and parmesan.
When the sauce has thickened and the sausage has browned, drain your pasta and toss everything together.
Find Premio Sausage Near You!
When you need help creating delicious-tasting and memorable meals for your dining room table, trust Premio Foods. We offer quality sausage made the way it should be. Use our online store locator to find Premio sausage in a grocery store near you!