Father's Day Breakfast Ideas
It's not every day we get to celebrate our dads, so make this Father's Day memorable with a spectacular Father's Day breakfast. From a simple breakfast in bed to an elaborate brunch buffet, there are plenty of ways to make any dad's morning meal unique this Father's Day. You can prepare for the big day by coming up with a custom brunch menu full of all your father's favorite breakfast bites and beverages.
If you want to give the dad in your life the best Father's Day ever, we've got you covered. Below, you'll discover some of the top tips for making an unforgettable brunch, along with some specific Father's Day breakfast ideas. Whether your dad likes a classic egg-and-sausage breakfast or prefers an unconventional Mexican-inspired huevos rancheros omelet, we've got the breakfast recipes to ensure the start of his Father's Day is a smashing success.
5 Tips for Giving Your Father an Awesome Breakfast on Father's Day
If you're wondering how to create the ultimate Father's Day brunch, you're in luck. These five easy tips will tell you everything you need to know about preparing a spread to wow any dad this Father's Day.
Plan: Think about what you want to make for your Father's Day breakfast before the big day. Taking time to plan the perfect meal for the dad in your life will save you from the stress of choosing a recipe the day of. If you're making multiple dishes, make sure you evenly space out when you'll need to use the oven and when to prepare each, so things stay warm if necessary.
Prep: Once you've chosen your Father's Day brunch recipes, think through what you can prepare in advance. Prepping some recipes, such as breakfast casseroles, will save you time, since all you have to do in the morning is bake them. At the minimum, you can chop, dice or shred whatever ingredients the recipe calls for, so you spend less time in the kitchen and more time with your dad on Father's Day.
Let the kids get in on the fun: Father's Day breakfast is most meaningful when it comes from the kids. Try to get your little ones involved in whatever way possible. Even if your kids aren't quite ready to flip pancakes, you can let them whisk eggs, butter toast and other low-risk cooking tasks. Your kids will love getting to play a role in delivering their dad or grandpa a delicious breakfast in bed.
Keep it simple: To make prepping your Father's Day brunch and getting the kids involved easier, try to choose simple breakfast recipes. You can still serve a tasty Father's Day breakfast while using straightforward recipes. The trick is to look for recipes that use flavorful ingredients like cheese, sausage and fresh veggies, but don't call for any complicated cooking techniques.
Include variety: The beauty of breakfast is that there are so many recipe options. From sweet Belgian waffles to a savory egg scramble, you can find a wide range of tastes on any breakfast menu. For your Father's Day brunch, try to include a mix of recipe styles so the man of the hour can get his savory fix while satisfying his sweet tooth.
Top 5 Father's Day Breakfast Recipes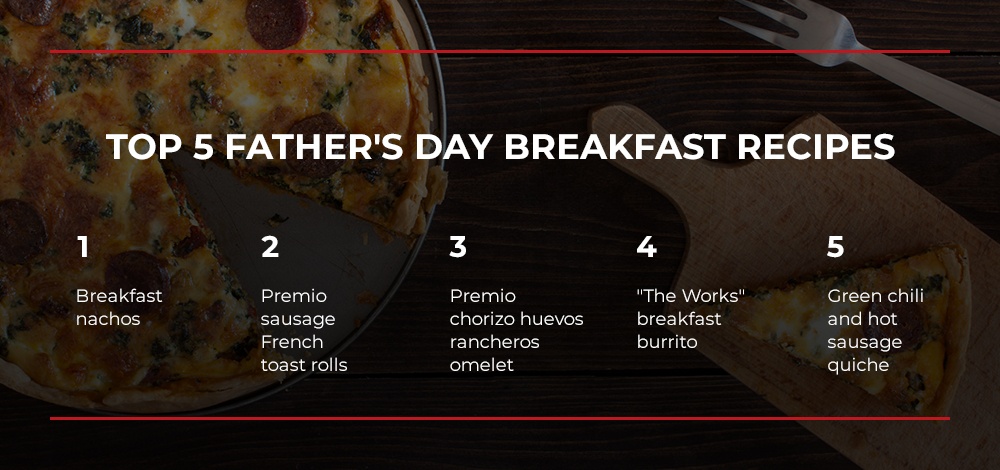 Now that you know all the best strategies for a fantastic Father's Day breakfast, you're ready to get cooking. If you have kids who want to be part of the festivities, look for recipes that align with their cooking abilities and fit well with your busy Father's Day schedule. Using a delicious and reliable recipe that doesn't take all morning will give your family more time to keep celebrating throughout the day.
If you're looking for the perfect Father's Day breakfast recipe, check out these dad-approved breakfast ideas.
Purchase Premio Sausage at a Store Near You
Make this Father's Day memorable by using Premio sausage as your secret ingredient. Whether you mix Premio sausage into an innovative recipe or serve it straight up as a protein-packed side, you can use Premio sausage to take your Father's Day breakfast to the next level. When you purchase a Premio product, you can be confident you're getting sausage made with fresh ingredients and no fillers — the way sausage should be!
Check out the wide variety of Premio sausage or find Premio in the store nearest you to start planning your fabulous Father's Day feast today.