Fresh Summer Recipes You'll Love
It can be easy to get stuck in a meal rut. Every week, you rely on your same pattern, and after a while, you might feel like you're just recycling the same choices.
This summer, challenge yourself to make at least one new-to-you recipe each week. You and your family will love having something different on the table, and you'll be able to boost your culinary skills. Bonus points if you can get everyone in your household to contribute with the preparation or even cooking!
Feel free to browse our assortment of Premio recipes for ideas. Here are a few of our favorites. 
Summer Premio Pasta
This summertime pasta dish is about as simple to prepare as it gets. Plus, it uses seasonal ingredients you probably already have in your refrigerator and pantry. And if you don't, you'll find them in a snap at your farmer's market, grocery store or maybe your garden.
Feel free to mix up the recipe by replacing penne with another type of pasta, such as filled ravioli or linguini. You can also switch up the flavor profile by tossing in other vegetables besides the ones listed. For a bit of a kick, use Hot and Spicy Italian Chicken Sausage to wow your hungry eaters.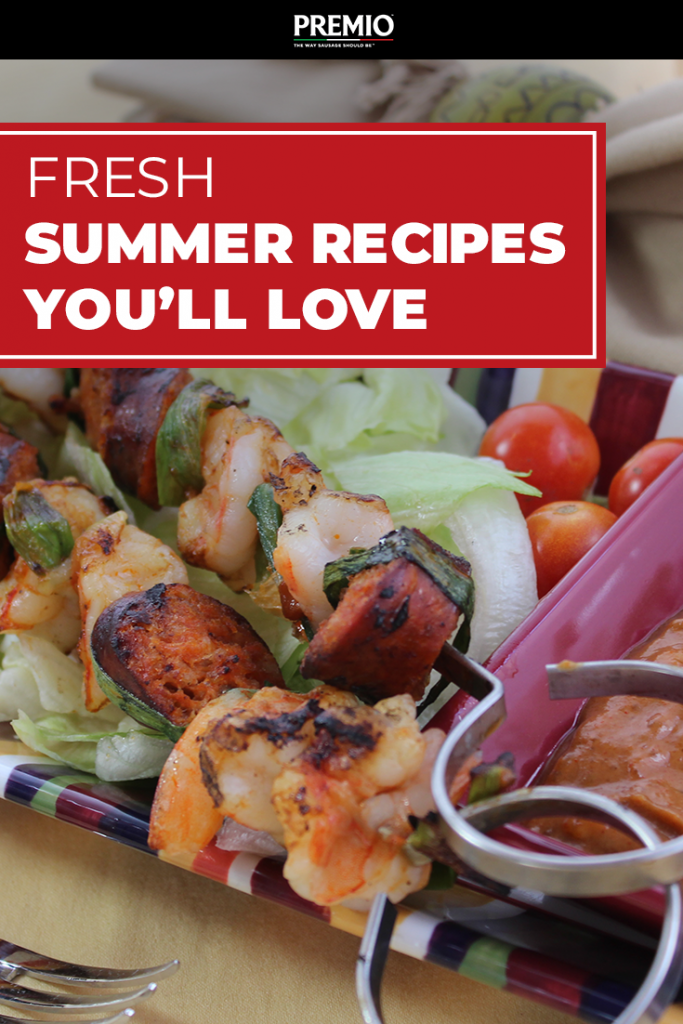 Grilled Chicken Sausage With Summer Veggies
It's great to use Sweet Italian Chicken Sausage on the grill. Whether you own a traditional charcoal grill or a smoker grill, you'll appreciate the aroma and juiciness of sausage cooked to perfection over a flame.
Perhaps the most wonderful aspect of this chicken sausage recipe is that it uses a plethora of summer vegetables in a variety of hues. Nutritionists often recommend filling meals with a rainbow of produce, and this grilled delight delivers! Be sure to include the fresh, grated ginger rather than substituting ginger powder. You won't regret making the extra effort.
Hot and Spicy Summer Salad
When the temperature goes up, people tend to plan outdoor fun. Whether you're planning to spend time poolside, or you're planning a small picnic for your family, you may want a more intense main meal that still leaves you with room for dessert.
The Hot and Spicy Italian Chicken Sausage adds just the right amount of heat to this super summer salad. Best of all, the spiciness is tempered a bit by the competing intensities of the apples, anise and watercress. It's a blend made in taste-tester's heaven!
Marinated Summer Veggies With Chicken Sausage
The key to this crowd-pleasing recipe is allowing the vegetables to marinate in a vinegar and lemon bath. Though you might be tempted to skimp on the marinade time, resist the temptation. Your veggies will burst with incredible flavor, enhancing the overall experience of indulging in this dish.
Consider making a double batch of this meal, too. Freeze half of it immediately after it's cooled to room temperature. That way, you'll have a fabulous dinner ready to go a few weeks down the road!
Summer is a time for cooks like you to become more clever. Forget the same-old, same-old classics. It's time to rev up the menu and excite your favorite eaters. Find your ideal Premio sausage with our store locator today!