Fun Things to Do as a Family at Home
Whether the weather is keeping you indoors or you don't have any plans for the evening, a few fun things to do as a family at home will liven everyone's spirits and get the good times rolling. There are plenty of things to do in the house or around your yard, so summon up your creativity and gather around to enjoy these fun things to do at home as a family.
1. Make Bucket Lists
Come together and brainstorm what everyone would like to do. You can think of things to do in the house and create bucket lists of other ambitions like:
Summer goals
Dream vacations
Ideas for day trips
Weekend activities
As you brainstorm your bucket lists together, you'll get everyone excited for future activities and learn something new about your family's interests. Take everyone's suggestions and put them together on an idea board. Use that as inspiration for your next night in when you're looking for fun things to do at home. You can also add the proposals from the rest of this list onto your fun idea bucket list for even more things to do.
2. Have a Scavenger Hunt
Younger kids will especially love searching around the house to find everything on a scavenger hunt. Make it a race for a friendly competition or use it to challenge your kids with a fun search. List specific items or use riddles as clues for an advanced scavenger hunt for older children.
Search around your house for things to include on the list of items to search for. Include a few kitchen tools on your scavenger hunt if you want to introduce your kids to these items. Measuring cups and spoons, mixing bowls or cutting boards make great additions to a scavenger hunt, and you can use it to teach kids about cooking.
3. Start a Family Game Night Tradition
If your family doesn't already have a game night, make it a new weekly tradition. Game night is an excellent way to team up or compete against each other, and with so many games out there to play, you can fill evenings with fun things to do at home. Not sure what to do for family game night? Try these ideas:
Go through your board game collection or get new ones.
Get a deck of cards and play classics like Crazy Eights or Go Fish.
Have your kids make up games for everyone to play.
Play family-friendly party video games to mix things up.
4. Build an Obstacle Course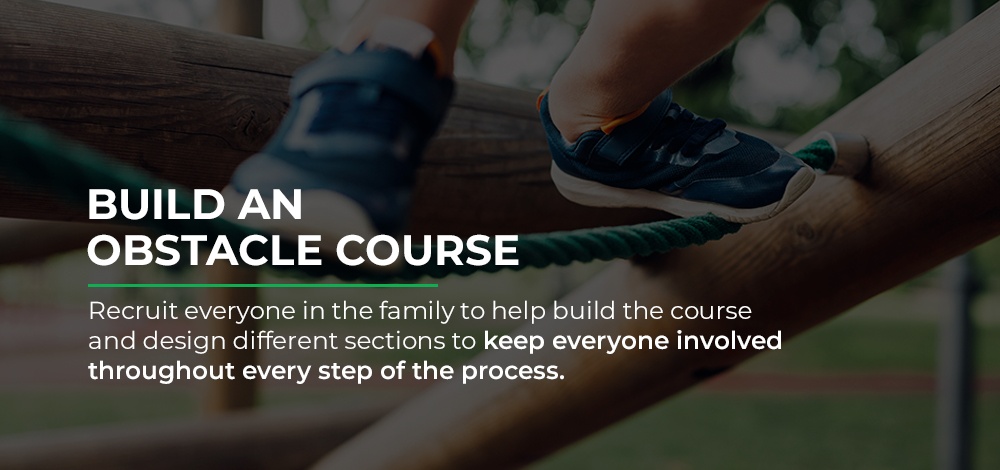 Whether you set up a course in your yard or living room, an obstacle course gets everyone moving. Create signs with your obstacle course rules, especially if racers need to complete a task before moving on. Spinning in circles, doing jumping jacks or running a few laps around an object will help kids get their energy out and make running an obstacle course a fun challenge.
Use couch cushions and pillows in your living room or set up sports equipment or outdoor furniture in your yard to create your obstacle course. Recruit everyone in the family to help build the course and design different sections to keep everyone involved throughout every step of the process.
5. Get Creative With Arts and Crafts
Wondering what to do at home for a more relaxing evening? Creating something together will be a great way to bond and get the creativity flowing for everyone in your family. Gather your supplies and gather around to try these arts and crafts ideas together:
Make an appreciation card for a family member.
Paint a family portrait.
Craft a diorama of a happy memory.
Create a model of your kids' favorite animals.
Design a puzzle to put together on family game night.
Get creative with the supplies you have, whether you have plenty of craft materials or just some paper and crayons on hand. Recycle items like fabric, paper towel tubes and other things you would otherwise get rid of and turn them into something new as you make memories.
6. Have a Movie Night
Maybe you've had a long day and want to unwind, or you intend to plan something a bit more involved. Whatever you have time to set up, a movie night is the perfect solution. Stream a new release, watch old home videos or introduce your kids to a throwback favorite. You can either keep movie night as simple as that or make it even more fun with these ideas:
Create a ticket booth, so it feels like a night at the theater.
Set up a concession stand with popcorn, drinks and candy.
Let everyone vote on what movie to watch.
Marathon a series of movies in one night or weekend.
7. Camp at Home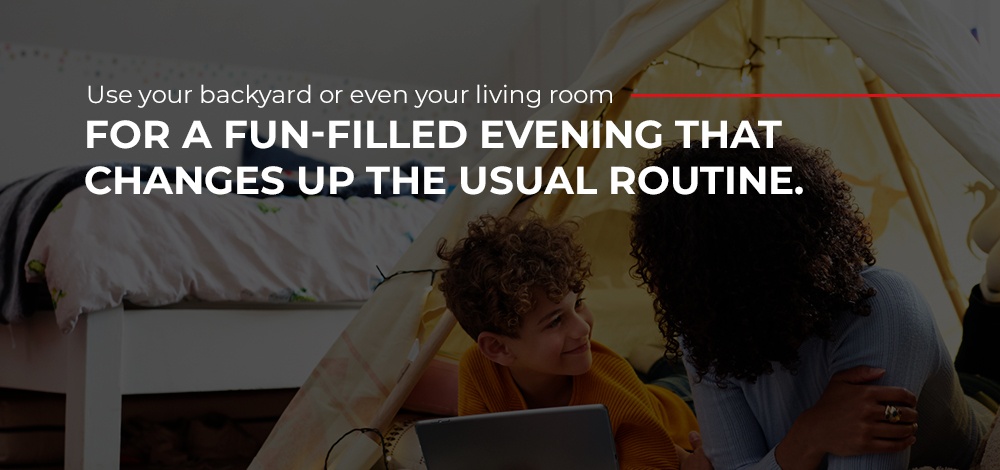 Not able to make it to a campsite? Use your backyard or even your living room for a fun-filled evening that changes up the usual routine. Keep it simple or put camping gear to use with these ideas for camping at home:
If you have the space, set up a tent in your living room.
Create a blanket fort in the living room or a bedroom.
Make s'mores outside or indoors for a classic camp treat.
Stargaze outside or use glow-in-the-dark star stickers on the ceiling inside.
8. Throw a Costume Party
It doesn't have to be Halloween to have fun and dress up! Whether you invite others or have a small costume party for your family, it's a great way to have your kids put on their favorite costumes or make their own. You may even use their outfits as inspiration for future Halloween costumes instead of using last-minute ideas.
For your at-home costume party, you can either create a theme — fairytales and princesses, pirates, animals or whatever your children would enjoy — or let everyone dress up how they'd like. Have a costume contest and make themed treats to enjoy.
9. Get Moving With a Dance Party
Clear some space and turn on the tunes. A dance party is fun for everyone and helps get out energy while being indoors. Brainstorm a playlist before your dance party and have each family member give their input so there will be a song everyone will love. Add popular dance songs on your playlist, learn a bit of choreography or just let loose and have fun. Turn the evening into a dance competition or keep it casual for a fun thing to do at home.
10. Cook New Recipes Together
Want to wrap up an evening with more things to do with your family at home? Cooking helps teach your children new skills and brings everyone together. Depending on the recipe you choose, you can designate specific tasks to your kids, but make sure their jobs are appropriate for their skills and age.
At Premio, we've got a variety of recipes you and your family can try, but here are a couple of family-friendly favorites.
Flatbread pizza with Premio Sausage: Brown a package of Premio Original Pork Sausage and preheat your oven to 350 degrees Fahrenheit. Let your kids spread a layer of pizza sauce on flatbread and top with shredded Italian cheese. Add slices of red onion and the cooked sausage over your flatbread pizza, sprinkle with Parmesan cheese and bake for 10 minutes or until the sausage is 160 degrees Fahrenheit. This flatbread pizza serves four to six for a flavorful dinner.
Italian nachos: Culinary worlds combine with Italian nachos. Fry wonton wrappers for the chips or use tortilla chips and have kids spread them onto a cookie sheet or oven-safe platter. Kids can then layer on shredded mozzarella cheese, more chips and more cheese. Top it with Premio Sweet Luganiga Sausage that you've cooked to 160 degrees Fahrenheit, pepperoni and pepperoncini peppers, or add your favorite toppings. Bake in a 350-degree oven until the cheese melts. This recipe serves four to eight people, perfect for a family snack.
Find Premio Sausage Near You to Create Family-Friendly Recipes
At Premio Foods, we've been a family-owned business for over 40 years, so we know how valuable time with family is. That's why we've got recipes and ingredients to help you create meals that will satisfy your whole family. And with 60% less fat than USDA data for pork and beef sausage and no fillers, you can feel good about serving Premio on family night.
Check out our products or find Premio in a nearby store to make memories and delicious meals with your family at home.