Good Movie Night Snacks Besides Popcorn
When you think about movie night, you might immediately picture yourself settling in on your couch with a freshly popped bowl of popcorn. But who says popcorn is the only food you can snack on while watching a movie? Keep your movie night guests on their toes and enhance the overall cinematic experience by switching out the traditional popcorn for some unique movie night food ideas.
Whether you're watching a drama, thriller, rom-com or mystery, there's a perfect snack to fit every movie mood. So if you're looking for a movie night snack alternative, keep reading to find 10 cinema snacks that are more exciting than popcorn.
10 Unique Movie Night Snacks That Aren't Popcorn
After having popcorn for the millionth time, your movie night snacking might begin to taste stale. There's only so much you can do to freshen up popcorn, so we decided to put together a list of our favorite movie night snack substitutes. We've included a variety of sweet and salty snack suggestions, so you can find what you need to satisfy a specific craving.
If you prefer your snacks unpopped, check out this collection of our top 10 non-popcorn movie night snack ideas.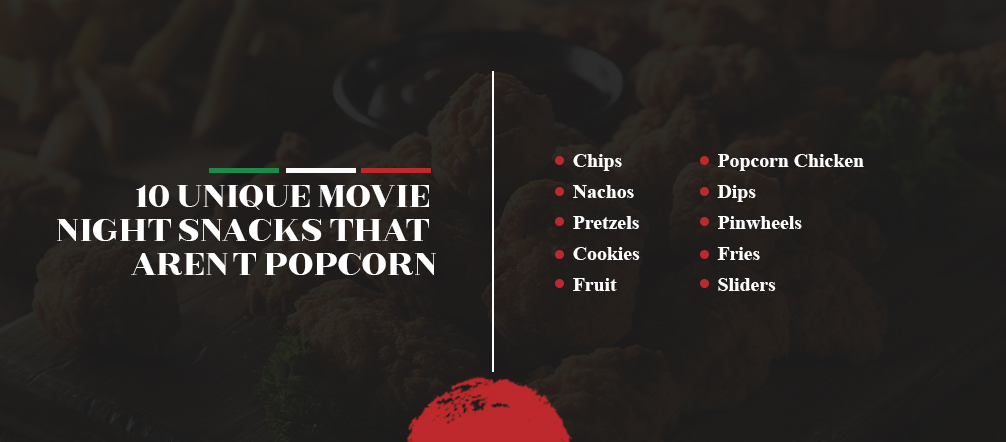 1. Chips
Chips are a grab-and-go classic when you're craving something crunchy and salty. Plain chips might seem like a boring movie snack, but there are plenty of chip options — from kettle-cooked salt and vinegar potato chips to tortilla chips with a hint of lime. If you're hosting a movie night with friends or family, try putting out a giant chip buffet of everyone's favorite flavors.
Don't be afraid to get adventurous and make DIY chips by cutting up a potato and seasoning the slices before popping them in the oven until they reach crispy golden perfection.
2. Nachos
If you want to jazz up your chips a little bit, nachos are the gamechanger you
're looking for. You might think of nachos as some melted cheese or homemade queso on chips, but there's so much more to this snack. Load up nachos with sour cream, salsa with avocado, ground meat and more traditional Mexican toppings, or you can get extra creative with these Italian nachos.
3. Pretzels
Pretzels are another staple of snack foods, suitable for just about any snacking situation. Although hard pretzels are a dependable choice, don't overlook soft pretzels when listing top-notch movie snacks. Never underestimate how enjoyable it is to munch on bite-sized soft pretzel nibbles during a flick.
Whether the pretzels you put out for your movie night guests are of the hard or soft variety, spice them up by sprinkling them with a flavored salt or a seasoning like garlic powder, onion powder, cheese or even cinnamon sugar.
4. Cookies
Of course, premade refrigerated cookie dough is a quick fix for a cookie craving — but with a little imagination, cookies can be so much more. From an old standby like chocolate chip cookies or sugar cookies to a modern favorite like monster cookies or layered cookie bars, cookies are a fun way to put your baking skills to the test. To take your cookie game to the next level, layer them into cookie sandwiches by filling them with a light frosting or ice cream.
5. Fruit
If you're looking for a healthier movie snack, fruit is the perfect option. Packed with vitamins and minerals, fruit is both delicious and nutritious. A fresh fruit salad is a delightful way to brighten up your movie snack selection with something sweet, while maintaining a balanced diet.
If you only want to be healthy-ish, douse your fruit in melted chocolate to make chocolate-covered strawberries or chocolate-dipped bananas. Another way to make fruit closer to dessert is to slice up some apples and serve them alongside a caramel or cinnamon peanut butter dip.
6. Popcorn Chicken
Don't be alarmed that popcorn's in the name — this chicken got its name from its bite-sized nature. As the baby cousin of the chicken nugget, popcorn chicken is even tinier and easier to eat by the handful while watching a movie. Heating popcorn chicken is a breeze, so if you want more of a culinary challenge, whip up a homemade sauce to dunk the little pieces in.
As a bonus, the protein in popcorn chicken makes it one of the best snacks for movie night because it's more satisfying to snack on than plain popcorn.
7. Dips
When it comes to dips, the options are limitless because they can range across all categories of flavor. You could choose a kickin' Buffalo chicken dip, cheesy Southwestern dip, three-cheese sundried tomato pesto dip or a spinach and artichoke dip, to name a few. Complete your chip buffet by accompanying it with an assortment of homemade dips.
Keep in mind that dips don't have to be savory — try dipping graham crackers into a s'mores dip of melted chocolate and marshmallows to appease your sweet tooth.
8. Pinwheels
Even though they're not popcorn, pinwheels are so poppable! By covering puff pastry with a sugary sauce or coating crescent rolls in a meat-and-cheese filling before rolling them up into neat little pinwheels, you can quickly whip up a sweet or savory treat. Recipes like these Premio pinwheels call for only three ingredients, and you can have them ready to serve in a snap.
9. Fries
Fries are great as a shareable snack you can dress up or down, depending on your mood. From simple French fries to these loaded BLT sausage waffle fries, you can't go wrong with fries and a movie. For the health-conscious, baked sweet potato fries are a slightly healthier, sweet and salty substitute for regular fries.
10. Sliders
Sometimes popcorn and candy are too light of a snack. For extra hungry movie watchers, sliders are the ideal, more filling alternative. These adorable handheld sandwiches are easy to eat while keeping your fingers clean, making them perfect for grazing on while movie watching.
Don't forget, sliders don't have to be miniature burgers — try these Buffalo chicken sausage sliders for a movie night snack with a little kick.
Find Premio Sausage in a Store Near You
Complete your movie night by locating the Premio sausage carrier closest to you to get the ingredients you need for the ultimate movie night snacks. With over 40 varieties of sausage and no fillings, Premio ingredients are exactly what your movie night is missing. If you want to wow your movie night guests, use Premio sausage to make a tasty popcorn replacement.
Don't settle for boring old popcorn again — use Premio sausage to create a snack spread so legendary it'll steal the spotlight!