Hosting a Spooktacular Halloween Bash
Trick or treat! It's that time of year again. The October air is crisp and chilly, the pumpkin patches are brimming with gifts ready to be picked, the houses are draped with orange and yellow lights, spiderwebs and ghostly decor, and the kids have picked out their costumes to prepare for collecting candy and facing things that go bump in the night. Halloween is finally here, and there's no better way to boost your spirits, bring your family together and take advantage of this festive time than by throwing a spooktacular Halloween bash to remember.
Whether you're planning your Halloween party for kids, adults or both — and whether it's on the night itself or leading up to the occasion — your bash won't be complete without just the right amount of tricks and treats to shock, spook and surprise. Wondering what elements you should incorporate into your Halloween house party? Check out these must-have elements to make sure your bash is full of chills and thrills for all ages!
Spooky Decorations to Chill Your Guests
No party is complete without the right decorations, and on Halloween, it's more important than ever to set the mood with the spookiest decor around your house, yard or party venue. When it comes to how to decorate, you have so many options for your Halloween aesthetic.
First, think about who you're hosting the party for. Is it an occasion for kids or a costume party for teens? Is it an adult Halloween party for only your friends and coworkers, or is it a party for the whole family, with kids, adults and everyone in between? Plan your atmosphere based on what you think matches your guests.
For example, if it's a party for kids, you probably want to stick to cuter decorations with a bit of spooky but not too much scary. Sparkly spiderwebs, friendly black cats, smiling jack-o-lanterns and googly-eyed ghosts are the kinds of items you'll want to put up, and you can keep a bright color scheme of orange, black, green and purple.
For more grown-up parties, you can go scarier, with black veils, gaping ghouls, black spiderwebs and maybe a bit of bloody decor, depending on how creepy you want the vibe to be. Or rather than cute spooky or scary, you can go with a classy, generic Halloween theme of orange and black with pumpkins, spider webs, scarecrows and black cats — this choice is great for any age group or a mixed family party.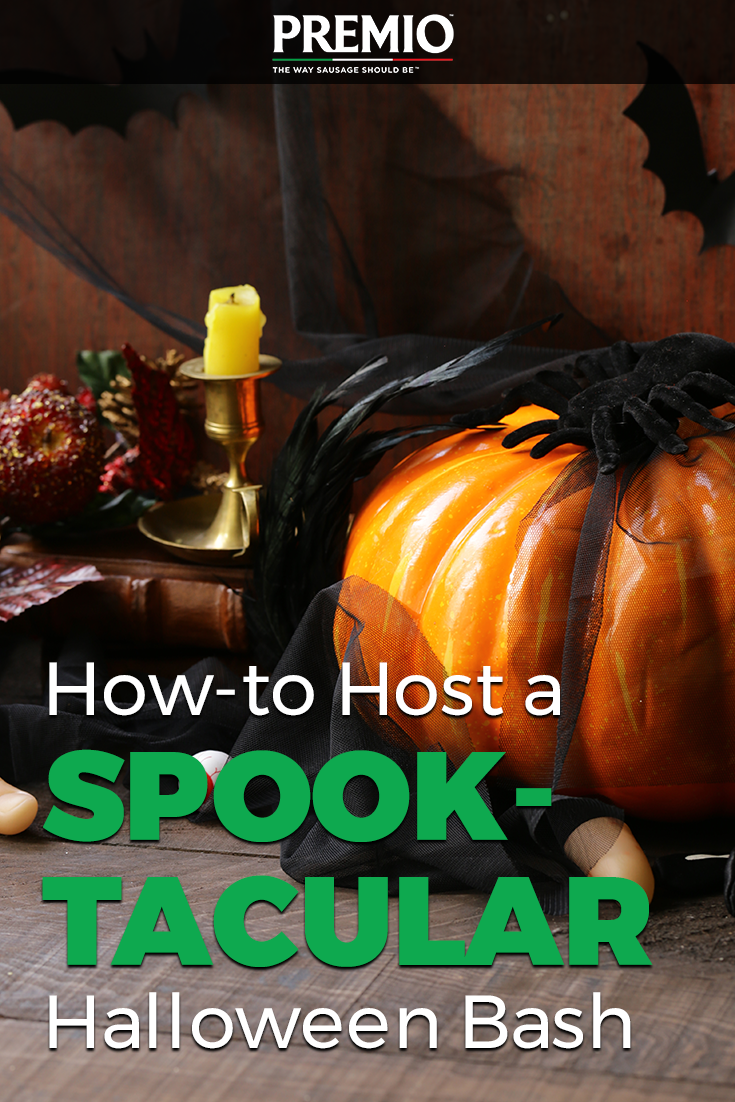 Games That Go Bump in the Night
To keep things interesting while your guests chat and admire your decorations, you'll want to incorporate a few Halloween-themed games into your big bash! Choose activities that are fun and spooky — but not too creepy — for both kids and adults. Bobbing for apples is a classic fall game everyone will love — spice it up by filling the tub with cider instead of water and bobbing for caramel or candied apples as a special treat.
You can also play the food-feeling game — fill bowls with ingredients like spaghetti, grapes and other goodies and label them as spooky ingredients like "intestines" and "eyeballs," then have each guest feel in the bowls with a blindfold and guess what they're touching.
Decorating pumpkins, carving jack-o-lanterns and making fall-themed crafts are great ideas for kids, and you can always try a ghost or witch pinata or pumpkin bean bag toss. Let the games begin!
Festive Fall Drinks
Top off your Halloween party with drinks to haunt — in the best way possible. Whether they're mixed drinks to serve the adults for a little extra thrill or tempting, non-alcoholic concoctions both the kids and adults can enjoy, make them fall-flavored and you're golden.
Wondering what you can serve as festive fall drinks at your big Halloween bash? Try these:
Pumpkin spice latte: Inviting some coffee-lovers? They'll be sure to savor this quick and delicious drink with all the goodness of a Starbucks latte but the charm of a homemade touch, complete with whipped cream. All it takes is some espresso, milk, pumpkin pie spice, pumpkin puree and sugar to make this drink something sweet.
Warm cranberry tea: Bring in the best of the colorful season with an aromatic brew of fruity tea to warm everyone up on a crisp October night, when spooks give them extra chills. Brew a delicious homemade tea with cranberries, oranges, lemons, cloves and cinnamon for that special fall touch.
Apple cider: Nothing says autumn like the sharp, sweet, spicy taste of some authentic apple cider. Buy it fresh from your local farmer's market and serve it cold for a refresher or warm for a treat. If you're hoping to spice it up even more, turn your apple cider into some adult-friendly hot toddies by brewing with apple schnapps, cinnamon and cloves. Yum!
Spooky Foods and Tricky Treats
All the chills, thrills, tricks and treats will probably leave everyone at your Halloween bash pretty hungry, so make sure you stock your kitchen with some spooktacular snacks to serve in the midst of all the fun! Try some of these delicious, festive recipes featuring real Italian sausage to complete your evening:
Mini frittatas in a jar: Keep it cute and kid-friendly with these delicious, perfectly-portioned frittatas that come in their own adorable jars. Complete with cheese, potatoes, spinach and sweet Italian sausage, these snack-sized treats will scare the spooks away and satisfy everyone's appetite.
Seasonal stuffed mini pumpkins: Hoping to make your Halloween party foods especially festive? These mini, sausage-stuffed pumpkins bring out the best of fall in both appearance and flavor. Complete with apple cider, walnut and nutmeg flavorings in a delicious mix of sweet sausage, rice, kale and more, these little pumpkin bowls will delight your guests.
Sweet sausage pumpkin pie: Still saving up for dessert? This sweet and savory pumpkin pie is perfect for finishing off the festivities on a sweet note. Filled with the fall flavors of apple, brown sugar, sweet sausage, cinnamon, cloves, ginger and — of course — pumpkin, this pumpkin pie will deliver the last thrill of the night.
For more of the best Italian sausage recipes to round out your spooky, splendid Halloween party and any other occasion, explore Premio's store of inspiring recipes and find our delicious sausage varieties in a store near you. Boo!