Helping Mom in the Kitchen for Mother's Day
With Mother's Day just around the corner, you might already be thinking about gift ideas—whether it's for your own mother, your wife, sister, aunt, or friend—but aren't sure where to begin. After all, you've probably given lots of gifts over the years ranging from flowers and cards to chocolates.
Well, nothing expresses love more than actions! So, this year, how about showing the moms in your life just how much you care by giving the gift of time and effort in the kitchen?
Here are five heartfelt ways you can celebrate the moms in your life this Mother's Day by helping in the kitchen. If you don't live with your mother or the motherly figure in your life and aren't able to see her in person right now, keep these ideas in the back of your mind for when you're reunited!
Treat Her to Breakfast in Bed
With all that mothers do for the family, they deserve a little pampering. This Mother's Day, let mom sleep in and treat her to breakfast or brunch in bed!
Whether you choose something like Mini Frittatas in a Jar or a Wild Mushroom and Sausage Quiche to cook, she will appreciate the chance to relax and be served.
Clean the Entire Kitchen for Her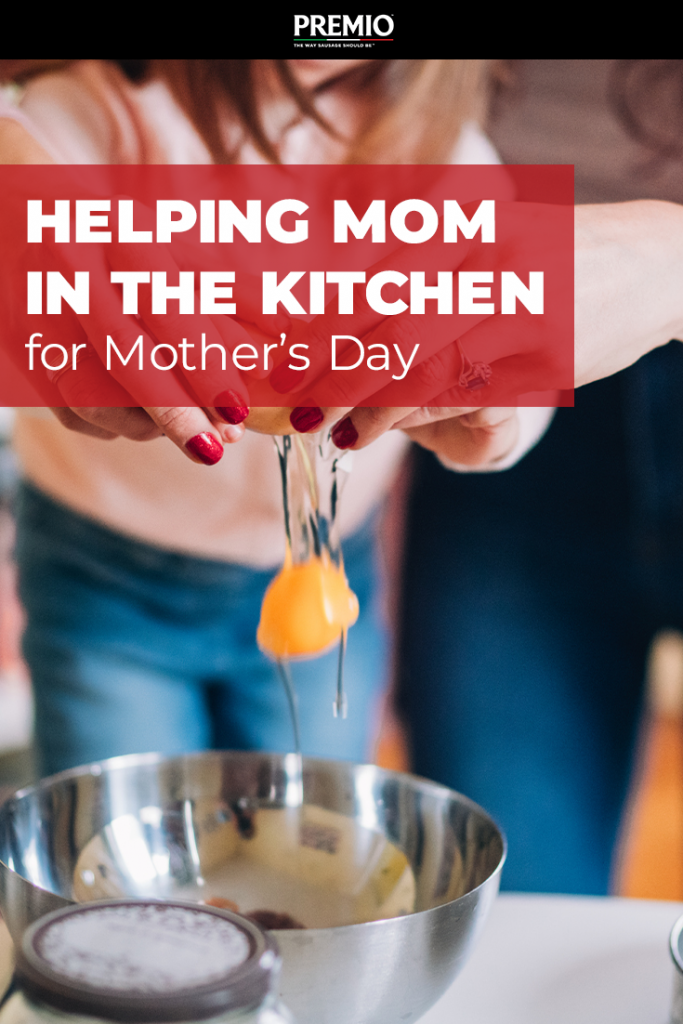 Make her life easier by tidying up the kitchen for her. On Mothers's Day, she will be amazed by all the effort you put in to make the kitchen sparkle.
You can work your way from top to bottom while focusing on areas of the kitchen that might need a little extra TLC, such as:
Top of the cabinets
Countertops
Windows
Stovetop/oven
Floors
Don't forget to clean any dishes and empty the dishwasher for the finishing touch!
Cook Dinner for the Family
This Mother's Day, you can give the mother of your family the day off and start a new tradition by cooking dinner for the entire family that night.
This gift can be even more personal if you get the entire family involved. You can delegate tasks — maybe someone can set the table while someone else preps the food – so that everything goes smoothly.
Choose from your her favorite recipes or experiment and try something new. Browse our real Italian sausage recipes for ideas ranging from appetizers to hearty Italian main courses like ravioli for ideas.
Ask Her to Show You How to Make One of Her Classic Recipes
Every mom has a classic recipe that she is known for. This Mother's Day, you can gather up the ingredients and ask her to show you how to make it. This will let you bond together and create memories in the kitchen.
You can even write down the ingredients and steps on an old-fashioned recipe card, take some pictures while you are making it together and then turn it into a scrapbook or family cookbook for future generations to enjoy.
Create Mother's Day Memories With Premio Foods
At Premio Foods, we have been serving families for over 40 years. Whether you are looking for the best breakfast sausage recipes to serve mom or you need to order some Cajun sausage for your family dinner, you can make this Mother's Day unforgettable with our quality meats.
Let us know in the comments how you plan to help the mother in your life in the kitchen this year!