How to Make a Perfect Breakfast in Bed
What's better than a relaxing breakfast in bed? Whether it's a romantic breakfast in bed, an expression of parental appreciation or just between besties, nothing says, "I love you" quite like a thoughtful meal you can enjoy in your pajamas.
But pulling off a flawless breakfast in bed can be tricky — you need to pick out the exact right recipe, plate it perfectly and avoid messes. To help you give your loved one the special day they deserve, we've put together 10 pro tips and three recipes to create the best breakfast in bed you've ever served.
10 Tips for a Cute Breakfast in Bed
Follow these 10 tips to deliver the perfect breakfast-in-bed experience, from cooking to cleanup.
1. Plan It Out
With breakfast in bed, it's truly the thought that counts, so put some extra effort into it! Planning your breakfast-in-bed menu to include all your loved one's favorites will make it a memorable meal for both the deliciousness and thoughtfulness. Along with crafting the best menu, planning allows you to reduce the risk of spills, kitchen mess and poor presentation.
2. Make It Spill-Proof
To prevent any spills on the bedspread, serve the breakfast on a tray with small walls around it to keep the dishes secure. Other precautions to avoid spills include using spill-proof containers, dishes with high sides and filling any glasses or mugs only three-quarters of the way. For an extra elegant touch, give the breakfast-in-bed recipient a cloth napkin to place on their lap to catch any spills.
3. Begin With a Beverage
Start the breakfast-in-bed experience by serving hot coffee or tea in your loved one's favorite mug. Make sure you include their favorite mix-ins, like cream, sugar or honey. Bring the newspaper or a good book to enjoy as they sip slowly on their drink while you finish preparing the food.
4. Stick to the Tried and True
Instead of risking a kitchen fail, now is the time to show off your signature dish. Making a meal you're familiar with reduces the chance of excess stress over timing or technique, so if you have your heart set on a specific new recipe, practice it at least once before the big day.
Keep in mind that a well-executed simple dish is better than a poorly prepared elaborate recipe. There's nothing wrong with getting a little kitchen help from pre-packaged things like cinnamon rolls you only have to pop in the oven. Regardless of what you decide to make, do your best to cook quietly, so you don't wake up the breakfast-in-bed recipient before it's time.
5. Serve While It's Hot
The most challenging part of preparing breakfast in bed is often timing. No one likes a cold breakfast, but it can be difficult to coordinate all your cooking components to finish at the same time. To make serving up a hot breakfast easier, try to make things like biscuits or pastries that are easy to keep warm, and always make the egg portion of your breakfast last.
 Pro tip: Put a plate in the oven on a low setting at the start of your cooking process, so you don't have to settle for anything less than sizzling bacon.
6. Do Not Disturb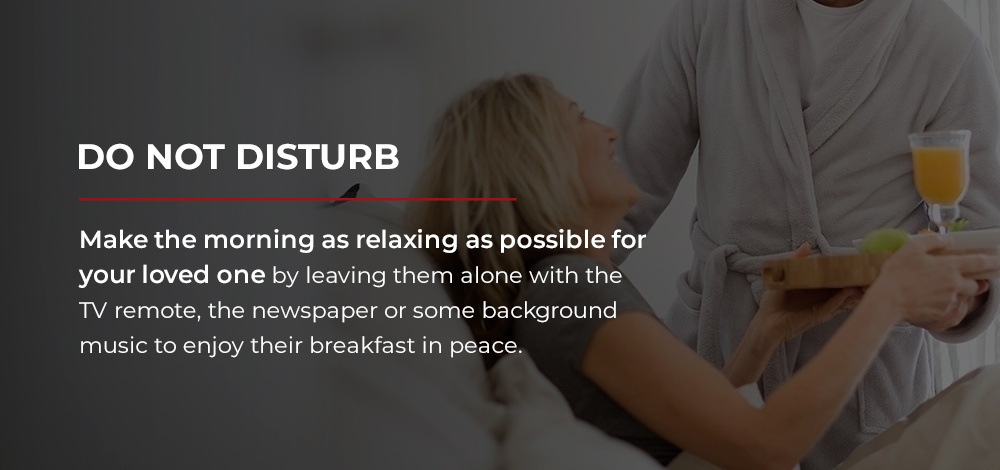 Breakfast in bed is more than just a meal — it's the whole experience. Make the morning as relaxing as possible for your loved one by leaving them alone with the TV remote, the newspaper or some background music to enjoy their breakfast in peace. Of course, you can feel free to stick around and keep them company, but make sure the experience is all about them.
7. Remember the Little Things
Attention to small details like placing a flower on the tray or incorporating lace doilies will take your breakfast-in-bed presentation to the next level by showing how much you care and expressing your love. Because we eat first with our eyes, a beautiful tray arrangement might even make the food taste better.
8. Clean up the Kitchen
Your gift of breakfast in bed will leave a bad taste in the recipient's mouth if you leave them with a mess to clean up in the kitchen. Let the leisure of a luxurious breakfast in bed continue by taking care of any dirty dishes yourself while your loved one continues to kick back and relax. Keep in mind that cleaning up as much as possible throughout the cooking process will save you from having an overwhelming mountain of dishes to tackle afterward.
9. Order Out
If your breakfast cooking skills go only as far as unwrapping a toaster pastry, you might want to consider picking up your loved one's favorite dish at the local diner or bakery and plating it nicely instead. You can still put in the same amount of thought and effort by making the presentation elegant, and a delicious, professionally prepared meal will most likely be more welcome than a cooking flop anyway. Plus, you won't have to worry about cleaning up the kitchen.
10. Go All In
Whether you're making breakfast in bed for a special occasion or just because, don't hesitate to pull out all the stops. Make it a fancy breakfast in bed by adding something indulgent like a mimosa or chocolate-covered strawberries. Celebrate your loved one by giving them a small gift or card with the meal — this will show how much you appreciate having them in your life.
3 Fancy Breakfast-in-Bed Recipes to Try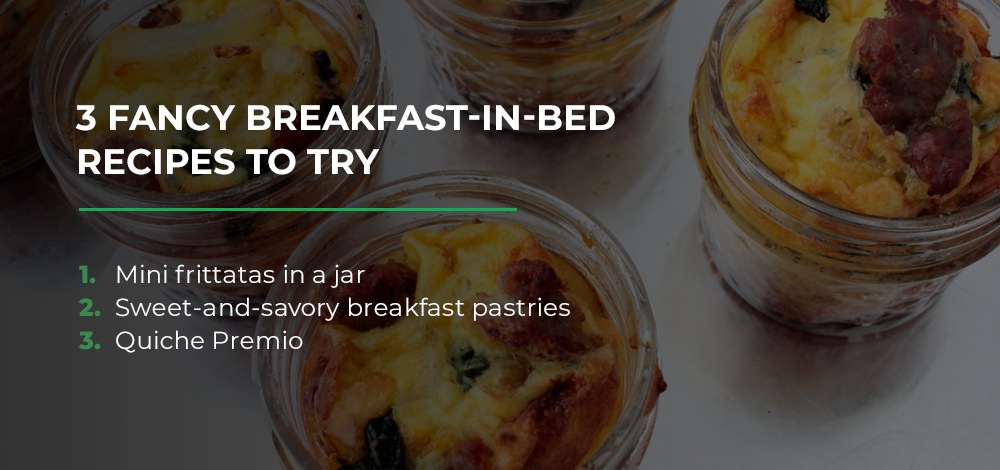 The perfect breakfast-in-bed meal is elegant and easy. You want the recipient to feel like they're at an expensive resort without ever leaving home. The key to accomplishing this is finding a breakfast recipe that will pamper their taste buds, but be simple enough to make the morning a success without turning the kitchen into a disaster zone.
To help you out, here are three sophisticated, yet simple, recipes.
Mini frittatas in a jar: Just because a dish is fancy doesn't mean it can't be adorable! These mini frittatas prove that point by packing a culinary masterpiece into cute little jars.
Sweet-and-savory breakfast pastries: Balancing savory flavors with a touch of sweetness is the hallmark of an excellent chef. Impress your special someone with these breakfast pastries that have the flavor profile of a professional, while being deceptively easy to make.
Quiche Premio: Quiche is the ultimate classy breakfast food, and this quiche stands above the rest. Wrapping all the flavors of romantic Italy in its fluffy filling atop a flaky crust, this quiche couldn't be more fitting for a fabulous breakfast in bed.
Find Premio at Your Local Store
Your breakfast-in-bed recipient deserves the best, so make sure you include Premio sausage in the breakfast spread. Fresh and flavorful Premio sausage is sure to become your secret weapon in creating an unforgettable breakfast in bed. Premio sausages come in a variety of flavors and never contain any fillings — the way sausage should be!
Find Premio at the store nearest you, and have confidence you're using the highest-quality ingredients for your breakfast-in-bed recipes.