How to Build Better Breakfast Habits
When it comes to breakfast, are you someone who constantly has one or more of these thoughts?
I'd eat breakfast, but I never have the time.
Sometimes I grab a bite for breakfast. Other times, I forget.
I don't want to eat all my calories in the morning. I'd rather save them for later.
I don't like any breakfast foods.
I'm not hungry until lunch, so I just forget about breakfast.
It's time to forget your excuses for saying "no" to breakfast, because this is the one meal you can't afford to miss.
Why Breakfast Is Important to Your Well-Being and Health
Morning isn't just a good excuse to make your favorite sausage recipes for breakfast like a sausage and hashbrown quiche. It's also a time to replenish your lost stores of glucose and other nutrients.
Let's face it — unless you sleepwalked your way to the kitchen and devoured last night's leftovers, you probably haven't eaten for at least 9-10 hours when the alarm goes off. In other words, your body's undergone a long-term fast — and it's in need of nourishment.
Eating breakfast within two hours of getting up ensures you're refueling everything that you've burned off the day before. Even if you ate a large meal the night before, your body is still in a state of depletion. Unless you enjoy walking around with a foggy mind, tired muscles and dehydration-linked headache, grab something for your first meal. Plus, science has proven that eating breakfast contributes to better weight management and long-term reduction in risk of cardiovascular events.
You don't have to go overboard, either. As long as you're eating at least a fifth of your daily caloric intake for breakfast, you're golden.
Tips for Adding Breakfast to Your Day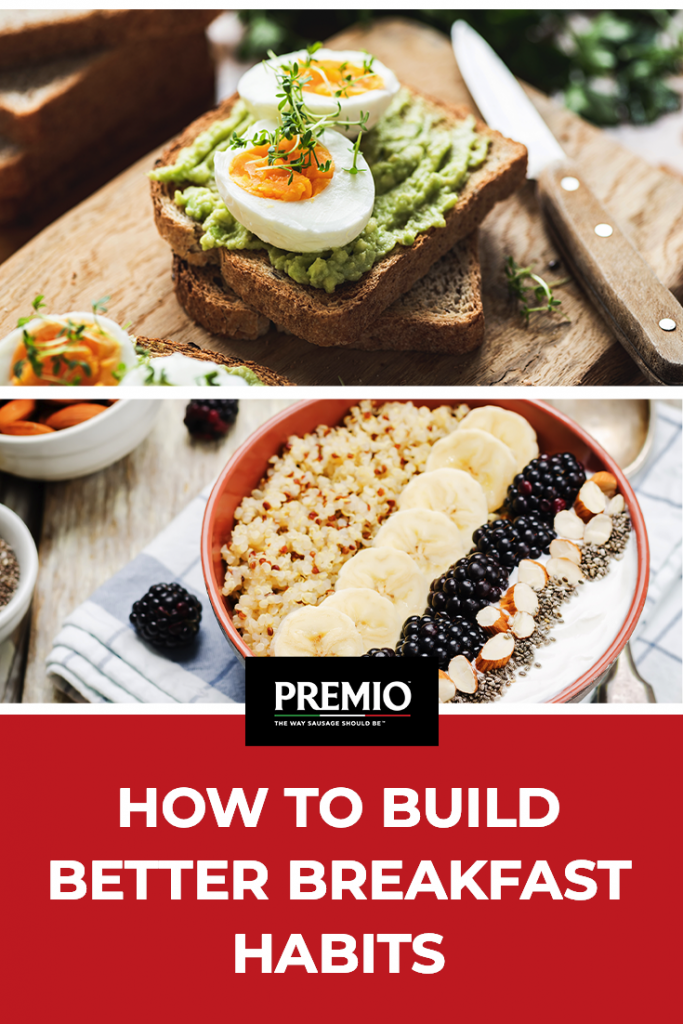 Still wondering how you're going to adopt a mindset of seeing breakfast as friend instead of foe? Try these foolproof tips, and you'll become the master of breakfast sausage recipes like "The Works" burrito!
Eat breakfast foods that contain lots of essential vitamins and nutrients. Think about adding color to your plate in the form of produce items like ripe blueberries, banana slices, orange peppers, green spinach and other ingredients. After all, natural colors stem from the presence of nutrients.
Pick any type of well-rounded meal, including traditional lunch and dinner items. It's great to choose the best breakfast sausage recipes for some of your morning dishes, but you can broaden your approach to include any healthy meals you like. Sausage stir fry for breakfast? Why not!
Drink water with your coffee or tea. Breakfast should be a time to rehydrate, but common beverages like coffee and tea are diuretics and may make you more dehydrated. Drink a glass of water for every cup of caffeinated beverage you take in.
Stay away from starchy, sugary, heavy breakfasts. Sure, those muffins are tempting, but don't eat five of them. Parcel out your breakfast so you aren't just eating sweets.
A Final Note on Breakfast Eating
If you've tried everything possible and are still having trouble getting accustomed to eating breakfast, don't give up. Instead, go slowly. For instance, you could piecemeal your breakfast and just nibble on something like sausage sliders over a period of an hour. Or you could make a healthy smoothie and drink your breakfast. In time, your breakfast reluctance will fade, and you'll get a wellness boost in return.
Looking for breakfast sausage recipes? Explore our site for delicious meals!