How to Make the Perfect Sausage Rolls

Every family needs a great food-related tradition as part of their family culture. We think sausage rolls are a terrific candidate for this purpose because they're so simple, tasty and universally appealing. Your family may already have a unique take on this classic, but if not, then now is the perfect time to create one. Once you've got your recipe down, it makes for a fantastic addition to any large gathering, holiday parties or even casual summer picnics.
Of course, there isn't just one sausage roll across the board. Everyone has their own idea of how to best prepare this dish, and everyone has a different recipe to follow. Yet despite these many variations, there are defining characteristics that most rolls will follow, regardless of how different it might be otherwise.
To help you perfect your very own version of this yummy dish while still following the general guidelines of sausage roll making, we've put together this guide. We'll talk about what this dish is made of, how to make it and even what to serve with it. Once you've given some of these tips a try, don't forget to comment back here and tell us what success you had with your sausage rolls.
What Are Sausage Rolls Made From?
At its most basic level, a sausage roll is made of meat wrapped in some type of dough or pastry. In this form, the dish dates back to ancient Greek and Roman cultures. The treat has evolved considerably since then, however, first appearing in its modern form as meat wrapped in a flaky pastry in early 19th century France. This same type of pastry with a pork filling became common in London during roughly the same period. From here, the dish continued to evolve until our present day, where it takes the form we currently know and love.
Today, most sausage roll recipes consist of puff pastry sheets rolled around sausage links, and they are glazed with milk or an egg-wash before they are baked. Some recipes may call for shortcrust pastry instead of the puffed variety, but this tends to be an old-fashioned trend that doesn't appear too commonly today. Once you've baked the dish, you can choose to serve it either hot out of the oven or wait to serve it at room temperature.

How to Make the Perfect Sausage Roll
The basic components of a good sausage roll are the meat and the pastry that wraps around the meat. Outside of these basic two elements, however, there is a great deal of room for experimentation and variation. When it comes to deciding what your perfect sausage roll recipe ought to be, the answer will be based largely on your personal taste preferences as well as what you're looking for in terms of a baking experience. Some techniques are extremely easy, while others take a bit more work.
Let's look at a few of the variations you might try based on your different preferences.
1. The Quick and Easy Solution
Are you running short on time, or do you not feel extremely confident in your pastry-making skills? There's no need to worry. If this describes you, there's no reason you can't still whip up a tasty batch of sausage rolls. To cut down on time and hassle, buy a frozen or pre-made puff pastry rather than making your own. Depending on the type of dough you buy, you likely won't even be able to tell the difference. Simply wrap this pre-made pastry around your sausage links, add a little egg-wash on top and stick your rolls in the oven for a yummy treat that barely requires any work at all.
2. The No-Fuss Homemade Dough
Making your own puff pastry dough doesn't have to be a project reserved only for the finest and most experienced chefs. You can do it too, and all it takes is a few easy ingredients. Grate cold butter into plain flour, stir it together and then add a small amount of ice water so that the whole mixture comes together into a ball. Wrap it, pop it in the fridge to chill for half an hour or so, and you're all finished. This is the pastry dough you'll use to create your sausage rolls.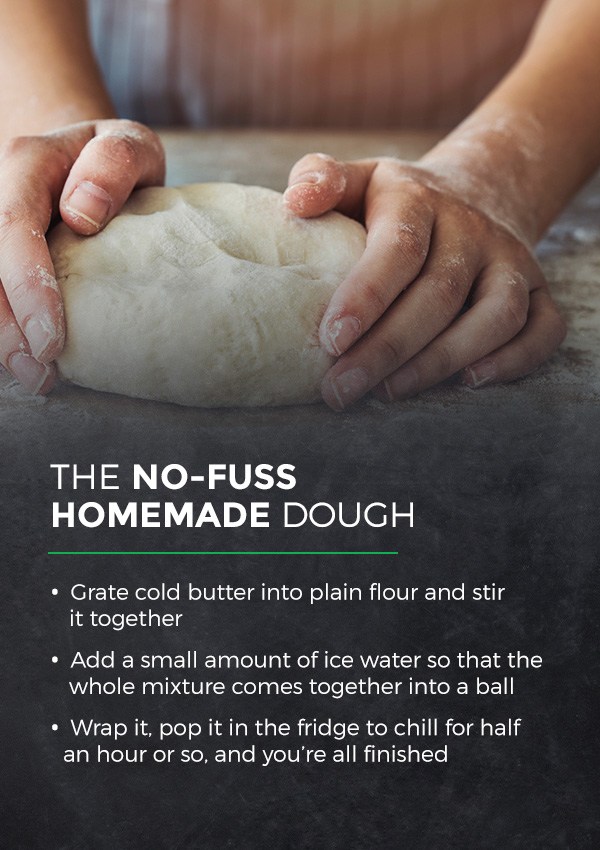 3. The Overnight Commitment
For those who aren't afraid of a challenge and are willing to commit their time to create a truly gorgeous edible work of art, there remains the traditional method of puff-pastry making. This method is time-consuming and involves a highly involved process of rolling out, folding and chilling, all repeated multiple times. As a final step, this process generally involves chilling the dough overnight before you can use it. The rewards of your labor will be worth it, however, as the product will be a sausage roll that is second to none.
4. Consider the Sausage Itself
Just as there are multiple methods of creating the pastry you'll use to wrap the sausage, there are also several possibilities when it comes to the sausage itself. One option is to use a packaged sausage link, which is convenient due to its fixed shape. All this method requires of you is to remove the sausage from its package and wrap it in the pastry. An alternative, however, is to create your own meat mixture with ground sausage and herbs. This method is certainly more labor-intensive, but it also offers the advantage of allowing for additional flavors, spices and experimentation.
Mix and match these different methods of preparing your pastry and sausage, and you'll soon have the building blocks of a sausage roll that's perfect for you and your family.
Tips for Making the Perfect Sausage Rolls
A delicious sausage roll isn't something that happens accidentally. There are plenty of tricks all the best chefs know that can take your sausage rolls from "just ok" to something worth savoring. Try a few of these tricks out and see how they help your sausage rolls improve:
Are you not interested in learning the finer points of puff pastry making? Seriously, don't sweat it. Just buy the pre-made variety, and no one will even notice the difference.
If your hands start to get too warm as your work the pastry, you risk melting the butter in the dough. Always keep a bowl of ice water on standby so that if you notice your hands getting warm, you can use the water to cool them down again.
The trick is to get your pastry just thin enough, but not too thin. Our best estimate? Aim for about half a centimeter's thickness.
If you're mixing your own sausage meat, feel free to go wild with the herbs and spices, since this will add tons of flavor. Even if you're buying pre-made sausage tubes or links, go for the most flavorful and well-seasoned ones you can find.
Looking for a secret ingredient that'll take your whole creation to a different level? Try a little lemon zest.
Can't tell if you're filling your rolls too full or not full enough? If you're not sure where the perfect balance is yet, then we recommend erring on the side of overfilling. It's always better to have a pastry that's overflowing a little bit than one that's flat and empty.
Once you've got your rolls filled and ready to go, pop them into the fridge for a few minutes before baking them. This way, they'll keep their shape better in the oven.
Don't be shy about adding toppings. Grab your favorite herbs, spices and seeds and throw them on top. Keep experimenting until you find the combination that's just right.

How to Serve Sausage Rolls and What Goes Well With Them
Once you understand the basics of making a dish, the next step is to determine the best way to present it. This step is all about giving your sausage rolls their best advantage by knowing how to serve them, when to serve them and what pairs well with them. Before you introduce your sausage rolls to the world, make sure to pause to think about these key questions for how to serve your sausage rolls and what to serve with them.
1. Choose Hot or Cold
Some people may enjoy their sausage rolls at room temperature. Most, however, recommend that you enjoy this dish hot out of the oven. This way, the butter is warm and melty, adding a little moisture to a pastry that might otherwise lean a bit toward the dry side. Furthermore, the melting butter helps produce a more flavorful experience altogether.
2. Pack a Picnic or Serve a Dinner
Sausage rolls make terrific picnic fare because they work well as finger food. The caveat is that you'll be eating your rolls at room temperature, so if you strictly prefer warm sausage rolls, you might want to skip the picnic. Instead, try serving these rolls at a party or potluck dinner, where they're perfect because guests can simply take them, rather than waiting in line for a turn to use the serving spoon. Furthermore, they tend to be a hit at parties — since they contain so few ingredients, they're less likely to offend anyone with a sensitive palate.
3. Don't Go Crazy
In your quest to achieve the perfect sausage roll, you'll encounter all sorts of fancy recipes, each one adding more additions than the next. And while we absolutely recommend supplementing your bare pastry and meat with a few herbs, spices or even a topping, don't feel the need to go over the top with your additions. They likely won't add anything exceptional and will only distract from the flavors of the sausage and pastry.
4. Think About the Sides
What should you serve with sausage rolls for dinner? There are several different opinions. Some say that sausage rolls stand on their own with no sides and that the only thing necessary to pair with them is a dipping sauce like Dijon mustard. Others prefer to add picnic-like side dishes such as coleslaw, and still others enjoy using such sides as potatoes, carrots, peas and beans. It's all about what you like and what's most convenient for the occasion where you're serving your sausage rolls.

Try Premio Sausage Roll Recipes
There's only so much reading and theorizing you can do before it's time to head to the kitchen and start experimenting. If you're ready to get started with your first sausage rolls, we recommend giving either of these recipes a try as you get started.
1. Spicy Italian Sausage Roll
Preheat your oven to 350 degrees Fahrenheit. Saute a quarter cup of chopped onion and two halves of chopped red and green bell peppers until they're soft. Place them aside to cool. Cook one package of Premio Hot Italian Sausage until it's golden brown, breaking it up with a fork as you go and adding a little salt. Combine the sausage, peppers and onions together and mix in four ounces of cream cheese, half a cup of Provolone cheese and half a cup of Mozzarella cheese.
Open one package of refrigerated pizza crust and roll it out, spreading the meat and cheese mixture onto it. Roll the dough up into a log shape and bake it for about 25 minutes, or until it's golden brown. Once it's cooked, remove it from the oven and let it cool before slicing it into pieces. This Spicy Italian Sausage Roll will feed 10-12 people.
2. Middle Eastern Sausage Rolls
Stir together four chopped shallots, three minced garlic gloves, one kilogram of minced Premio Hot Italian Sausage Meat, two tablespoons of tomato paste, half a cup of breadcrumbs, a quarter cup of chopped cilantro, a quarter cup of a Middle Eastern spice blend, one teaspoon of fennel seeds and two eggs.
Line a pan with baking paper and preheat your oven to 200 degrees Celsius (395 degrees Fahrenheit). Beat one egg with a whisk and spoon your sausage mixture into a piping bag. Roll out four to five sheets of pre-made puff pastry and cut them in half. Brush one of the long pastry edges with the whisked egg and pipe out the sausage mixture onto the other long edge. Roll the pastry up starting with the sausage edge and repeat this process with every sheet of pastry.
Score your pastry rolls at regular intervals and brush the tops with the remaining egg-wash. Cut each roll into four rolls and sprinkle the top with fennel seeds. Bake them with the seams facing down for about 25 minutes and serve them hot. These Middle Eastern Sausage Rolls are perfect for your next gathering or dinner party.
Shop Premio Sausage Products Today
Ready to start whipping up your very own sausage rolls? Then you'll want to stock up on your favorite Premio Sausage products. From spicy to sweet sausage and chicken to turkey varieties, we've got everything you need to make some truly delicious rolls.
To start shopping, use our easy-to-navigate store locator tool to find a Premio distributor near you.