Lunch Meal Prep Made Easy
These days, everyone's lives are busier. It's tempting to skip lunchtime in the middle of the day to fit your on-the-go lifestyle or hectic work schedule, but eating well doesn't have to be complicated. That's why some foodies have turned to meal prepping — a trend that continues to grow, and it's never too late to try it out for yourself!
What is meal prepping? It's homemade cooking prepared in advance and stored for later, like in your fridge or freezer. Think of it like using your leftovers, but with planning and extra care mixed in, you can kick those portions up a notch for single-serve meals that are just as delicious as a dinnertime dish.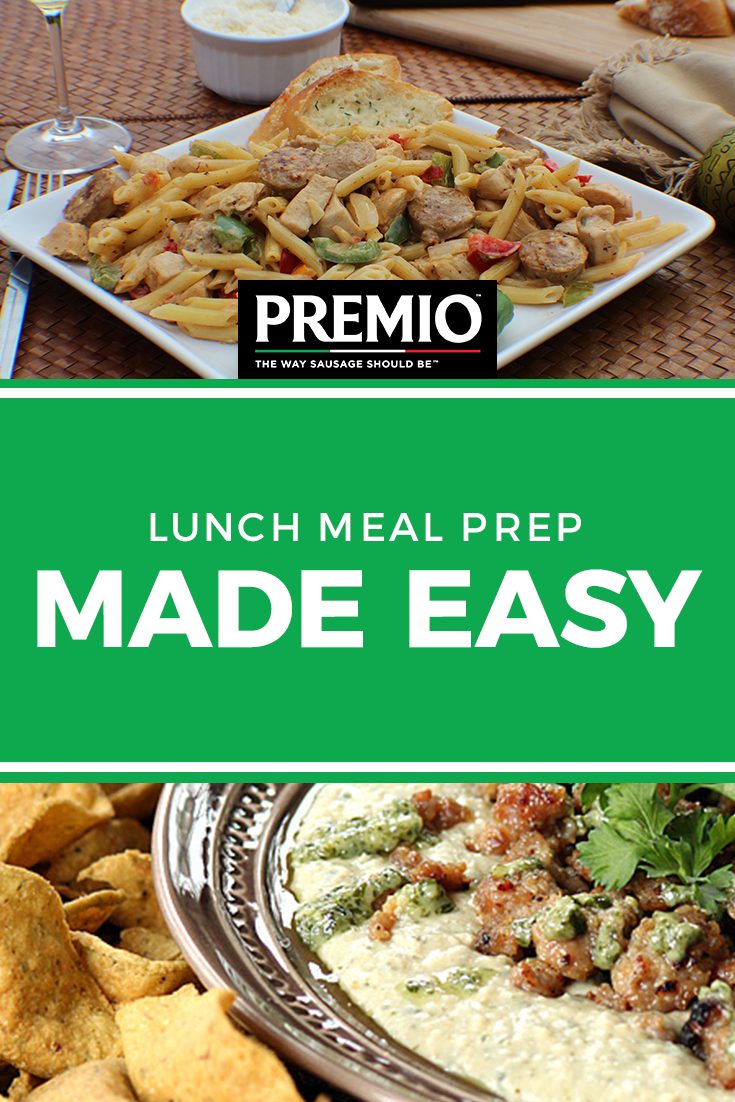 Why Fit Lunch Meal Prep Into Your Routine?
Meal prep can benefit you in a variety of ways, including:
Saving money: You won't waste used ingredients, and there's no going out and buying lunch elsewhere.
Saving time: With most of the prep work done beforehand, fixing lunch becomes a quick reheat or a mix of ingredients together. Cross off making lunch throughout the week, and that's one thing you don't have to stress about.
Eating healthier: If you prepare your lunch for individual containers, you measure out the ideal proportion for your dietary needs.
If you love to save time, we have many easy recipes you can try that include our authentic Italian sausages, good for lunch — and any hour around the clock! Healthier eating begins with products like our chicken sausage, which contains 60% less fat than USDA data for pork & beef sausage.
How Do You Store Prepped Lunches?
If you're looking to preserve the lunches you prep, we suggest reusable containers made of BPA-free plastic, glass or stainless steel. Make sure they are durable and dishwasher-safe. The tubs you use should last inside your fridge, freezer and microwave, depending on the meals you store.
You especially need a tight seal for lids to keep your food's freshness, and won't come loose if you take your lunch to the office. As a rule of thumb, previously prepared meals last three to five days within the fridge.
Proteins like our Premio sausage products can be a part of your lunch meal prep, with a variety of ways to prepare them. Once pan-fried or baked in the oven, sausages can be crumbled and reheated with pasta, vegetables or rice.
Did you know our sausages make great fillers for wraps, too? Try them mixed into a warm tortilla with a few ingredients for a fast, easy lunch that can go with you. Sausage meat can also fill slider rolls and sandwich buns. It's also convenient to slow-cook sausage into chilis, soups and stews, and warm up a bowl for yourself later.
Meal Prep With Premio
How do you meal prep your lunches with Premio sausages? We invite you to share with us below!
We believe all our recipes at Premio Foods, Inc. are worth saving for later. Find the ideas that will make your future lunches fresh, then find a store for our sausages near you!