Pizza Party Ideas
Everyone loves a good old-fashioned pizza party. Whether you're throwing a birthday bash for the kids or inviting your own friends over for a fun night in, pizza is a hit no matter what age your guests are. Pizza tastes delicious and is highly customizable. No matter what a person's food preferences may be, there's always a way to create a pizza for everyone.
Is this your first time throwing a pizza party? If this is a new experience for you, there's no need to panic. It's one of the easiest types of gatherings to host and with just a few tips, you can put together a winning event in no time at all.
Ready to get started? Here are our top pizza dinner party ideas for adults and kids.
How to Throw an Amazing Pizza Party
The fun of throwing any party is that you get to make it entirely yours. From the recipes and ingredients you use to the music you play and the people you invite, this is your time to let your style shine through. Have fun with it!
If you're feeling entirely lost at sea, however, and you aren't sure where to begin, we hope you'll draw some inspiration from these tips.
1. Bake Several Large Pizzas Ahead of Time
One of the simplest ways to throw a pizza party is to bake several large pizzas ahead of time. This way, the food will be hot and ready to eat when your guests arrive, allowing you to spend more time socializing and less time working in the kitchen. If this is the route you plan on taking, we recommend using different toppings for every pizza so that each guest will have a good chance of finding something they like. If you're not confident you know your guests' pizza preferences, it might be worth shooting them a text or taking a quick poll to figure out who wants what.
2. Let the Guests Create Personal Pizzas
If you want to mix things up a bit, you might also have a build-your-own-pizza party. At this type of event, you'll provide a wide range of ingredients and allow each guest to build themselves a personal-sized pizza with their own preference of toppings, sauce and cheese. The potential downside of this type of event is that it means everyone will have to wait longer for their food. The positive side, however, is that everyone gets to enjoy the fun of making a pizza while also ensuring that it's exactly what they want to eat.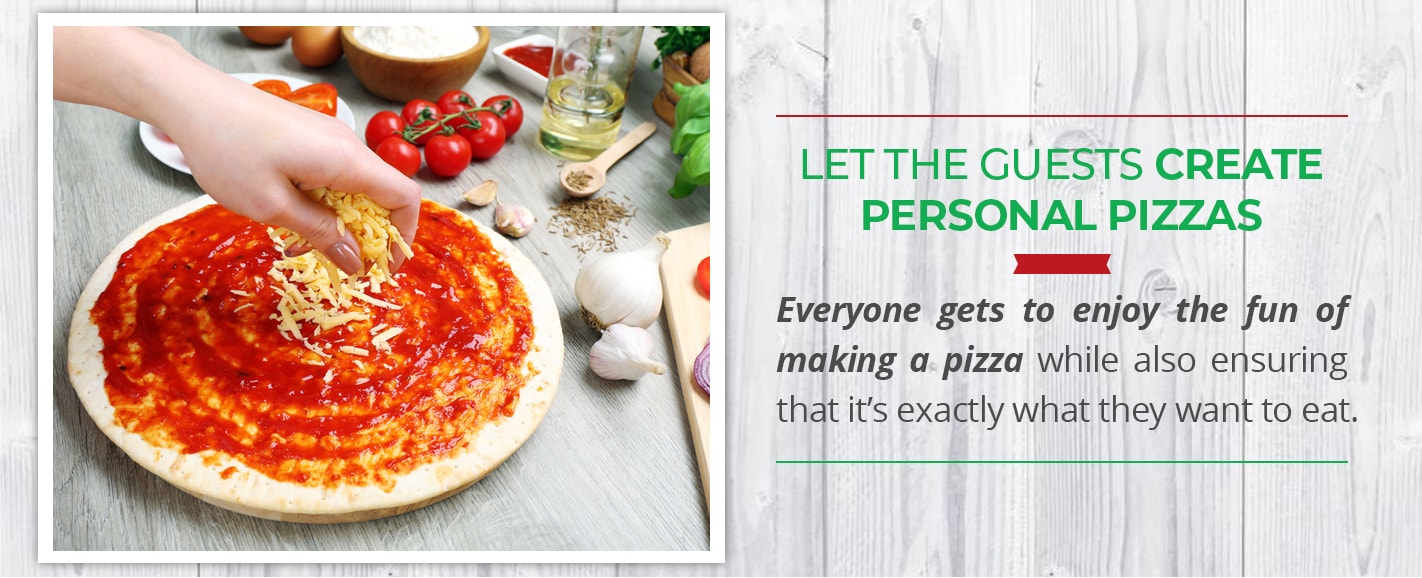 If you decide you'd like to plan a make-your-own-pizza party, here are a few tips for this style of get-together:
Prep the dough ahead: Whether you're making your dough from scratch or buying pre-made dough, you'll want to get this ready before the guests arrive. Set it aside in as many separate lumps as you'll need for the number of guests you have so they can all get started assembling their pizzas right away.
Chop ingredients in advance: Once the dough is prepared, get your ingredients out and chop them up so they're ready for the guests to use. Make sure any veggies are washed, chopped and stored in the fridge so that they can stay chilled until your guests arrive.
Go buffet style: Once the guests arrive or perhaps immediately before, start setting up your buffet. Line up all the ingredients in tidy stations, remembering to set out cheese and sauce as well. Try to establish a roughly logical progression for your guests to move through, with the sauce coming first, then the cheese and then additional toppings. Once this is ready, guests can move down the buffet and grab some of whatever toppings appeal to them.
Keep things moving through the oven: Depending on how many guests you have, there are going to be a lot of mini pizzas moving in and out of the oven. Make sure to keep close tabs on this and don't let anyone's pizza accidentally stay in there too long and burn. On the opposite side of the spectrum, don't allow anyone's pizza to be forgotten and not get a chance in the oven.
3. Ask About Allergies and Dietary Needs
As you're planning to head to the grocery store to buy the things you'll need for this party, take a moment to think about everyone who will be attending your party. Are there any food allergies or special dietary requirements among the group? If you don't know with 100 percent certainty, don't hesitate to contact your guests and ask. If any needs arise as a result of your questions, make sure to supply these guests with the accommodations they'll need to enjoy their pizza as well as everyone else.
Remember that allergens might be hiding in unexpected places. For example, if someone has a soy allergy, you might not think pizza will be a problem. But some sauces can contain small amounts of soy, leading to an allergic reaction. Always double-check for potentially problematic ingredients.
4. Don't Forget Dipping Sauces
Everyone has their own preference in dipping sauce when it comes to pizza. As a good host, you'll want to set out small bowls with a variety of sauces so that your guests can pour a little bit onto their plate and take it with them. While you and your friends might have a favorite go-to sauce of your own, some flavors you might want to consider include:
Barbecue Sauce
Blue Cheese Dressing
Italian Dressing
Ranch Dressing
Hot Sauce
5. Have at Least Two Pizza Pans
Most home ovens can't realistically fit more than two pizzas at the same time. This means that it's going to be slow going. Make sure there are always at least these two pizzas in the oven at any moment. Otherwise, it'll be bedtime before everyone has their pizza cooked and ready to eat.
To ensure this goes according to plan, verify that you have two functional pizza pans before your guests arrive. If it turns out that you need to run out and buy another one, this way you'll have plenty of time to do so.
6. Use Disposable Paper Products
Nobody wants to spend hours cleaning up after the guests leave. If you use all your nice plates and cutlery, however, this is exactly what you'll have to do. Instead, keep things simple by providing your guests with paper plates, plastic silverware and disposable cups. This way, the only things you'll need to wash will be pizza pans, cutters and any dishes you may have served toppings in. The rest of the dishes can be thrown away, making for a minimum-hassle cleanup for you.
7. Make a List Before You Go Shopping
One of the best ways to ensure your pizza party goes smoothly is to plan and write a list before you hit the grocery store. If your only plan is to go the store and grab whatever catches your eye, you're almost certain to forget something, leading to a pizza party without cheese or pepperoni. Take the time to plan now, and your future self will thank you.
Essential Pizza Party Ingredients
Ready to start making your pizza party shopping list, but not quite sure how to begin? Here's a list of everything you might want to include on your list. Note that this list is intended for a buffet-style pizza-making party. If you're making your own pizzas and following set recipes, then you'll want to use those recipes as the basis for your shopping list.
Pre-packaged pizza dough
Marinara pizza sauce
Mozzarella, parmesan, Romano and any other types of cheese you like on pizza
Bacon bits
Chicken
Mushrooms
Olives
Onions
Pepperoni
Peppers, sweet and spicy
Pineapple
Prosciutto
Salami
Sausage
Spinach
Sun-dried tomatoes
Any dipping sauces you plan to serve
If you plan on making homemade dough, don't forget to double-check that your kitchen is stocked with plenty of flour, sugar, salt, olive oil and yeast.
This list of toppings is far from complete, as there are no limits to what you can add on top of a pizza. Go with these ideas or use them as inspiration to come up with your own list of pizza toppings.
Choosing the Right Recipes
As great as the build-your-own pizza approach can be, it isn't right for every party. Maybe you have too many guests for it to be a practical option or maybe you'd rather spend your time chatting with guests than operating the oven all evening. If you're looking to simplify things by cooking several large pizzas for all your guests to share, then your job will be mostly over before the guests even arrive.
Once you decide that you're going to be in charge of making all the pizzas, your next task is to choose what types of pizzas you'll make and what recipes you'll use. If you're stumped for pizza party ideas, we've got a few recipes to suggest that we think will wow any crowd. Give one, two or all three of these recipes a try, and you'll soon have all your guests asking you for the recipes.
1. Chicago Deep Dish Pizza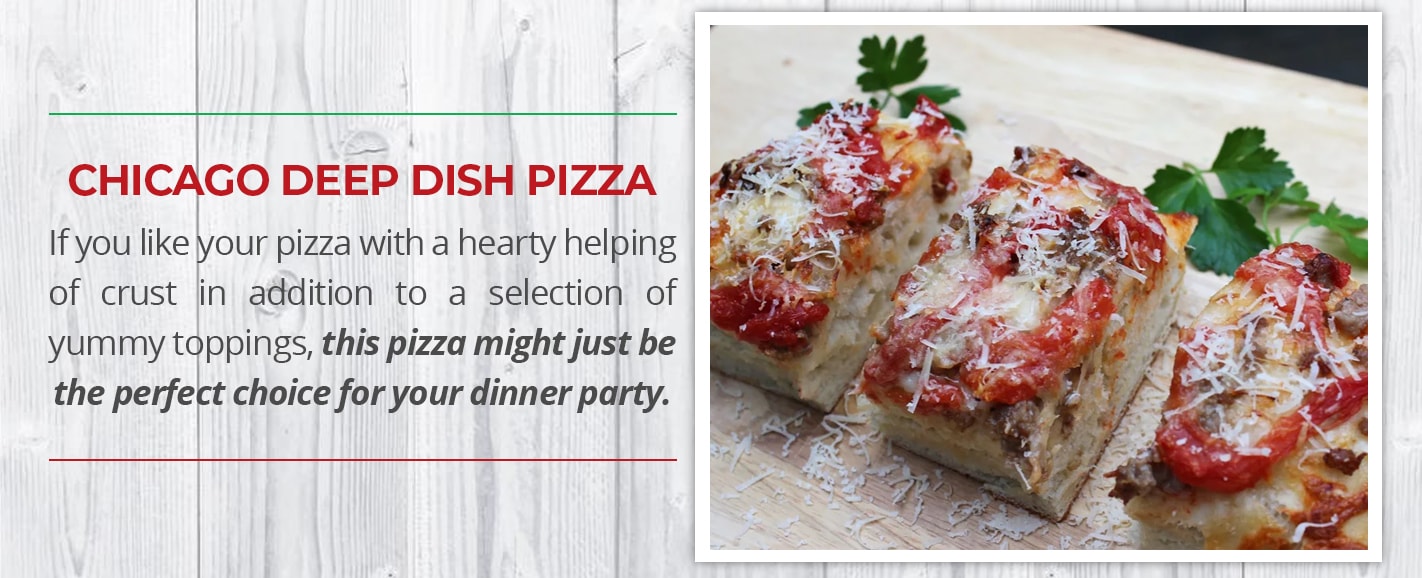 To create this Chicago Deep Dish Pizza, you will need to stock your kitchen with:
Flour, 4 cups
Yellow cornmeal, 3 tablespoons
Salt, 1 ¾ tablespoons
Yeast, 2 ¾ tablespoons
Olive oil, 2 tablespoons
Melted butter, 4 tablespoons
Vegetable oil, 2 tablespoons
One potato
Lukewarm water, 1 cup plus 2 tablespoons
Premio Sweet Italian Sausage, 1 ½ cups
Canned San Marzano tomatoes, 3 cups
Shredded mozzarella cheese, 2 cups
Grated Romano cheese, ½ cup
Grated parmesan cheese, ½ cup
Dried oregano
Red pepper flakes
The key thing that this pizza brings that other pizzas might lack is that signature deep-dish style that Chicago is so well known for. If you like your pizza with a hearty helping of crust in addition to a selection of yummy toppings, this pizza might just be the perfect choice for your dinner party.
2. Pizza With Premio Hot Italian Sausage, Peppers and Onions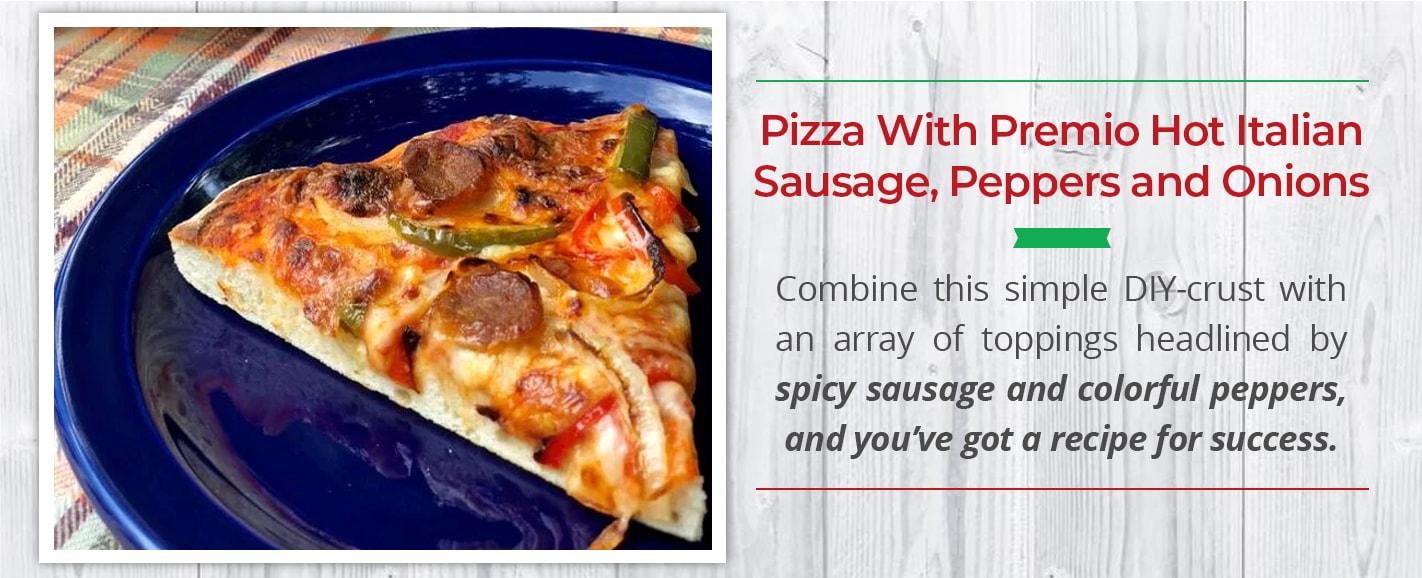 For those who like their pizza with a little heat, this Pizza with Premio Hot Italian Sausage, Peppers and Onions might be just the ticket. To make it, you'll need:
Yeast, 1 packet
Flour, 2 ½ cups
Olive oil, 2 tablespoons plus extra for brushing onto crust
Salt, 1 teaspoon
Sugar, ½ teaspoon
Warm water, 1 cup
Premio Hot Italian Sausage Meat, ½ package
Chopped yellow onion, ½
Chopped green bell pepper, ½
Chopped red bell pepper, ½
Pizza sauce, ½ cup
Oregano, ¼ teaspoon
Dried basil, ¼ teaspoon
Garlic powder, ¼ teaspoon
Mozzarella cheese, 2 cups
This pizza stands out among the rest for its easy no-fuss crust. While other homemade crusts might take a lot more work, this dough is quick, easy and perfect for when you've got a lot of guests coming over and not a lot of time to prepare. Combine this simple DIY-crust with an array of toppings headlined by spicy sausage and colorful peppers, and you've got a recipe for success.
3. Premio Sausage and Spinach Skillet Pizza
Looking for a pizza that takes every rule of pizza-making and tosses it out the window while still maintaining the cheesy-goodness we all know and love? Look no further than this Premio Sausage and Spinach Skillet Pizza. To create this dish for your guests, you will need:
Premio Sweet Italian Sausage, 8 ounces, with the casings removed
Olive oil, 1 tablespoon
Tomato sauce, 1 15-ounce can
Tomato paste, 2 tablespoons
Grated parmesan, 3 tablespoons
Dried oregano, ¾ teaspoon
Crushed red pepper, ¼ teaspoon
Dried crushed basil, ½ teaspoon
Baby spinach, 1 6-ounce package
Frozen pizza dough, 1 lb package, thawed
Shredded mozzarella, 6 to 8 ounces
This pizza stands apart from the rest because of the unique way you'll prepare it. Rather than solely relying on your oven, you'll cook a large portion of this recipe on your stovetop using a skillet. You'll still use the oven, but its role will be altered significantly since instead of cooking your pizza in a tray or on a pizza stone, you'll put it into the oven right in the skillet you were using on the stovetop. One additional benefit of this pizza recipe? It uses pre-made dough so that you won't even have to worry about the task of making the dough yourself.
Buy Premio Sausage for Your Pizza Party Today
Whether you're looking to stock a buffet line of pizza toppings or hunting for the perfect ingredients for your own original pizza recipe, you'll want to make sure you stock up on plenty of Premio sausage for your pizza party. Our delicious sausage comes in an incredible range of flavors so that no matter what you and your guests like, there'll be something for everyone. Choose from styles like hot Italian, sweet Italian chicken and even exotic world flavors like Chorizo and Andouille.
Not sure where to buy Premio sausage? It's easy. Just pop open our store locator tool and find the Premio distributor nearest to you. And for more ideas that will help you throw the most exciting pizza party yet, don't forget to check out these other tasty pizza recipes you might want to include at your party.