Stay Warm With Soups and Stews
When the weather gets chilly or the rain or snow clouds roll in, nothing perks us up quite like a piping hot bowl of soup or stew. Once the wind starts blowing and the temperature drops, you can close the curtains and cozy up with a steaming bowl of deliciousness to forget it all. Even when it's a little warmer, enjoy a bowl on a rainy day!
At Premio Foods, our top-quality sausage makes the perfect ingredient for the best soups and stews. When you use the best Italian sausage available, you will make a delicious dish every single time.
Here are four of our favorite recipes for soups and stews that have fantastic flavor, and all have our delicious sausage!
1. Premio Mild Italian Sausage Soup
This soup combines different textures and flavors to make an amazing, filling meal. The broth creates an fantastic base, and the cream gives it a smoother, richer taste without becoming too thick like a bisque. With lots of veggies like hearty potatoes and super-food spinach, you're getting a quality serving of healthy ingredients, too.
The red pepper flakes give this soup a little bit of a kick. The mild Italian sausage complements the spice well. If you like a little bit of a kick without your mouth feeling like it's on fire, this is a great soup! Check out the recipe for Premio Mild Italian Sausage Soup and enjoy at any time of the year.
2. Polish Sausage Soup
For a unique soup that's still packed with amazing flavor, try this recipe for Polish Sausage Soup. With the potatoes, onion and green beans, you'll have a great serving of veggies while still filling you up. And, of course, you have your Polish sausage — an amazing kielbasa — for some added protein.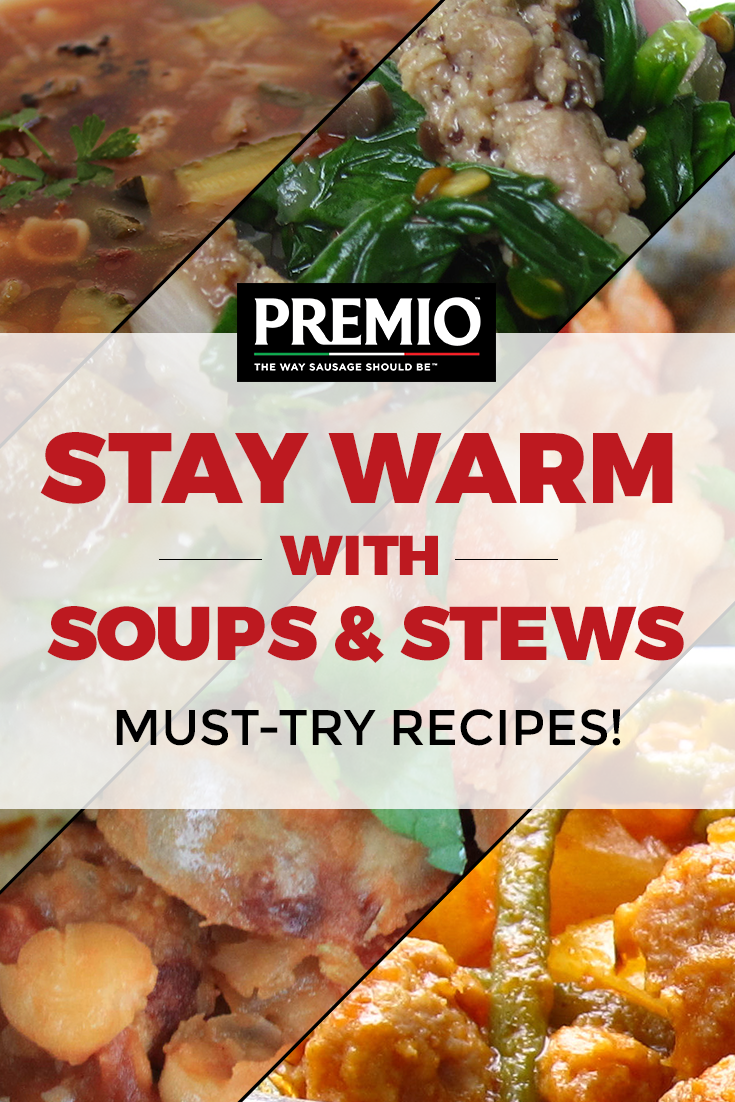 This soup is also incredibly easy to make. You just have to cook your sausage and then heat up all of the other prepared ingredients in a dutch oven. Once everything is together in the dutch oven, the soup heats through and all of those delicious flavors really come out.
3. Grandma Mary's One Pot Hardy Minestrone
With the first taste of this soup, you'll feel like it came right out of your own grandma's kitchen! This recipe has the most ingredients of all of the soups on this list, but the extra preparation is worth it! With so many delicious vegetables and the sweet Italian sausage, all of the ingredients come together for a hearty soup that will keep you feeling full.
Check out the recipe for Grandma Mary's One Pot Hardy Minestrone to pick up all the ingredients you need on your next shopping trip, so you can enjoy this soup for lunch or dinner soon.
4. Premio Hearty Chickpea Sausage Stew
This stew is unique because it lets you add whichever type of sausage you like the most! Whether you like a little more spice or a more mild flavor, you can really get the taste that you desire. Whichever type of sausage that you choose, the other ingredients in the stew will complement the flavor and bring out the best in every part of the stew.
The dish has the perfect blend of spices, too. The rosemary gives it a natural flavor, while the red pepper flakes give it a little bit of heat. Premio sausage already has amazing seasoning, so you don't need to add too much to the recipe to have a fantastic flavor. Here's the recipe for Premio Hearty Chickpea Sausage Stew to get cooking!
When you cook any of these recipes, be sure to use Premio sausage! Use our store locator to find the nearest store to you.