Winter Dinner Party Ideas
The holiday season is a time for shopping, baking and enjoying time with friends and family — in other words, spreading a bit of holiday cheer. What better way to do that than with a winter dinner party? Whether you're hosting or attending, you want to pull out all the stops with amazing savory dishes that everyone will love.
Check out our list of the best winter dinner party menu ideas to spice up your upcoming cozy dinner party.
1. Molasses Bourbon Pork Chops
Once your guests sink their teeth into these juicy sweetened pork chops, they'll be begging for the recipe. Sure to be the star of your winter dinner party menu, this entree is a symphony of aromatic spices and herbs. The recipe serves approximately six people, so you may want to double the ingredients if you're hosting a larger gathering.
Start by combining two cups of orange juice, half a cup of brown sugar, six cups of water, eight garlic cloves, fresh thyme, a cinnamon stick and bay leaves in a large pot. Simmer the mixture for several minutes, then remove from heat to cool.
Add three pounds of pork chops to the pot and soak overnight. When your pork chops are done marinating, rinse them with cold water and pat dry. Cook them with olive oil over medium heat until they're golden on both sides. Place them on a lined baking sheet and bake until their internal temperature reaches 140 degrees Fahrenheit.
Combine one cup of molasses, one-fourth of a cup of apple cider vinegar and some rosemary in a saucepan and simmer for 15 minutes. Whisk in four tablespoons of butter and one-fourth cup of bourbon, heating until the sauce thickens. Then, coat your pork chops with the glaze and serve.
2. Cheesy Pumpkin Sausage Pasta
Our recipe for cheesy pumpkin sausage pasta is luxuriously creamy, surprisingly seasoned and the perfect complement to a savory menu for your next dinner party celebration.
Begin by sauteing a package of sweet Italian sausage with olive oil, breaking up the sausage into chunks until they're browned and fully cooked to at least 160 degrees Fahrenheit. Add 12 ounces of your favorite pasta, three tablespoons of minced garlic, four cups of vegetable broth, a diced onion and a cup of pumpkin puree to your pan. Season with red pepper flakes, nutmeg, salt and pepper, and simmer on low heat for 10 minutes.
When the pasta is tender, stir in four ounces of cream cheese and two tablespoons of butter so that the cheesy mixture coats your pasta and meat. Garnish with fresh parsley and serve!
3. Sweet Potato and Onion Wellington
This recipe for sweet potato and onion wellington is a tasty vegetarian twist on the beloved classic we all know and love.
Peel and slice two large sweet potatoes lengthwise, then cut them into thirds. Place them on a lined baking sheet, along with three red onions, halved and sliced into wedges. Drizzle the vegetables with olive oil and maple syrup and season with salt and pepper. Put them in the oven at 400 degrees Fahrenheit for 30 minutes.
Place a cup of chopped walnuts on a second baking sheet and bake for 10 minutes. Heat two tablespoons of butter and a half tablespoon of olive oil in a pan over medium heat. Add a cup of mushrooms and cook until tender. Add two tablespoons of minced garlic and cook for another minute. Remove the mushrooms from the heat and allow them to cool.
Next, lay out two pastry sheets on baking paper so that they overlap. Cut a third pastry sheet in half and place the halves on the long side of one of the pastry sheets. Press the edges together to create a seal.
Mix one cup of goat cheese with two tablespoons of chives, then spread the mixture across your pastry. Top with two tablespoons of almond meal, the mushrooms and the walnuts. Layer your potatoes lengthwise in two rows in the center of your pastry. Fold the pastry over the filling. Finish with an egg wash and refrigerate for 20 minutes.
Bake your wellington at 400 degrees Fahrenheit for 30 minutes and serve hot.
4. Baby Greens Pecan Salad
Nothing pairs better with a rich holiday meal than a refreshing salad! When you're in a time crunch, this cool and satisfying pomegranate and pecan salad will save you.
To make your fruity dressing, combine five tablespoons of pomegranate juice, a tablespoon of minced shallot, five tablespoons of olive oil, three tablespoons of champagne vinegar and a tablespoon of honey.
In a large serving bowl, toss five cups of mixed baby greens, five cups of baby arugula, half a cup of gorgonzola cheese crumbles, one-fourth cup of chopped pecans and a cup of pomegranate seeds. Top with your homemade dressing and enjoy.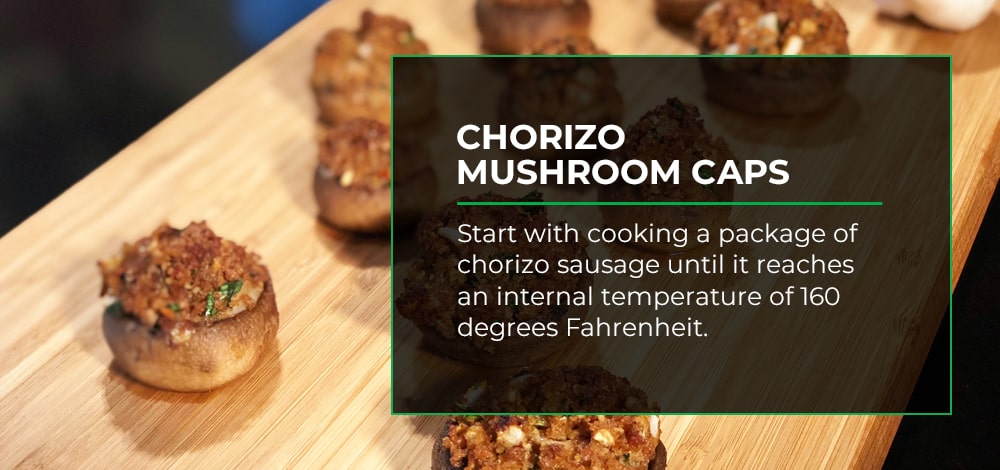 5. Chorizo Mushroom Caps
Add a little bit of spice to your dinner party with this fresh take on a family-favorite appetizer, chorizo mushroom caps.
Start with cooking a package of chorizo sausage until it reaches an internal temperature of 160 degrees Fahrenheit. Once evenly browned, slice your sausage into rounds, then pulse in a food processor so the meat is finely chopped.
Remove the stems from the mushrooms, then chop the stems. Brush the caps with olive oil and place them on a baking sheet. Next, heat one-third of a cup of olive oil in a skillet and cook the mushroom stems with one-third of a cup of onions. After a few minutes, add half a cup of breadcrumbs and toast in the skillet until brown.
Add your chorizo to the skillet with a quarter cup of chicken broth and fresh parsley leaves. Slowly add in grated Manchego cheese, then spoon the mixture into your mushroom caps. Bake your appetizers in the oven at 400 degrees Fahrenheit for 20 minutes.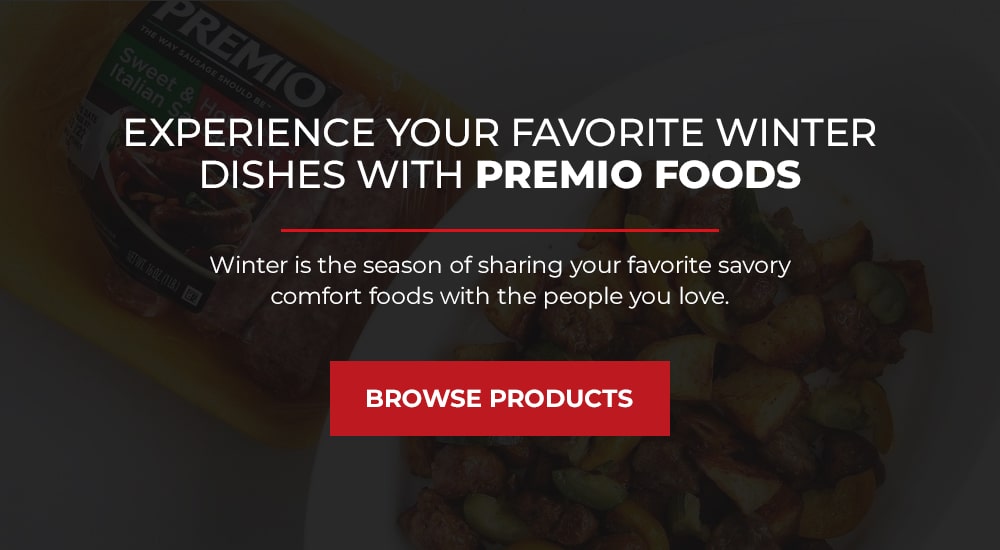 Experience Your Favorite Winter Dishes With Premio Foods
Winter is the season of sharing your favorite savory comfort foods with the people you love. Nothing adds depth and spice to your holiday-inspired dishes like quality ingredients from a brand founded in trust and tradition. Premio Foods has been crafting the finest Italian sausage for over 40 years. Using only the best butcher cuts, freshest herbs and fragrant spices, our legacy proves itself with every bite.
Experience the superior flavors of Premio sausage by shopping at our online store. Can't wait to try our fine Italian sausage? Find Premio products at your local grocery store today!