4 Hearty Recipes for the Winter Season
When the forecast takes a turn for the frosty, your inner cook should definitely smile. After all, cold weather offers the ideal time to dust off those hearty and easy sausage recipes your whole family loves.
Whether you are cooking for two or you have a whole house filled with hungry snow shovelers who just finished their wintry tasks, we have the right meals to get everyone toasty. Best of all, our sausage recipes are convenient to follow and use ingredients that you can quickly find at your favorite grocery store.
Enjoy feasting on these four fun favorites throughout the season!
1. Premio Three Meat Chili
What could be heartier or healthier than a steaming bowl of chili on a snow day? Although you may already have a go-to chili recipe passed down through the generations, we encourage you to try our amazing Premio Three Meat Chili variety.
This easy sausage recipe features not just ground sausage itself but also kielbasa and ground beef. The three meats mingle together to offer up distinctive flavors and textures. Accompanied by several types of beans and a myriad of spices, Premio Three Meat Chili will be sure to please your clan.
As a side note, this chili freezes well. That makes it a breeze for you to double up the sausage recipe and have some chili on a night you would rather not prepare a meal.
2. Sausage & Mushroom Penne Gratin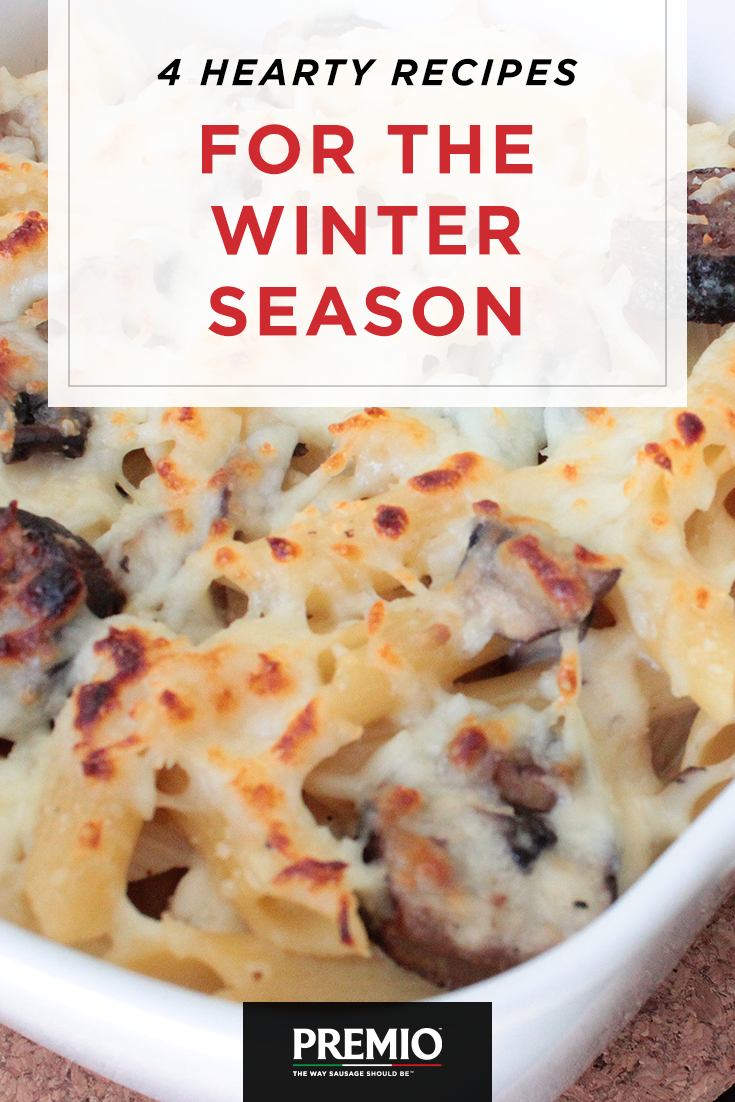 We love mac and cheese as much as the next person, but sometimes the old favorite is just too plain. For instance, if you are having a load of guests for the end-of-year holidays, why not consider serving up our easy Sausage & Mushroom Penne Gratin recipe?
This holiday sausage recipe is surprisingly simple to follow and includes just a handful of ingredients. Nonetheless, it will taste as if you spent hours and hours in the kitchen. Plus, you can always add more sliced or finely diced veggies to accompany the Portobello mushrooms.
Want another way to rev up this easy sausage recipe and make it uniquely your own? While we suggest mozzarella and Parmesan cheeses, feel free to experiment with anything from Romano to Monterey Jack!
3. Crockpot Lasagna
Most pasta lovers would agree that lasagna always gets rave reviews. The only problem is that traditional lasagna requires effort to pull off. Fortunately, a little crockpot creativity solves that issue.
As long as you have a crockpot handy, you can dive into Premio's tried and true Crockpot Lasagna recipe. Not only is it super easy as a sausage-based recipe, but it will have your crowd begging for more. We especially like this simple recipe as a way to help young cooks learn how to layer lasagna without fussing with a full pan of the good stuff.
4. Spicy Sausage and Turtle Bean Stew
Soups and stews definitely belong on your family's menu in the late autumn and winter months. Beyond classic go-to types like chicken noodle and gumbo, invest some energy in a recipe like Spicy Sausage and Turtle Bean Stew.
As with all stews, the Sausage and Turtle Bean variety can be quickly changed to fit your taste preferences. Toss in any veggies and make substitutes at will. If you like a less spicy overtone, choose a different variety of Premio sausage to turn down the heat.
You may not always like the cold, but you will always like making feel-good food during winter. Fall in love with cool-weather easy sausage recipes for holidays or any day. Then, take a look at our store locator to find Premio sausage nearest you!