5 Best Casserole Dishes Using Premio Sausage
Good casseroles are a staple of American cuisine and one of our very favorite comfort foods. Whether you are serving a large crowd for the holidays, throwing together a last-minute meal or looking for something hearty to keep you warm, these are some of Premio's best casseroles.
Premio Cheesy Brat Casserole
One of the best casserole recipes we have found is this Premio Cheesy Brat Casserole, which pairs white potatoes, creamy mushroom soup and melted cheese with authentically spiced German bratwurst for a truly indulgent meal.
First, gather these ingredients:
Once you have assembled the ingredients, preheat your oven to 350 degrees. In a skillet, cook your sausage in oil or butter until browned. While you are browning your sausage, bring potatoes to a boil, then reduce heat and cook until tender. Cut your brats into coins and dice the potatoes. Thaw and rinse the green beans before stirring all ingredients together in a casserole dish. Cover with foil and bake for 45 minutes.
Cheesy Broccoli Veggie Tots Casserole With Sausage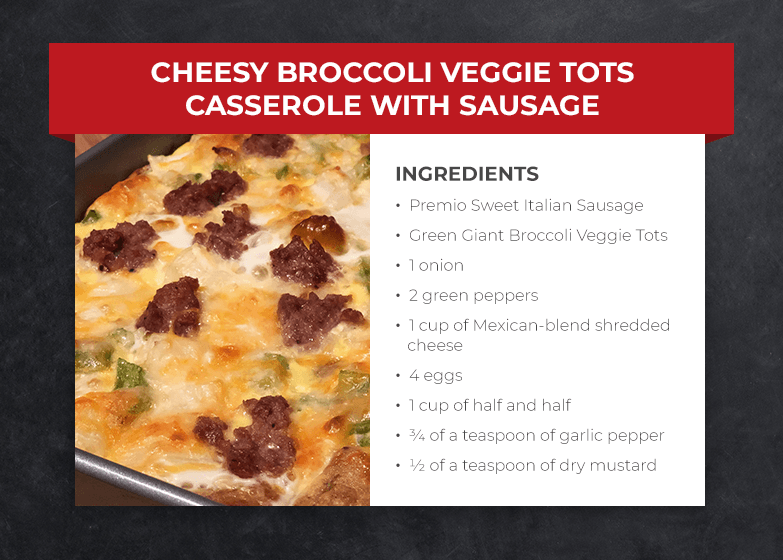 Sneaking more vegetables into dinnertime has never been easier than with our Cheesy Broccoli Veggie Tots Casserole. With sweet Italian sausage, Mexican-blend cheese and plenty of flavor, your kids will be coming back for seconds in no time.
Before you start making this casserole dish, have the following ingredients on hand:
Preheat your oven to 350 degrees. Remove the sausages from their casings and heat in a skillet until cooked through. When finished, rest the cooked sausages on paper towels to drain. Next, prepare the broccoli tots according to package instructions and set aside. Add in the green peppers, onion and any other fresh vegetables you have on hand. Line the bottom of a casserole dish with a layer of broccoli tots, followed by the sausage and the cooked onions and peppers. Cover with cheese. In a separate bowl, combine the eggs, half and half, garlic pepper and dry mustard and pour on top of the casserole. Bake for 40 to 45 minutes, or until cooked through.
Traditional Green Bean Casserole
When you think of green bean casserole, you might imagine a dish from childhood holidays or potluck dinners. But this traditional dish is anything but ordinary, thanks to the addition of sausage and molasses bacon seasoning.
For this recipe, you need:
In a pot, fry the bacon, then set aside and leave some grease in the pan. Use the bacon grease to sauté the onions, then add your Premio sausage and cook until browned. Next, add the green beans, sliced potatoes and cream of chicken soup, stirring thoroughly between after each addition. Crumble the bacon into bits before adding to the mixture, then stir in the McCormick Molasses Bacon Seasoning. Bring the mixture to a boil, then reduce heat and simmer for half an hour before serving.
Sausage and Peppers Casserole
The addition of penne pasta makes this dish both flavorful and filling, ideal for feeding a crowd or for a simple meal at the dinner table.
For this recipe, you need the following ingredients:
Before you begin, preheat your oven to 350 degrees and heat three tablespoons of oil in a skillet over medium heat. Brown the Premio sausage, then remove and set aside. Add the bell peppers and onion to the skillet and sauté. Return the sausage to the skillet before adding tomatoes, tomato paste, oregano, thyme, rosemary, black pepper and water. Mix well and cook on low heat for five minutes. In a large bowl, stir the penne pasta with the remaining olive oil and add the sausage/pepper mixture. Transfer to a casserole dish and bake until sausage has cooked through, which takes about 45 minutes. Remove from oven and sprinkle the top with Parmesan cheese before serving.
Buffalo Chicken Sausage Tater Tot Casserole
This Buffalo Chicken Sausage Tater Tot Casserole is bursting with flavors like fresh oregano, thyme and garlic. With Buffalo sauce, tater tots and plenty of gooey cheese, this dish is sure to be a hit with both the adults and the kids.
Before you begin cooking, make sure you have the following ingredients:
Preheat your oven to 425 degrees. While it is preheating, cook the sausage with one-half of a cup of water in a skillet over medium heat. Cover with a lid and cook sausage for five minutes on each side, then remove the lid and continue cooking for another 10 minutes. When finished, cut the sausage into one-inch pieces and set aside. Heat olive oil in a large skillet and add the vegetables and garlic to the pan. Allow everything to soften before adding thyme, oregano, paprika, garlic and white pepper. Sprinkle with flour and stir. Whisk chicken broth into the mixture and stir to combine. Bring the mixture to a slight boil, stirring again, and cook until it thickens into a sauce. Mix in the Buffalo sauce and shredded chicken before topping with cheddar and jack cheese. Add the cauliflower tots over the cheese and bake for 28 to 32 minutes, or until the tots are crisp. Top with blue cheese crumbles before serving.
Find Premio Sausage in a Store Near You
For more than 40 years, our family has prided itself on crafting authentic sausage in a variety of delicious flavors. We use only the freshest ingredients, so you know you are enjoying top-quality sausage every time you choose Premio Foods. Which of these top-rated casserole recipes do you plan to bring to the dinner table? Let us know! To find Premio sausage in a store near you, use our store locator tool. You can also browse hundreds of other sausage-inspired recipes online.